About a year ago a good friend of mine moved to Sal, one of the ten volcanic islands off the northwest coast of Africa which makes up the archipelago of Cape Verde.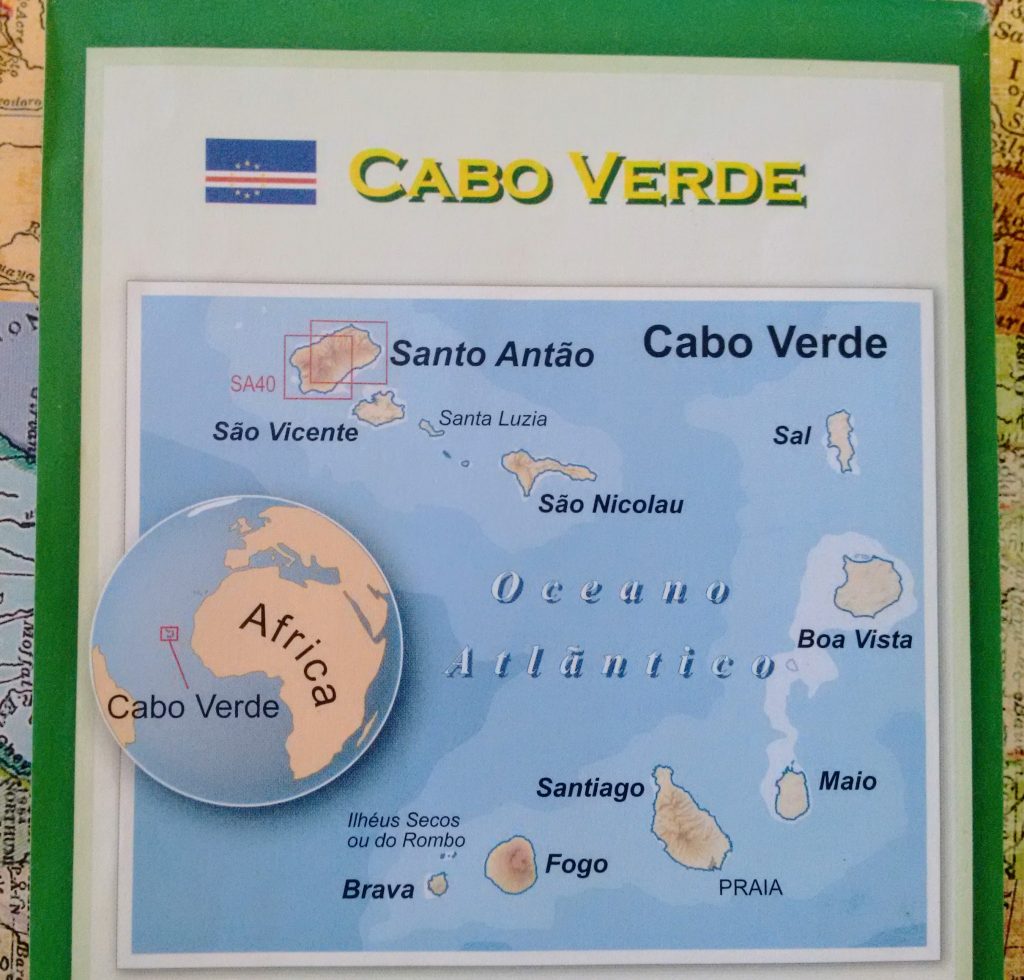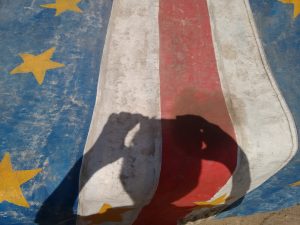 She told me it´s a place with no winter so February seemed like a good time to pay her a visit. That was the extent of my pre-travel research.
A few people have expressed interest in Cape Verde as a holiday destination so I thought I'd put some tips, photos and sketches together in this blog.
¡Haz clic aquí para leer la versión española!
Currency
The Cape Verdean escudo: 100 CVE = approx 1€
In touristy areas you can pay in euros (sometimes only euro notes are accepted and you'll get your change in escudos) but if you're heading for more rural areas you'll need to buy escudos beforehand. There are banks and cash points aplenty in towns so it's no bother.
Language
Unless you speak Creole (hugely unlikely) it will be a major help if you speak Portuguese (I don't, but my Spanish was useful). English is widely spoken on Sal but less so on other islands where French is very handy. Even shoddy O Level French.
Flights
I flew from Seville to Las Palmas in Gran Canaria (Ryanair) and then on to Sal (Binter). There are direct flights from Lisbon to several of the Cape Verdean Islands.
Visa
You can buy a month's visa for 25€ when you reach your destination airport in Cape Verde and present your passport.
Tourist tax on accommodation
There's a 2€ per night tax added to the advertised room price for foreigners staying in Cape Verde.
Rainy season
September and October.
Santa Maria, Island of Sal
The town of Santa Maria is about half an hour's drive from tiny Sal airport; the journey costs 12€ / 1200CVE by taxi or, if you're travelling light you can walk out to the main road from the terminal building and hail a colectivo (shared minivan), spend a mere 1€ / 100CVE and travel like a local.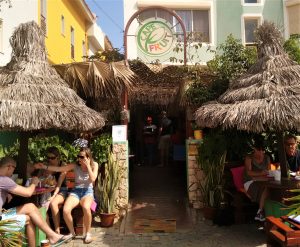 Pretty much the first place my friend took me to was the natural bar Cape Fruit…woohoo!
Super yummy fruit smoothies and juices, fresh fruit and homemade yoghurt, pancakes, omelettes, toasts and cakes, great coffee…all served with a smile in lovely relaxed and cosy surroundings. They're always busy….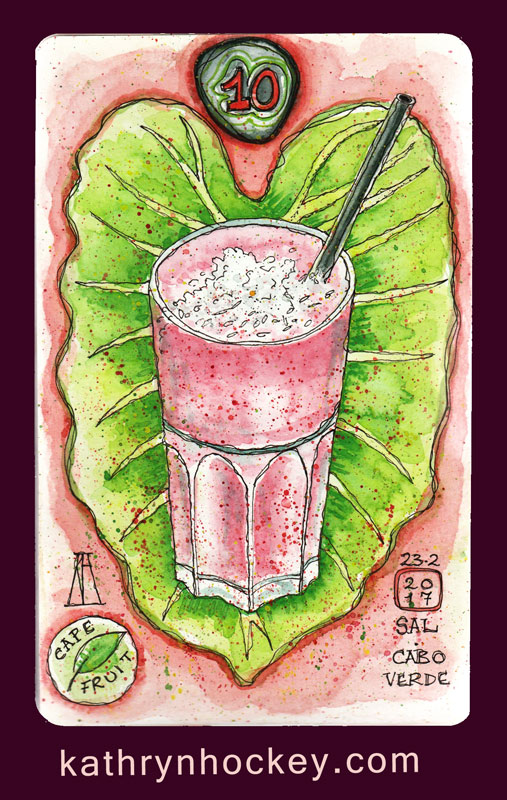 Needless to say I was there for breakfast every day of my stay in Santa Maria (apart from Wednesday when they're shut)…….and eventually I immortalised my favourite smoothie in pen and watercolour (above). It's banana, strawberry and coconut mixed with water, by the way, the smoothie not the painting.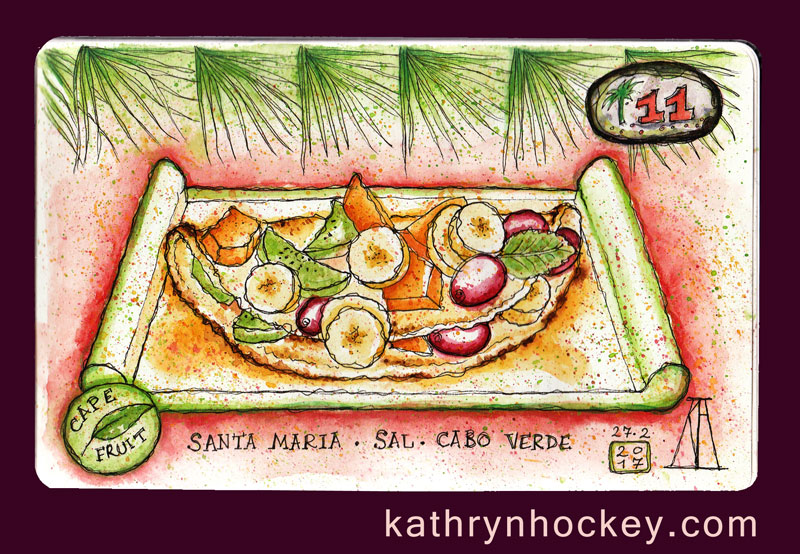 After that I took on the pancake with fresh fruit and honey (above)…it certainly sharpens the appetite to stare at your order for an hour or so before diving in!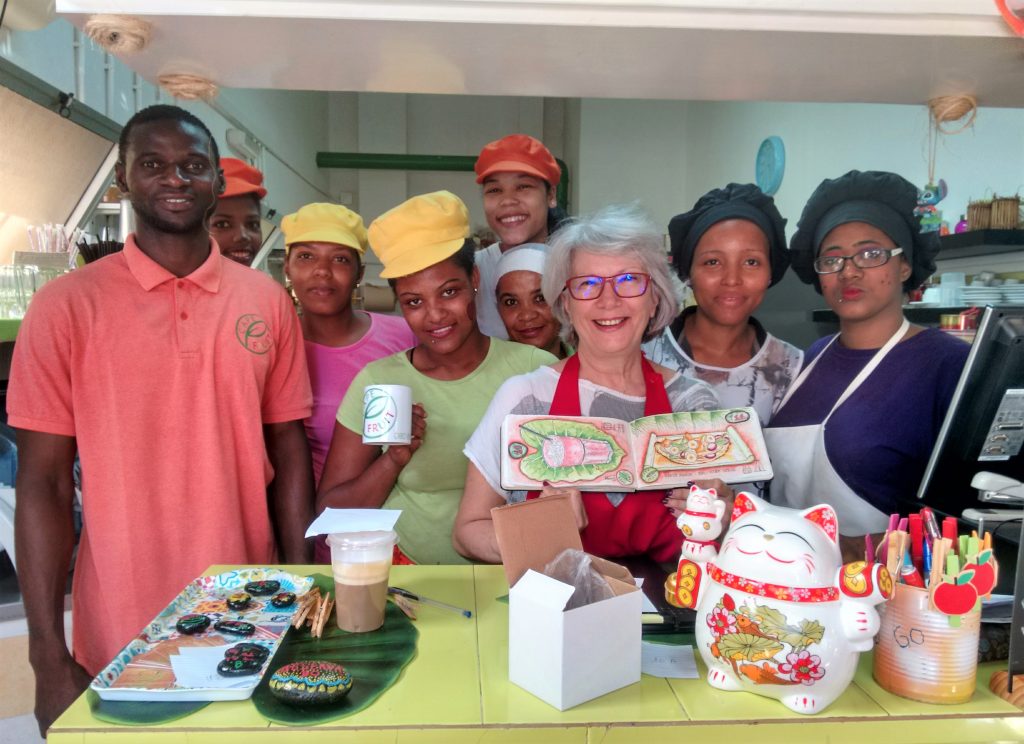 Here is the sweet and lovely Cape Fruit crew; huge thanks to them for the breakfasts, for welcoming my sketches with such enthusiasm and featuring them on their facebook page, and also for the gift of the Cape Fruit mug which is now part of my daily breakfast routine at home.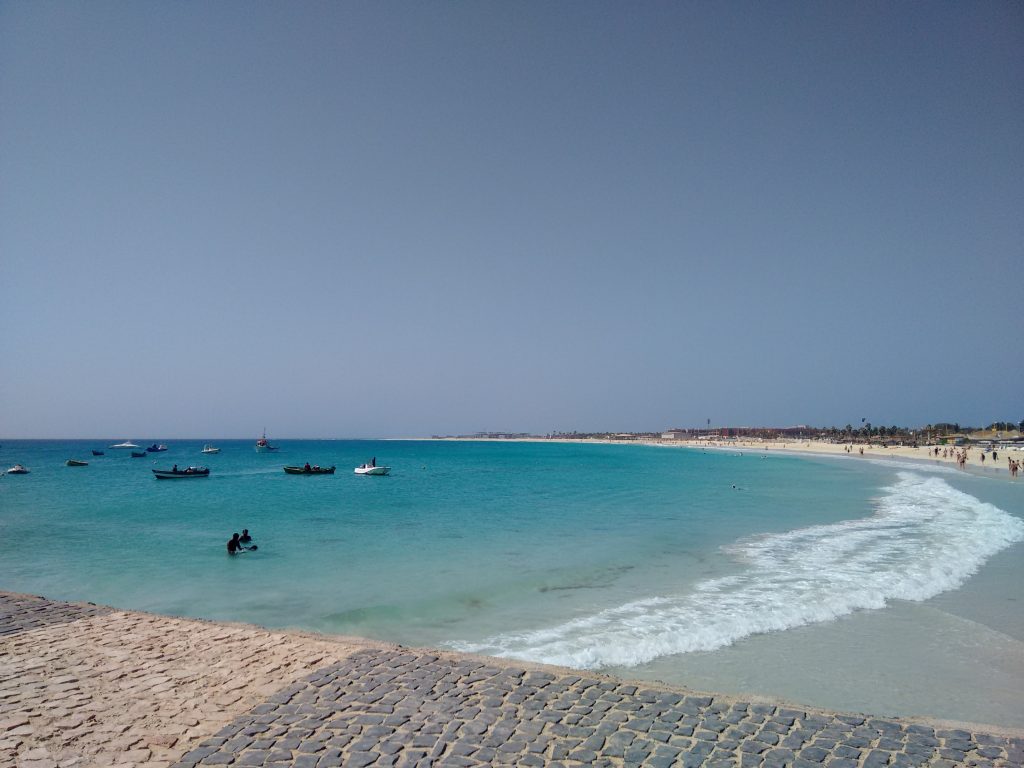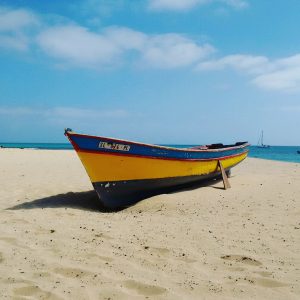 Then we hit the beach, and there's plenty of it, lovely fine white sand and the ocean, although a tad chilly on entry, was calm and very refreshing.
It was pretty windy everyday in Santa Maria which is famed as a wind and kite surfing centre. You can also snorkel and dive if that's your bag.
There were some huge hotel complexes further down this beach adding to problems with the water supply. Sal is essentially a desert island with no natural water and the desalination plants are struggling to keep up with demand.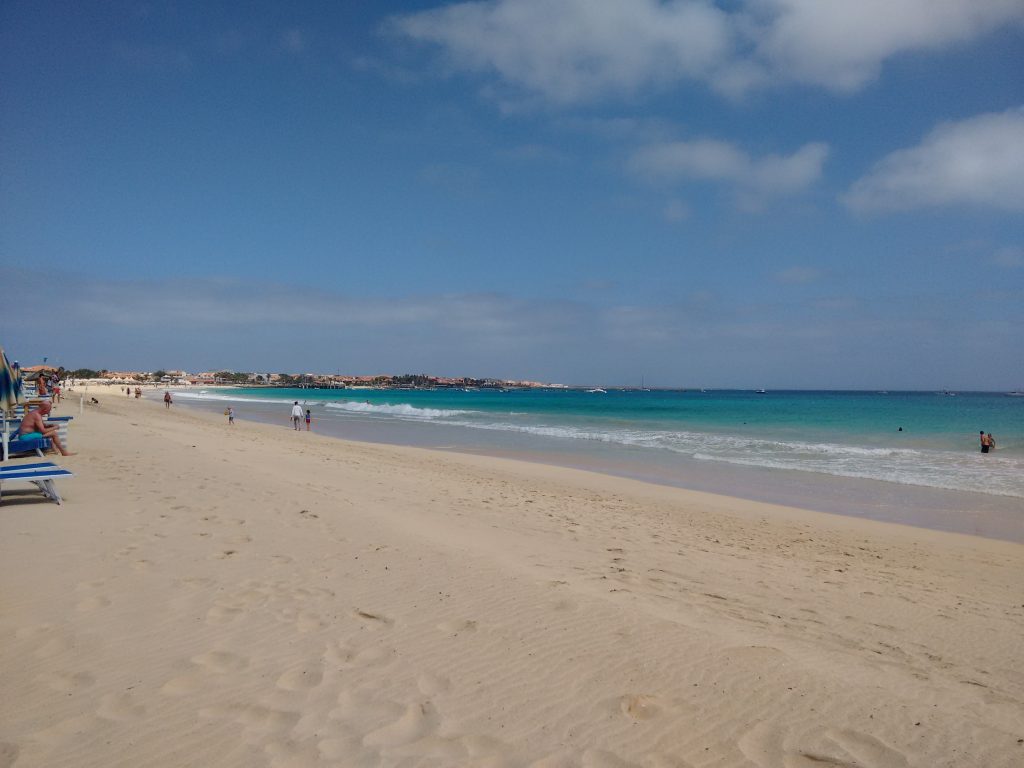 The pier above doubles as a fish market when the daily catches are brought in; my sketch has a 3D element as wind blown sand stuck to the wet paint.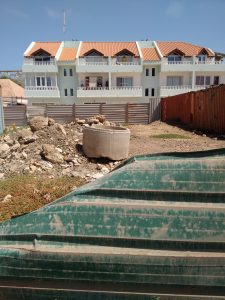 Overall, away from the smarter beach side tourist establishments Santa Maria has a bleakish dilapidated feel, with lots of half finished construction, plenty of derelict buildings and litter and very little greenery…
…but there are no mosquitoes!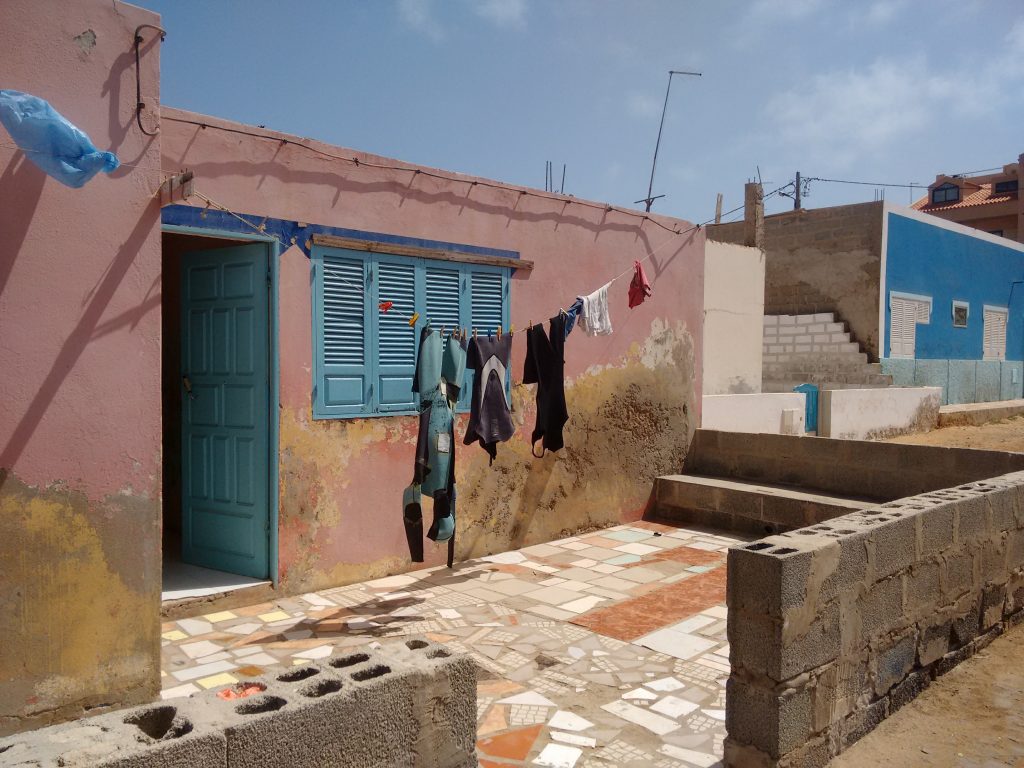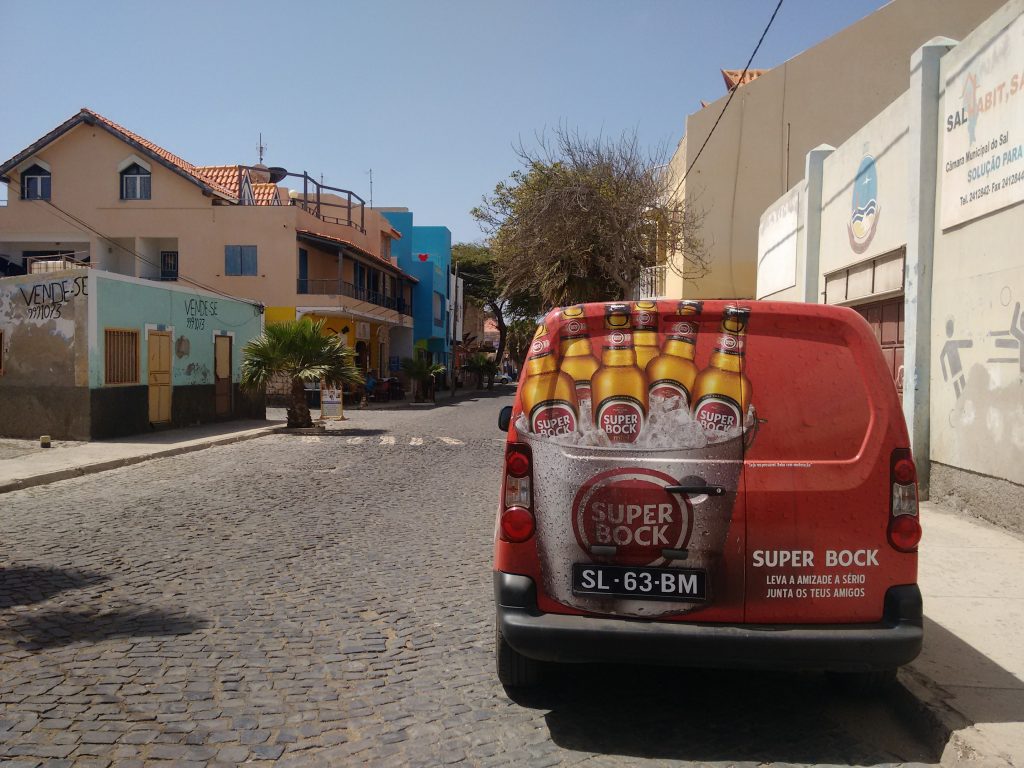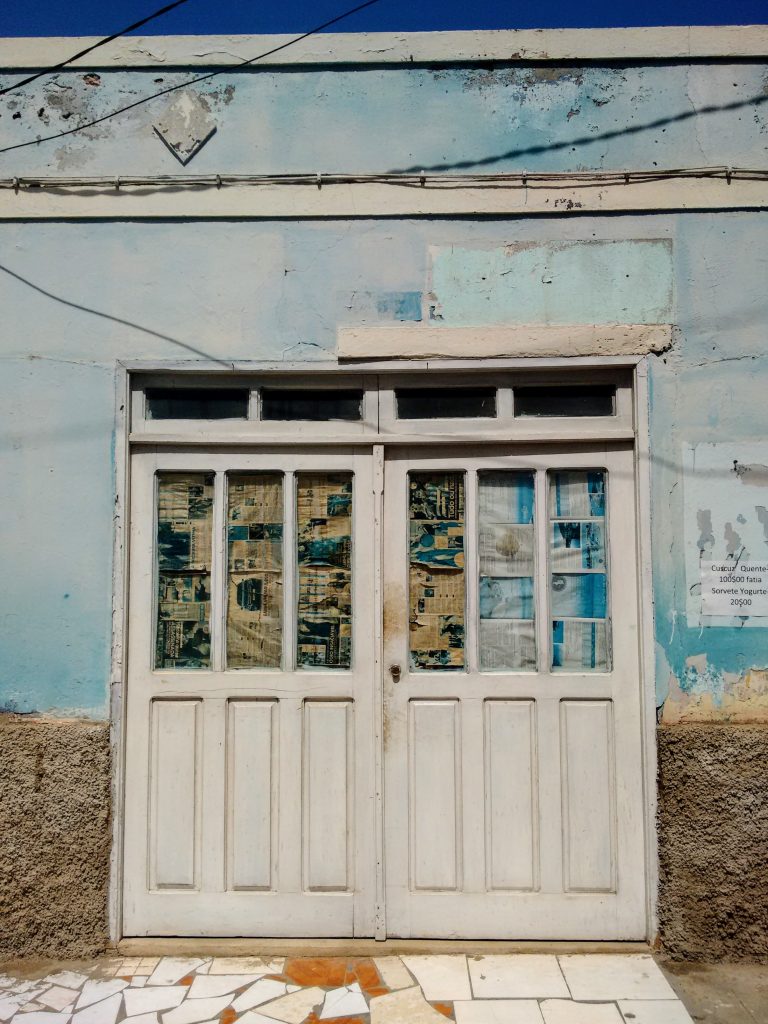 And it's not without its charm.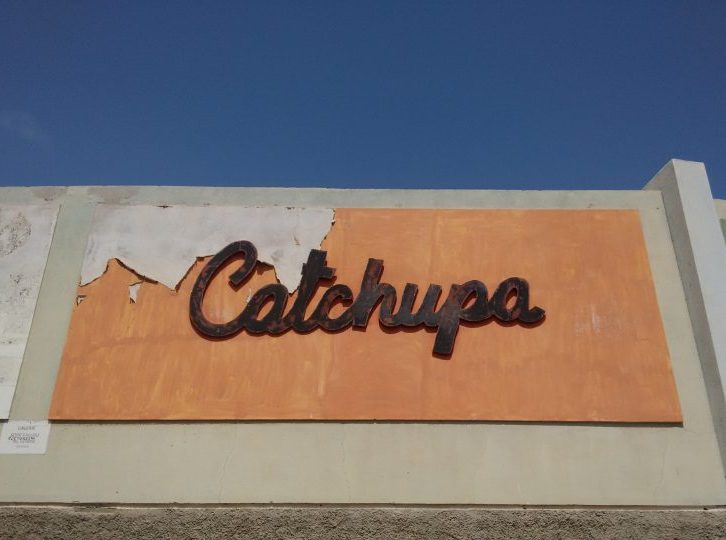 Catchupa is the national dish, a delicious, slowly stewed concoction of beans, veg and fish or meat.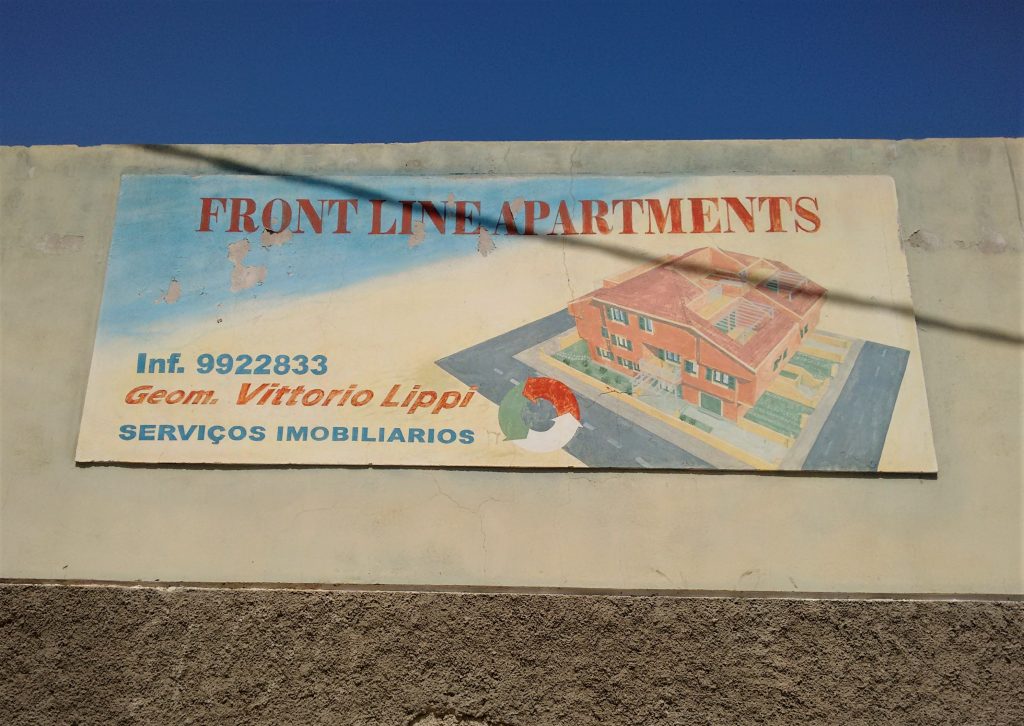 I was offered sex and marijuana on separate occasions, both of which I politely declined, but it was nice to know that they were available!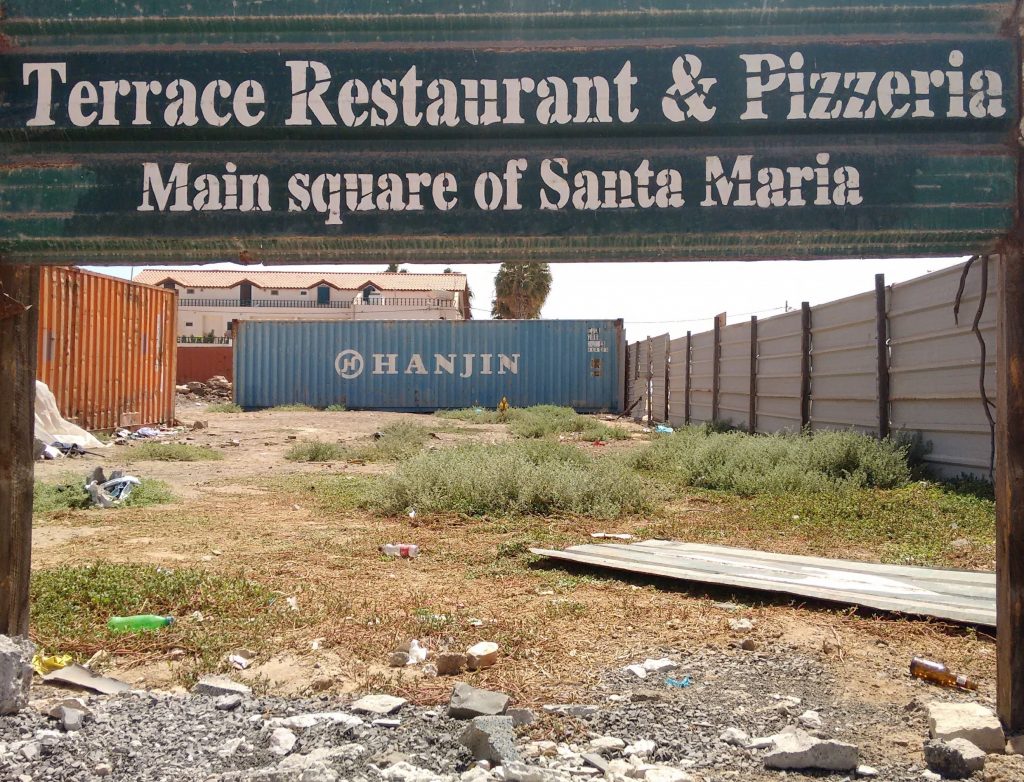 The restaurant Kossivi does really good sushi!
I also enjoyed a few poker games with my friend and her buddies although I didn't win anything beyond a couple of hands. Gambling is actually illegal on Sal although they've just opened a casino if you're there and fancy a flutter, but I'm told the poker tables are a rip off at 25€ a hand.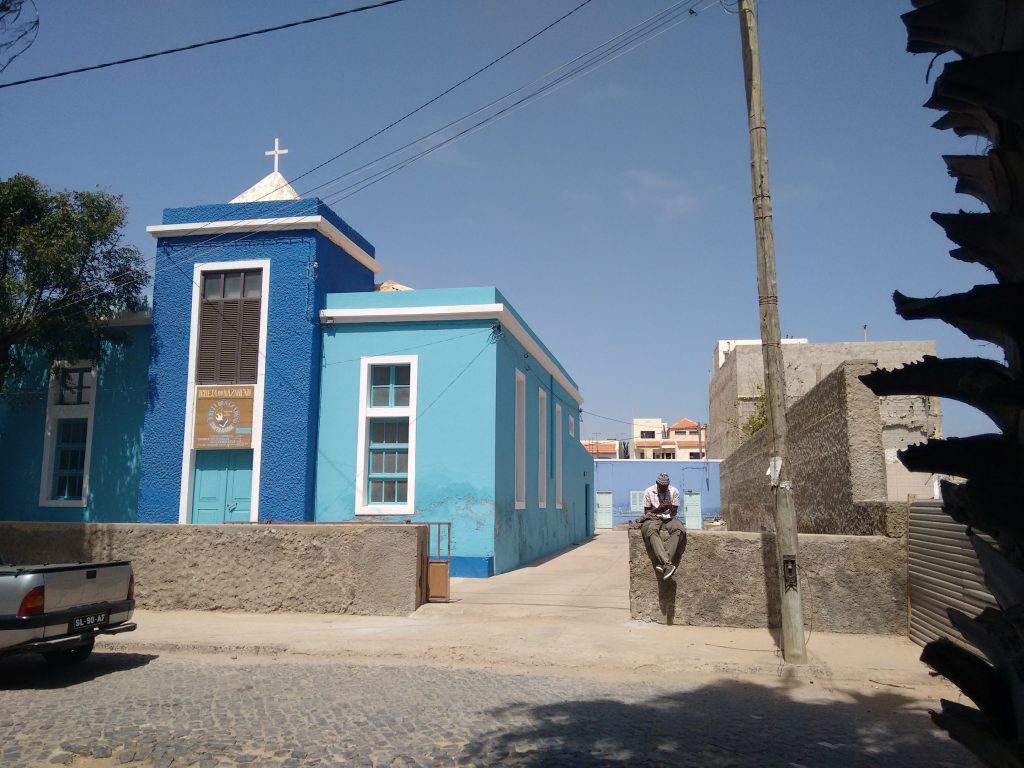 Mindelo, Island of Sao Vicente
I decided to set off in search of more music and culture so I booked a Binter flight from Sal to Sao Vicente (40€ one way, 40 mins approx).
A taxi from Sao Vicente airport, which is named after the celebrated Cape Verdean singer Cesária Évora, to the port town of Mindelo takes 20 minutes or so and costs 1000CVE / 10€. There´s no bus or colectivo service as far as I could make out.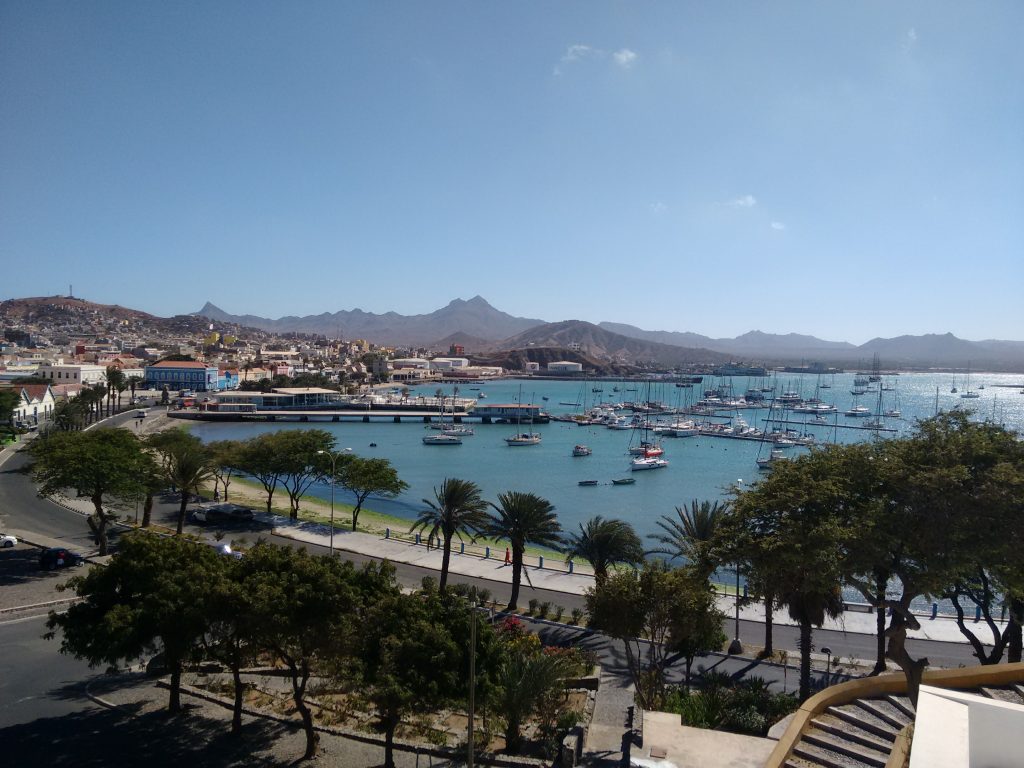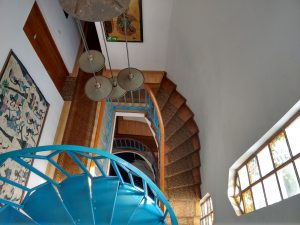 I took the photo above from the roof terrace of my hotel (left); cheap and somewhat cheerful and dusty, its main attraction was the view and its location, 5 mins walk from the port and the town centre.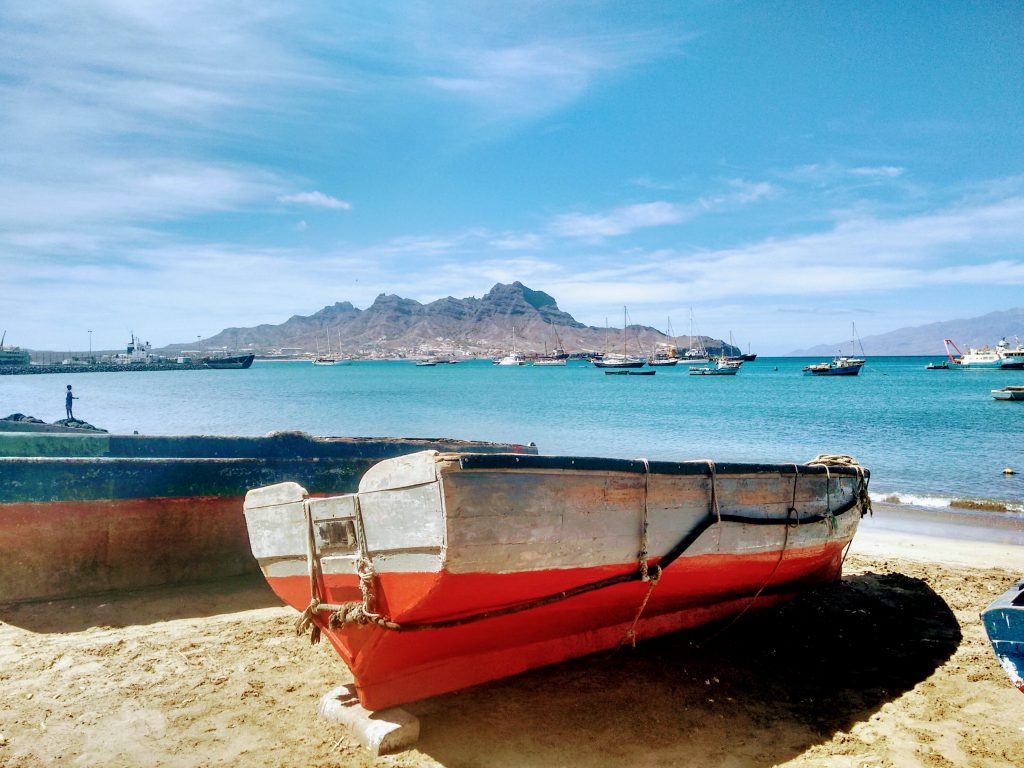 I went out in search of food and water as soon as I arrived in Mindelo and found out that there was going to be a free concert in the town square that evening.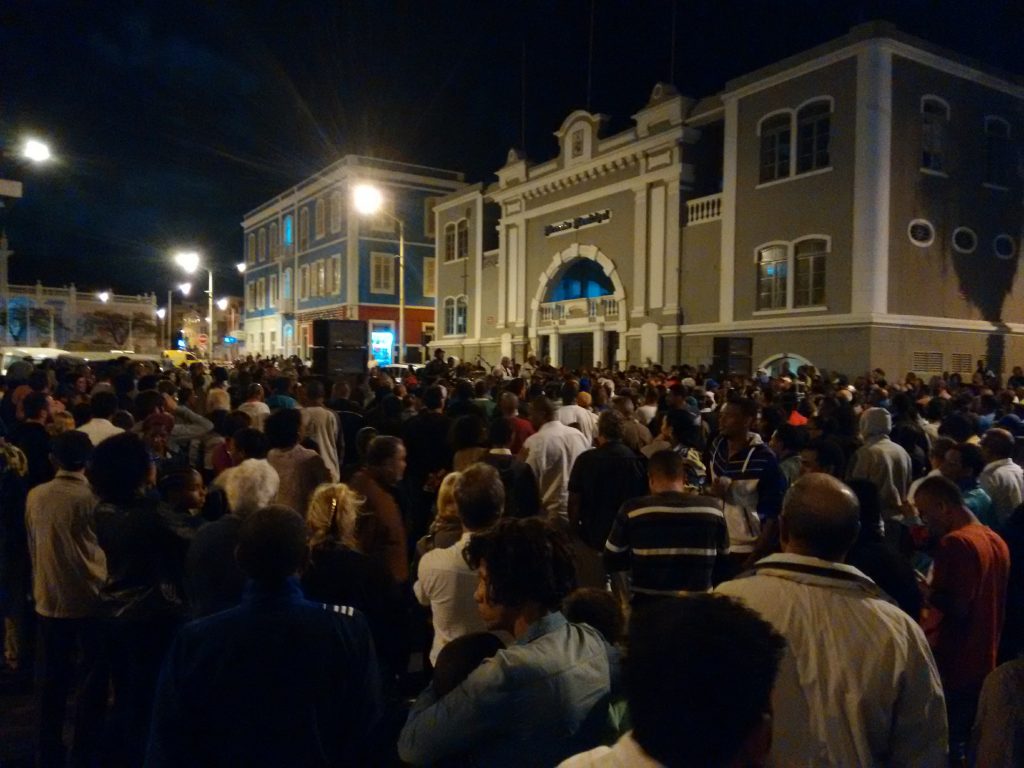 Of course being English I arrived far too early but was able to sit on the door step of a shut shop and listen to the sound check and watch the square gradually fill with a very friendly crowd under the light of the full moon. I have no idea who played but they were great and I caught my first glimpse of a Mandingo dancer; a guy in a grass skirt with a big stick and a mohican who moved with hypnotic rhythm through the crowd, stopping for photos in exchange for loose change. More of that later….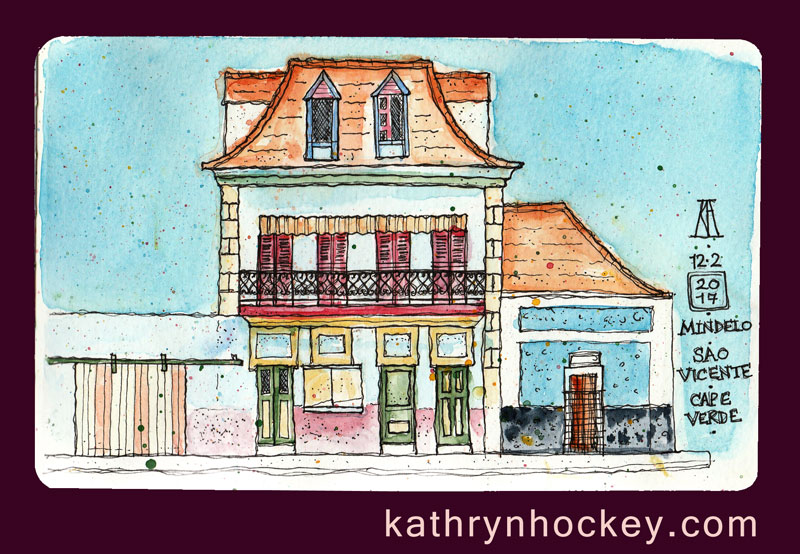 The next day I did a bit of sketching (above) and was approached by a woman from Paris who stopped for a chat. I couldn't help her with the directions to the bus stop she wanted and she assured me that the Mindelo town beach was nice and that the hike I was planning to do on another island was easy…both untrue!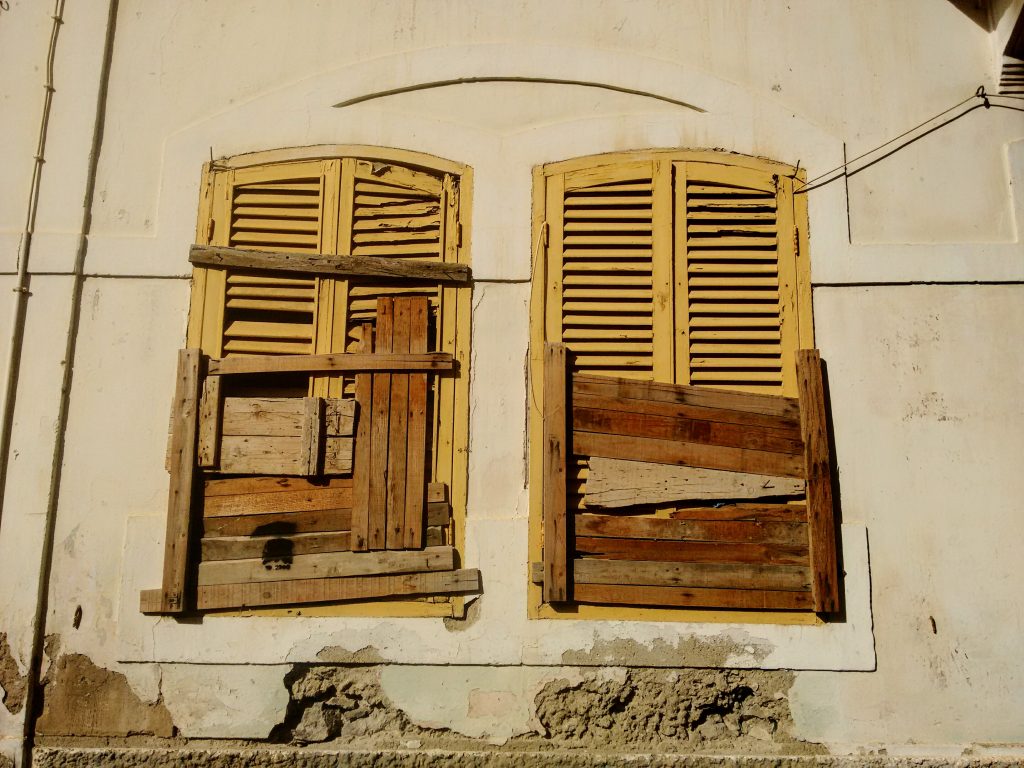 I wandered back to my room for a rest…but then I heard drumming…the kind of drumming that demands to be investigated. I went down to reception and asked 'What's that noise?' 'Ah, that's the Mandingo…' was the reply. So, having no idea what that meant, I went out and followed the sound uptown…
There was a small group gathering around the drummers and dancers when I got there and they moved off down the street…
….more and more people joining the throng all the time, people throwing money from balconies, the rhythm and atmosphere were absolutely energising and infectious, I couldn´t help but grin from ear to ear.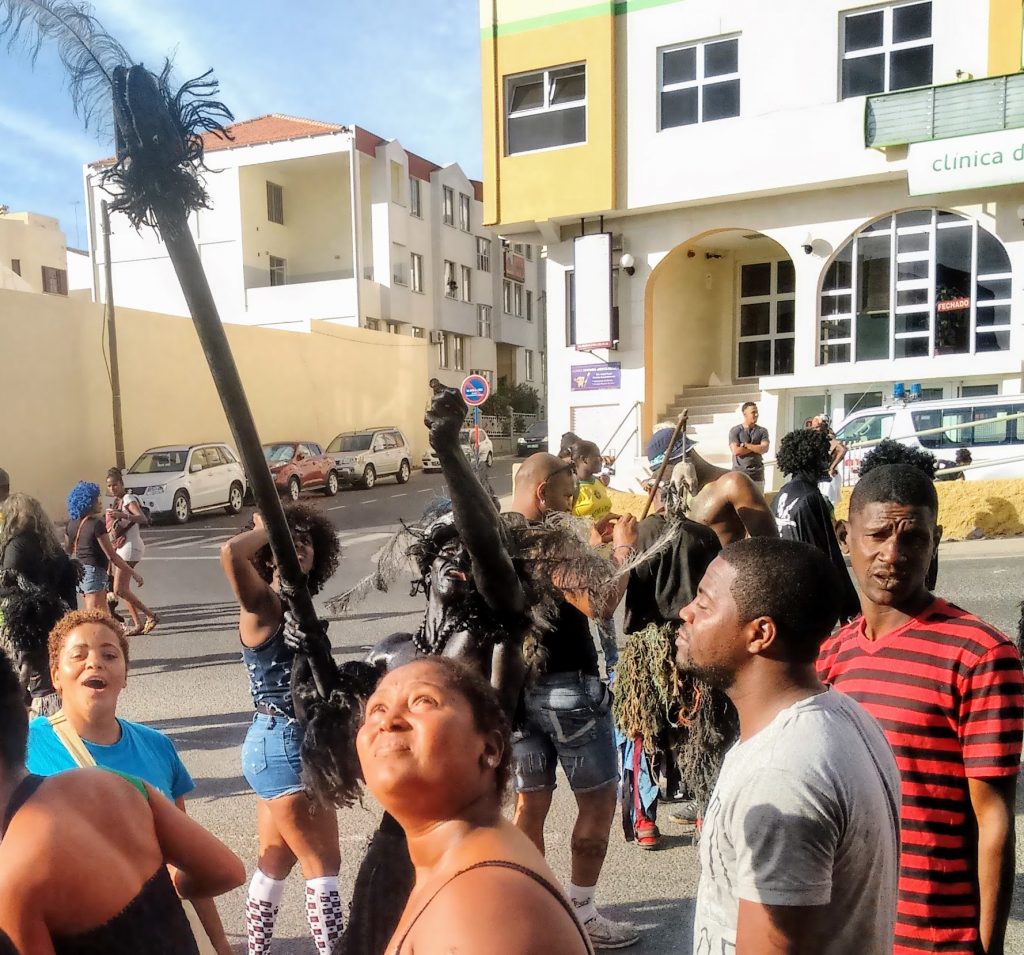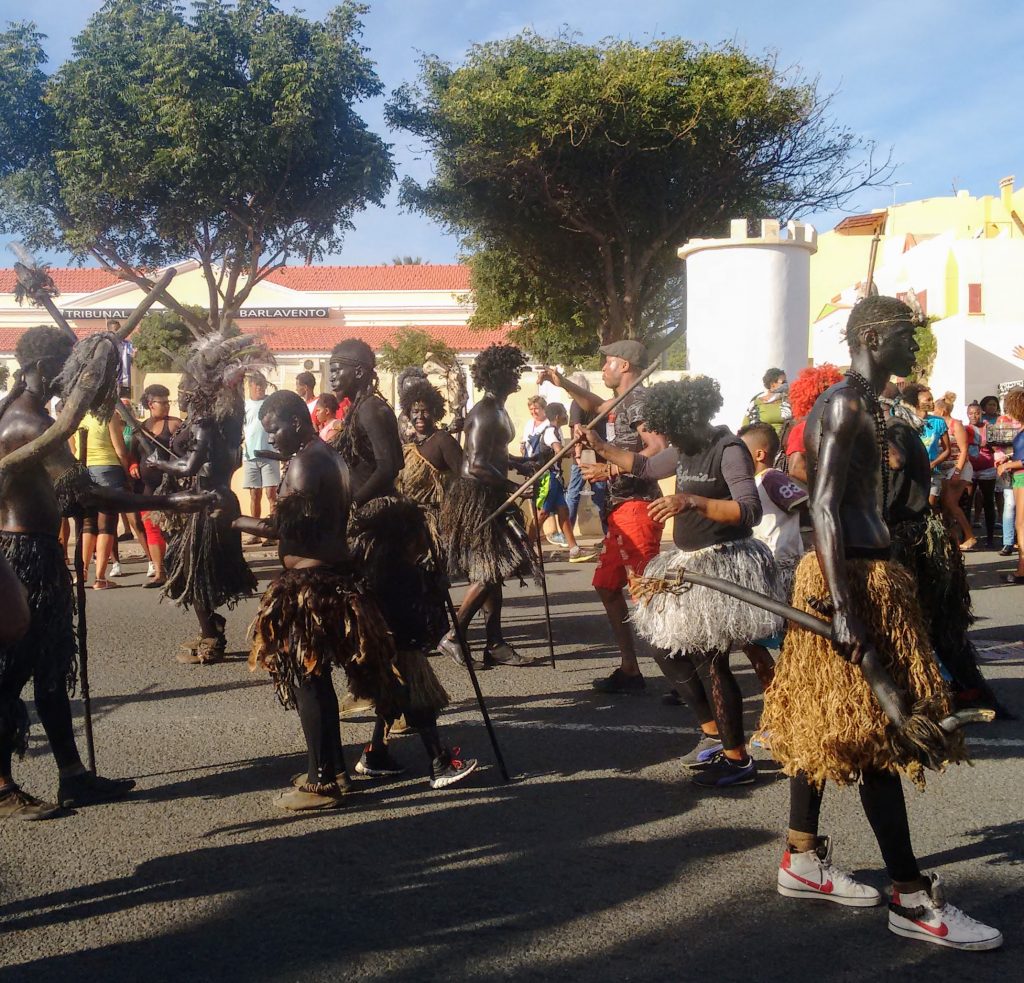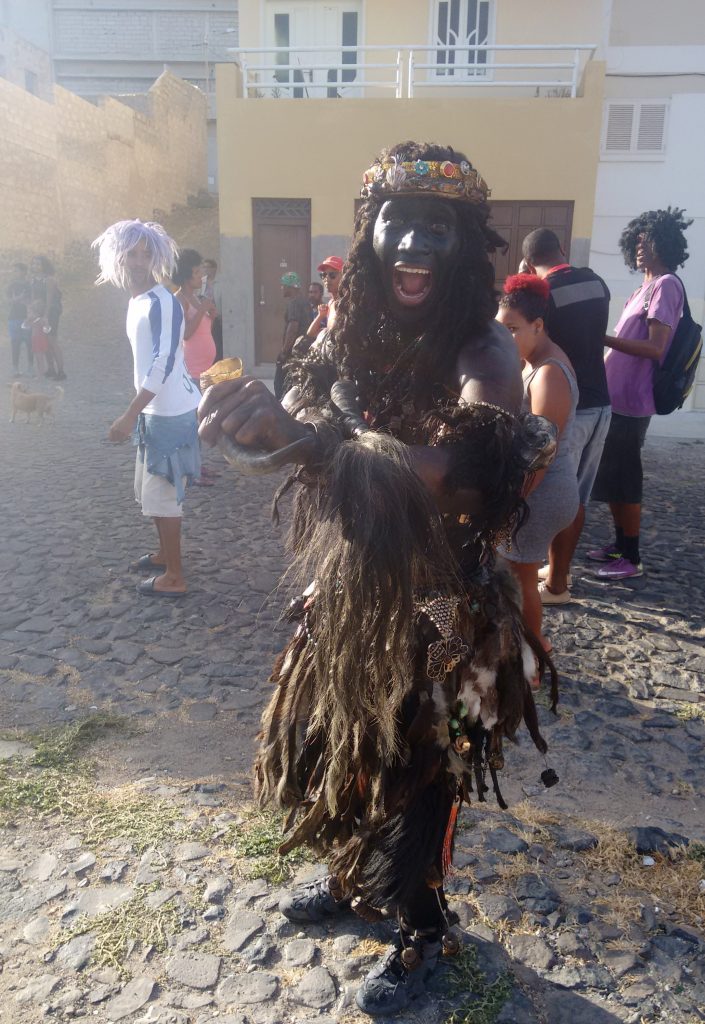 This guy offered me some of the beer he was drinking out of that horn he's holding and he told me that he and his chums were covered in charcoal to make them darker, it looked more like motor oil to me and I ended up smeared with quite a bit of it…could have been one of those lost in translation situations!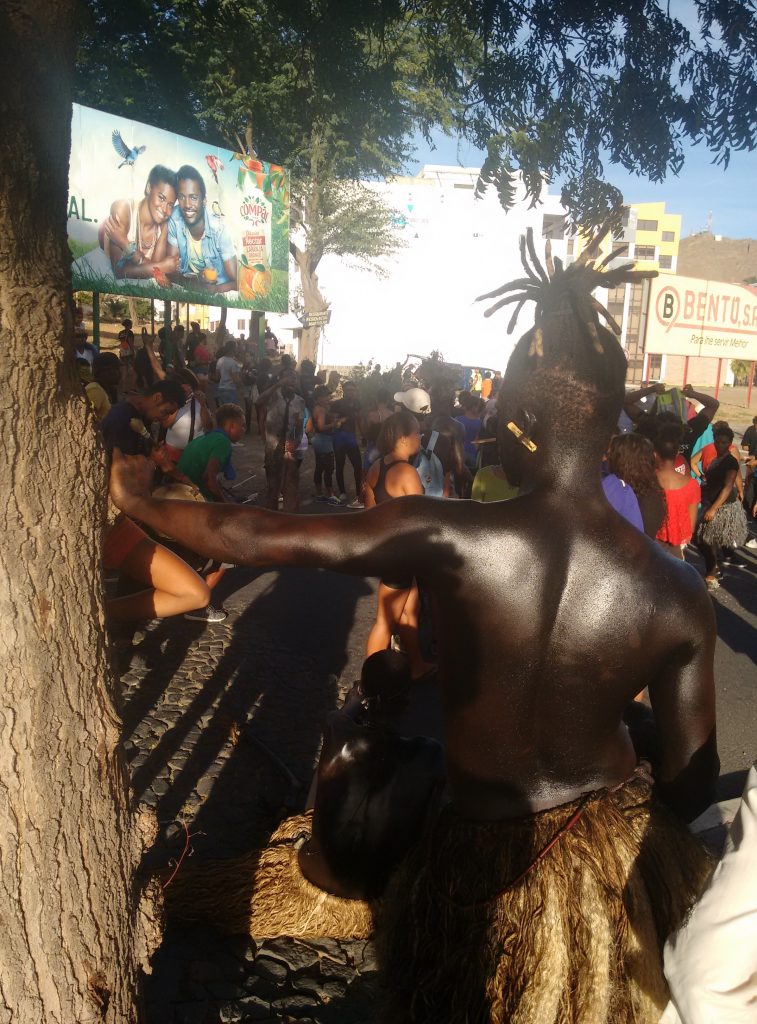 The procession I joined was just a practice for the carnival which was to take place on the 28th February, the day I was due to leave Cape Verde…
I loved Mindelo: the musical juxtaposition of African and Portuguese influences…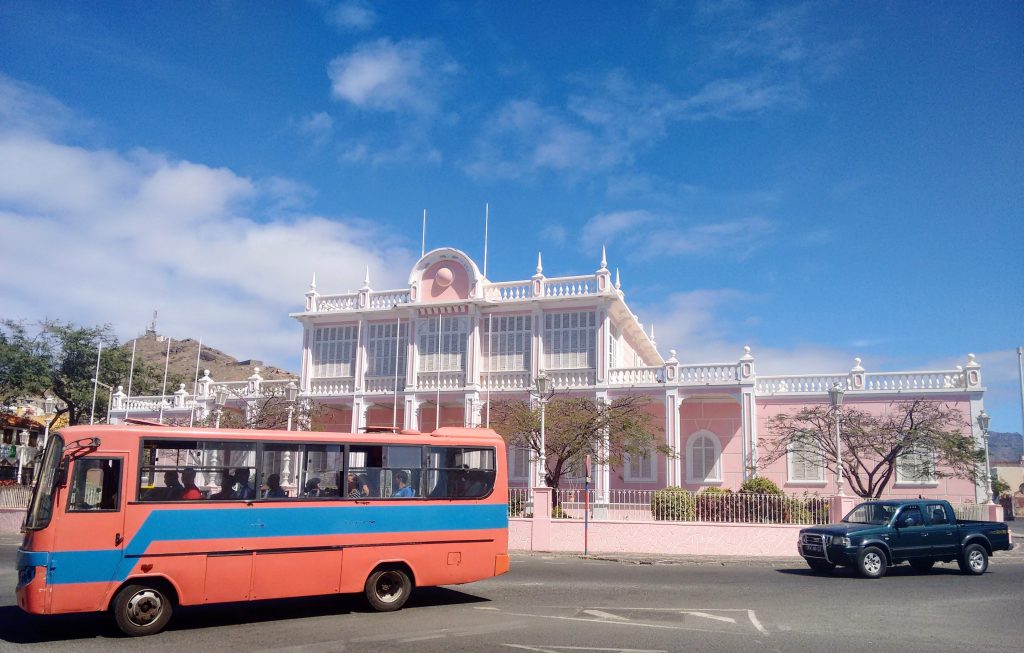 …. the contrast of the well kept colonial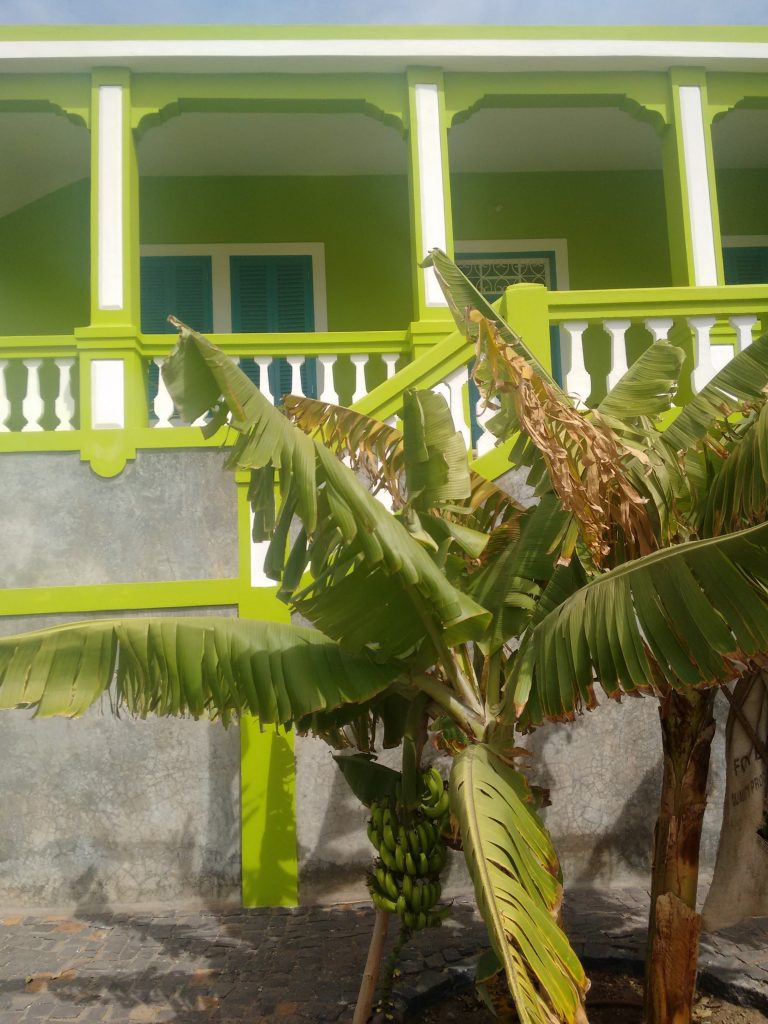 with the deliciously dilapidated….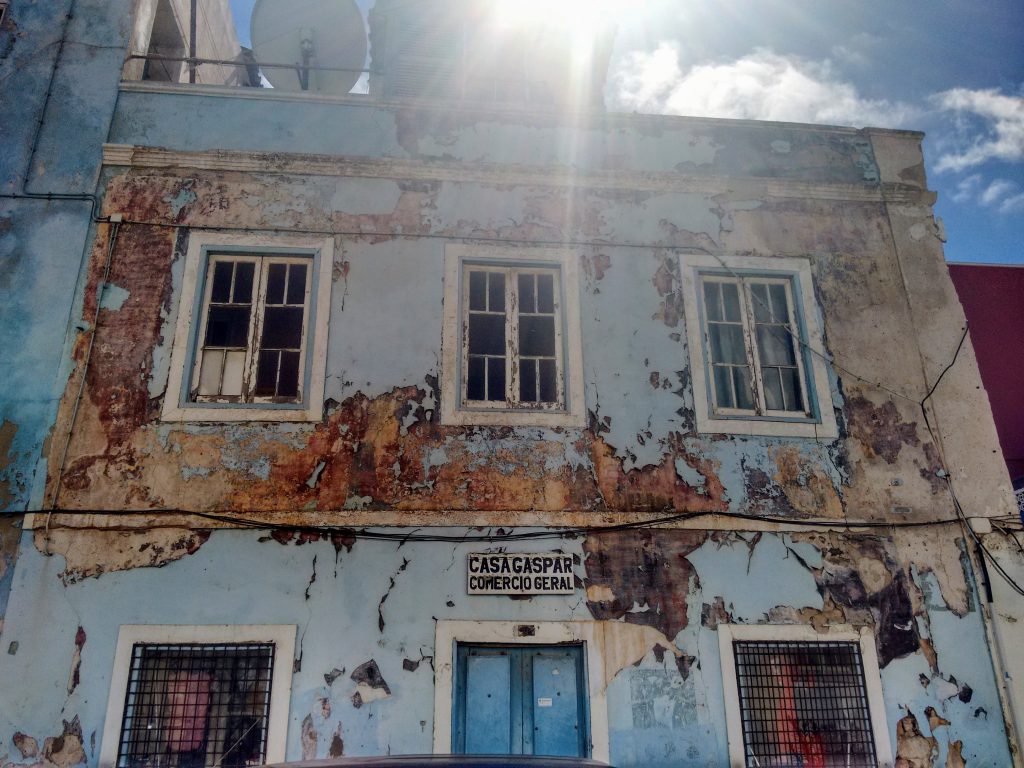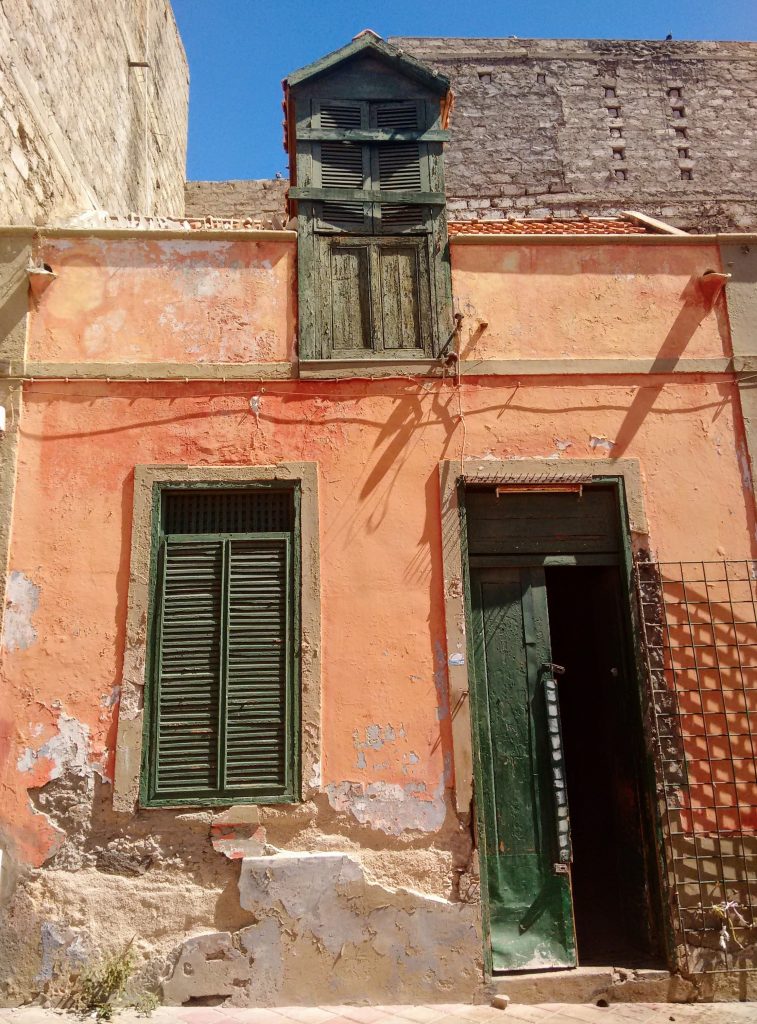 …and the quirkily modern and upcycled…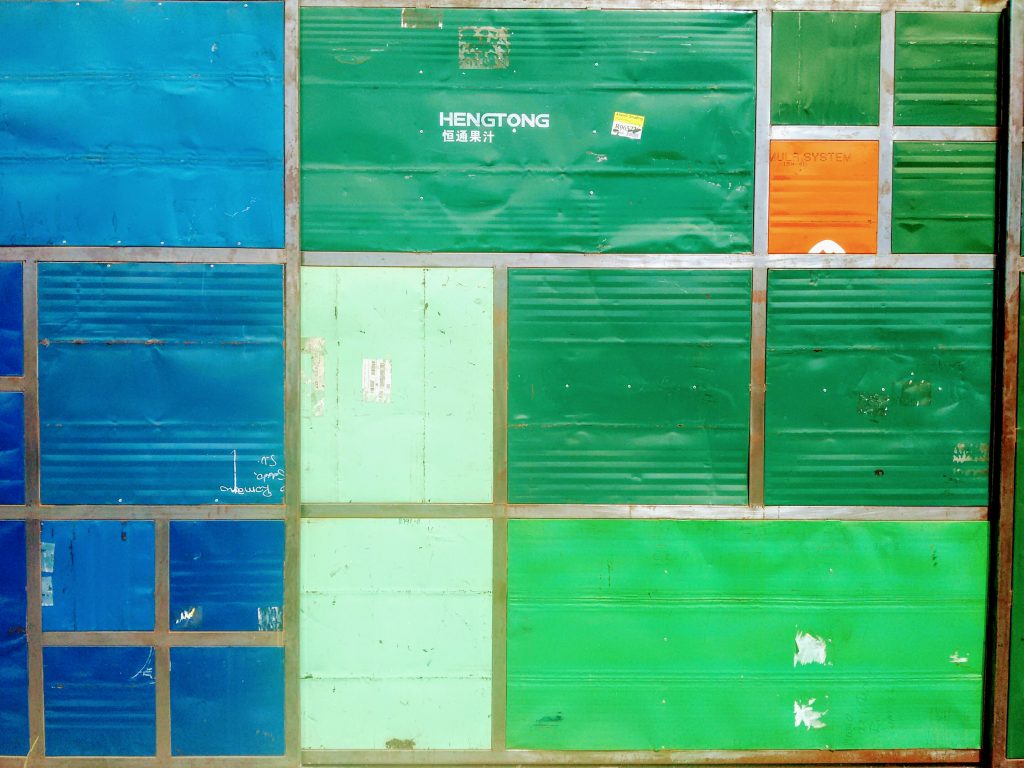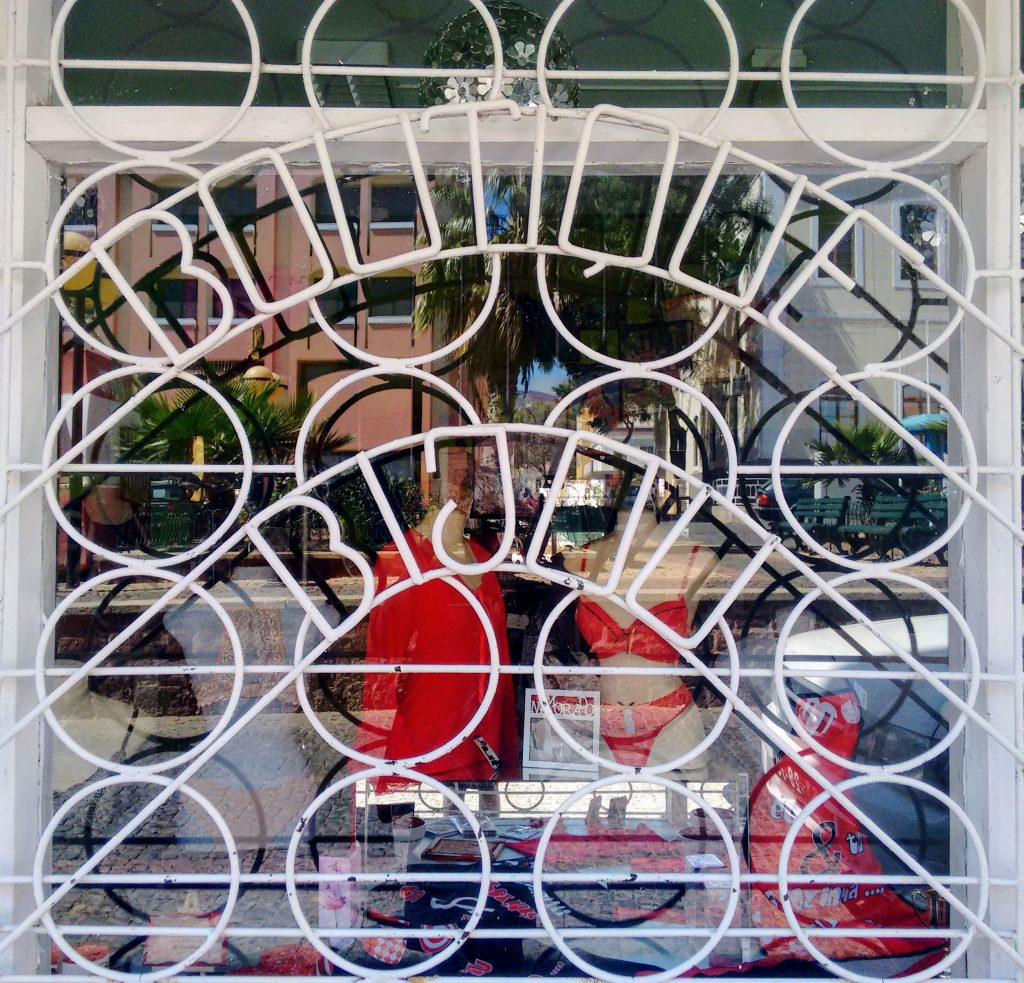 …as well as the boaty.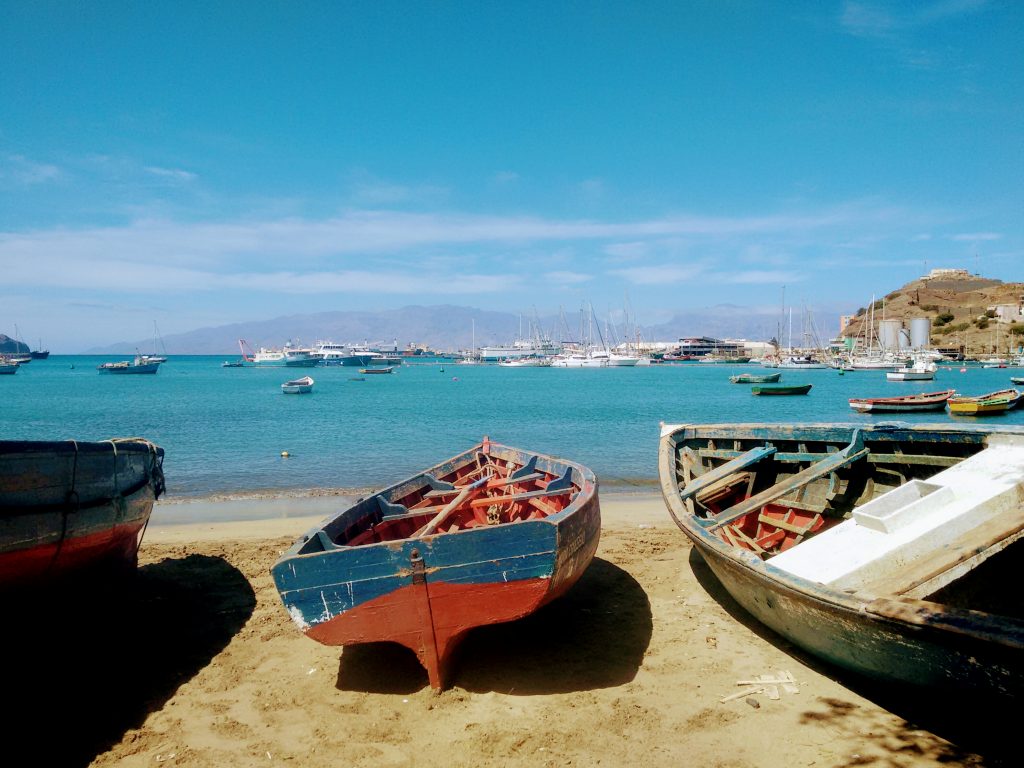 Next year I want to be there for carnival, although ideally I'll upgrade my accommodation to the rather swish Casa Branca, which is right next door to the dusty, drab place I stayed in and was recommended by an English couple I met on the ferry. They serve a good breakfast (included in the room price) and tasty tapas style dinners.
I also ate well at La Pergola, which has good vegetarian options and Café Royal, although I'd avoid Casa Café Mindelo as it's touristy, over priced and not terribly friendly…maybe they were having a bad day.
Sao Vicente to Santo Antao by inter-island ferry
I'd heard that the island of Santo Antao was beautiful and that the Paúl Valley in particular was spectacularly lush and great for hiking so I planned a day trip.
I visited the Mindelo office of hiking guide Nobai to make sure it was easy enough to walk the route I wanted without a guide and within my two hour time limit and the nice French lady reassured (i.e. lied to) me, gave me a map and transport tips from the port to the start point of my hike.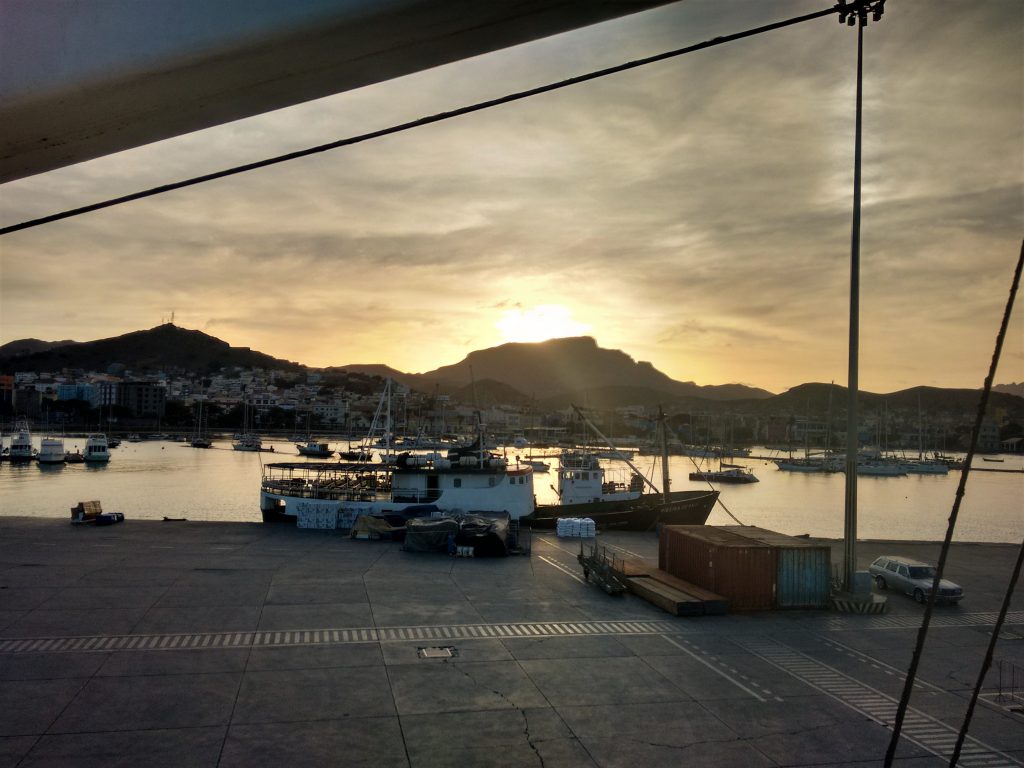 There are two ferry companies that run services from the port in Mindelo to Port Novo on the island of Santo Antao.
Boats leave at 7 and 8am and return at 4 and 5pm, the trip takes an hour and costs 800CVE / 8€.
I bought my ferry ticket from the office at the port and the next day, Valentine's day, I had an early breakfast and arrived at the port at 7.30am in good time to board for the 8am crossing.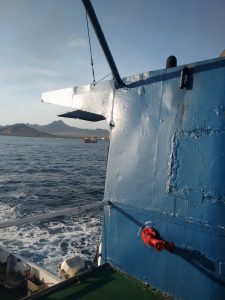 The boats are very punctual and they give out sick bags just in case. I'd popped a Dramamine and the crossing was smooth so the only drama was the sight of flying fish leaping in the bow spume.
They stay airborne for ages, shine iridescent blue in the sunshine and actually flap their fins like wings. I didn't even attempt to photograph them.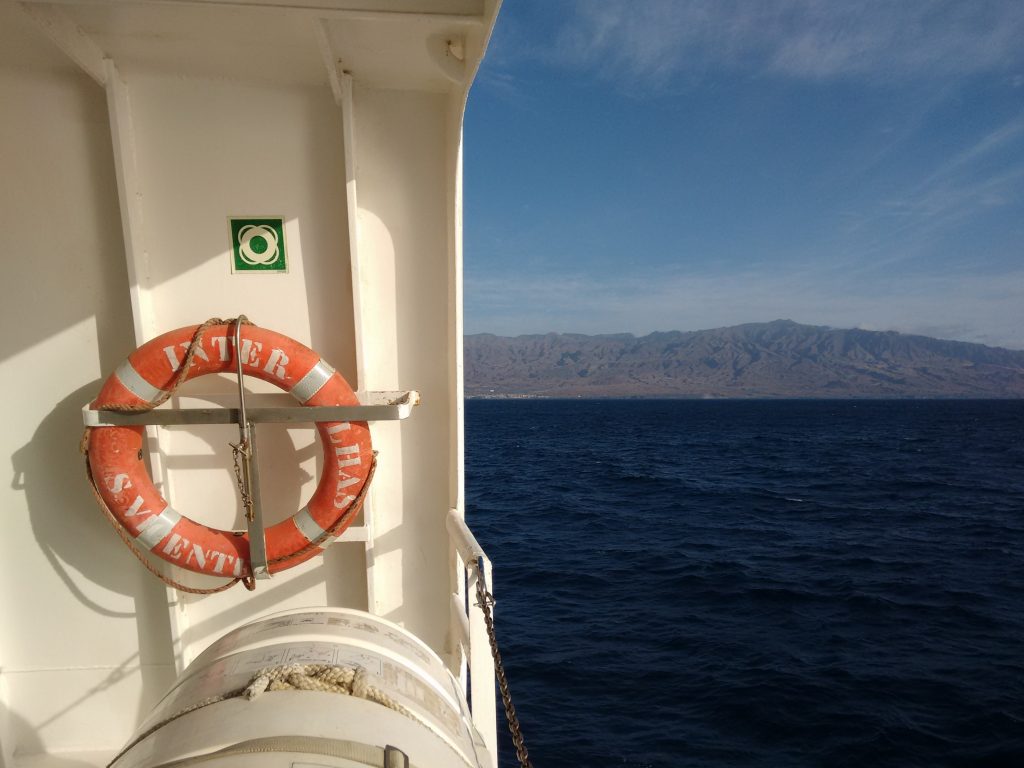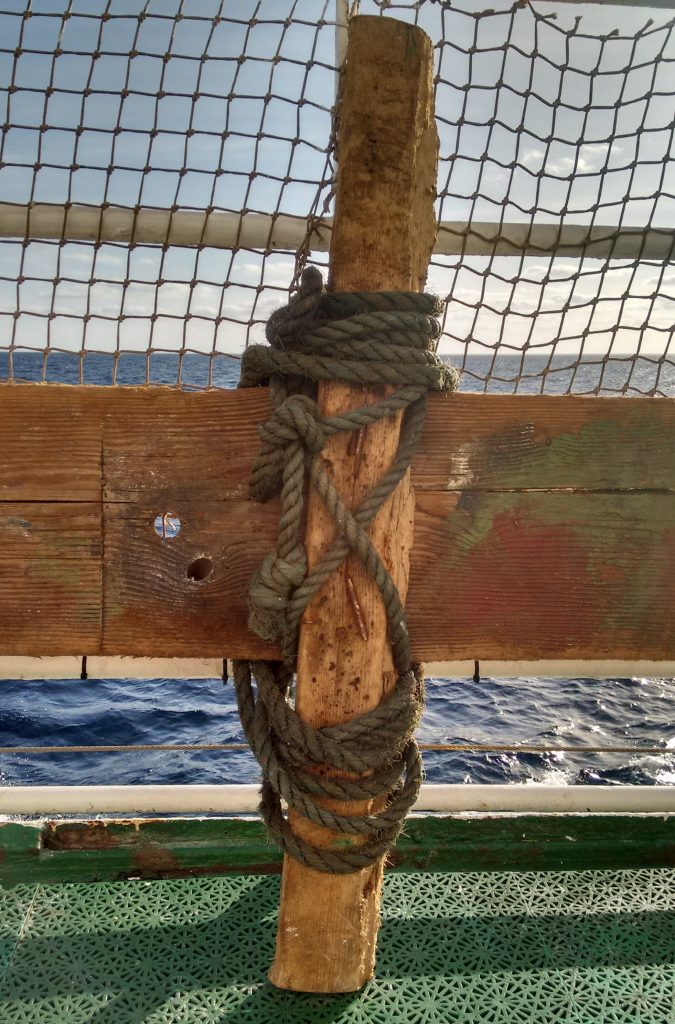 Port Novo, Island of Santo Antao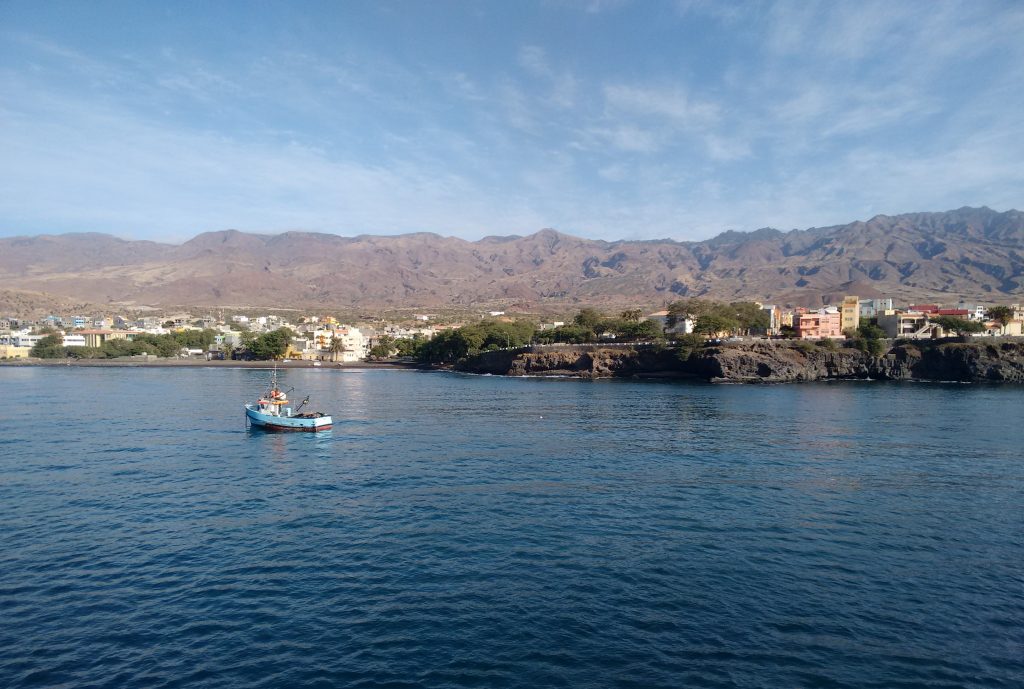 There are crowds of people at the exit of the ferry terminal building in Port Novo offering the disembarking voyagers onward transport in the form of private taxis and shared colectivos, artisan cheese, fruits and vegetables. It's a bit of a scrum so it's handy to know exactly where you're going, how you want to travel and what you expect to pay beforehand.
Port Novo ferry terminal also boasts a cafe with excellent coffee and cake and a cash point.
By the way, one of the ferry crossings I made was quite rough and there were several people (mostly kids) throwing up into the aforementioned bags.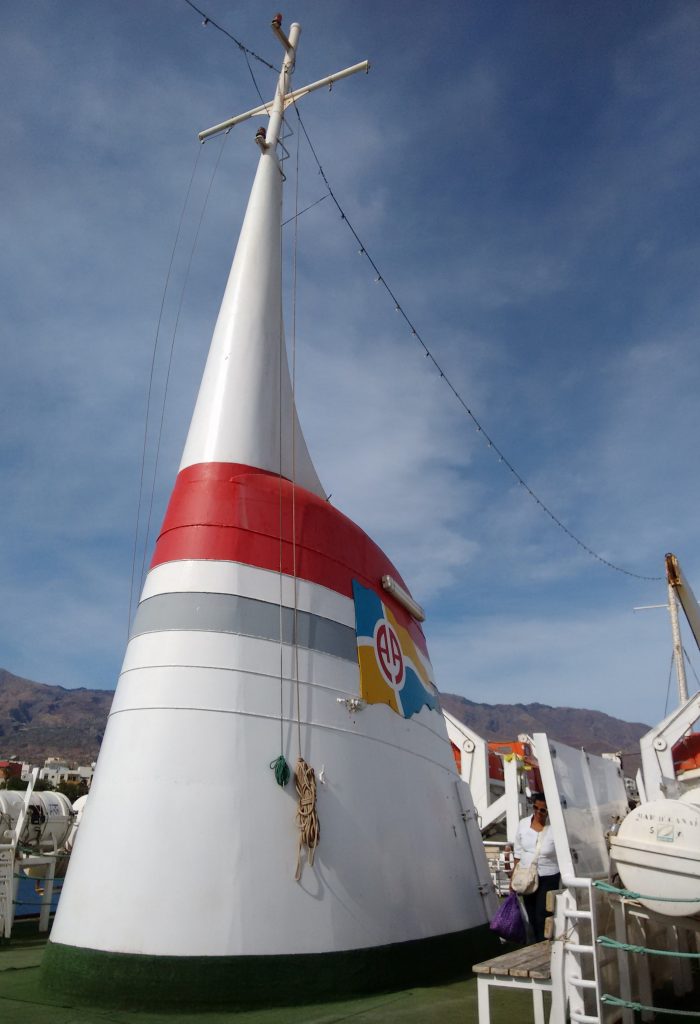 Port Novo to Cova de Paúl crater
As suggested by the Nobai tour guide I hired a taxi to take me up the long and bumpy track to the extinct volcanic crater of Cova de Paúl from which I planned to descend through the Paúl Valley on foot.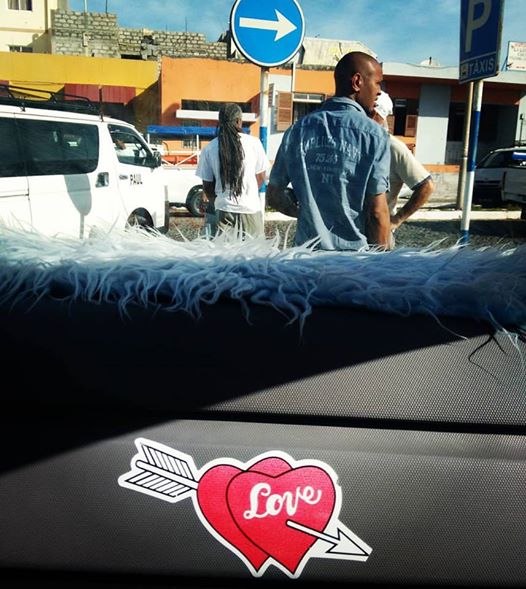 It cost 2000 CVE / 20€ which seems as steep as the road but it's not a popular route and the driver has absolutely no chance of a return fare.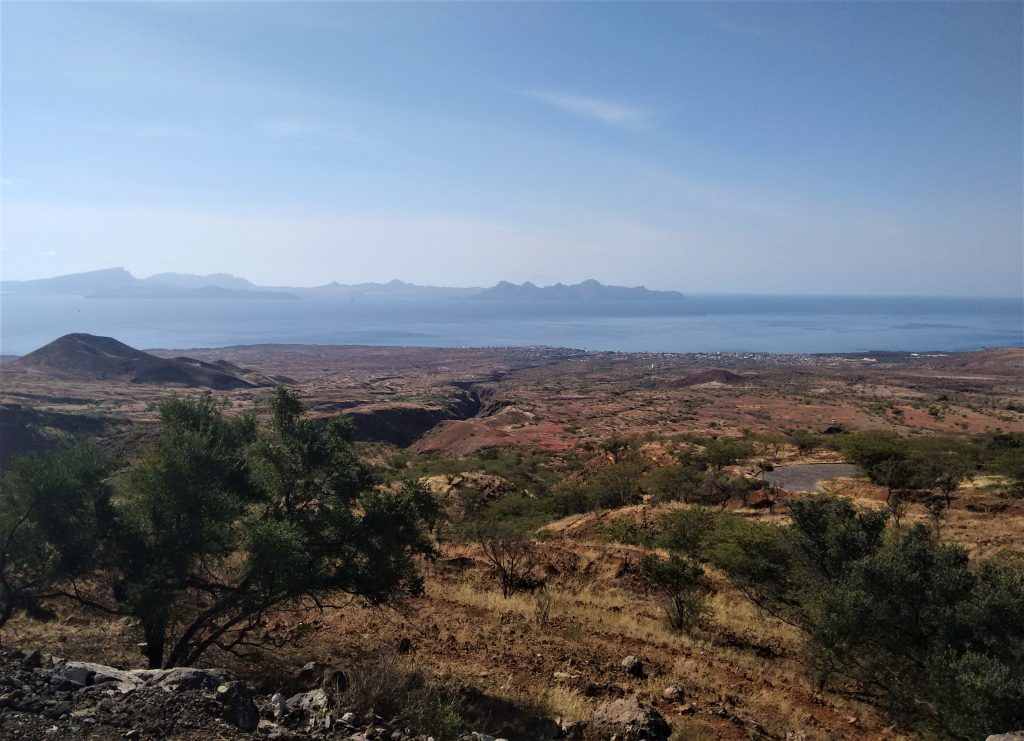 Above, Port Novo just visible on the coast and the island of Sao Vicente in the background…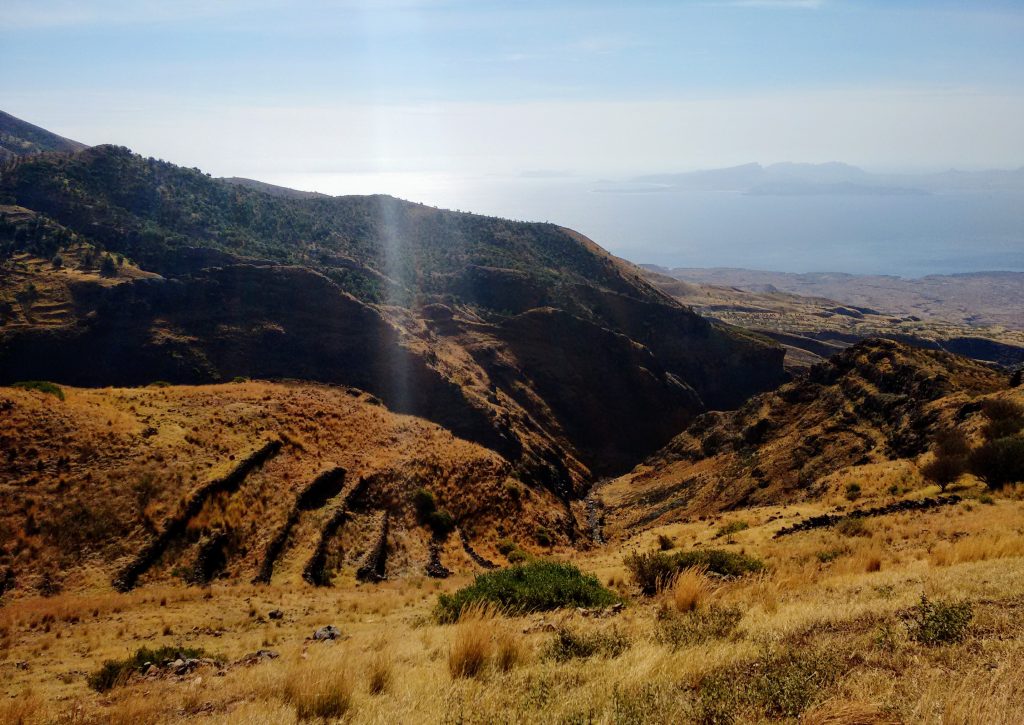 ….onwards and upwards…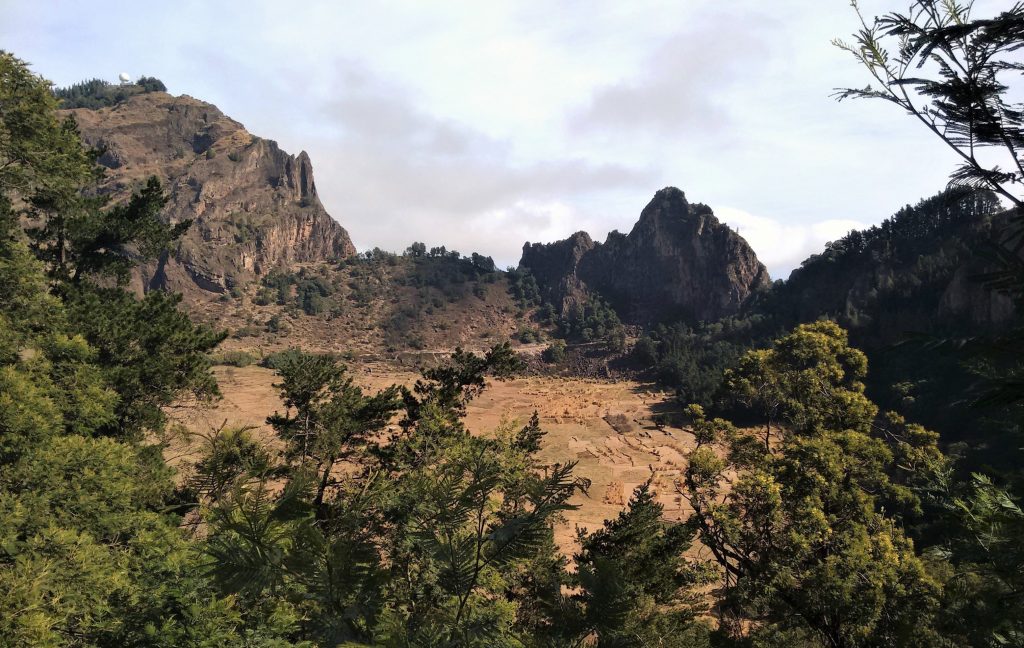 …to the volcanic crater at the top which is now farm land.
The taxi driver dropped me off and pointed me in the right direction 'Go down there, round the corner, you'll need to go through that pass over there to get to the Paúl Valley' he said in Portuguese. 'OK,' I said, feeling nervous, 'it's easy, right?' 'Yes, easy, just follow the path' he replied.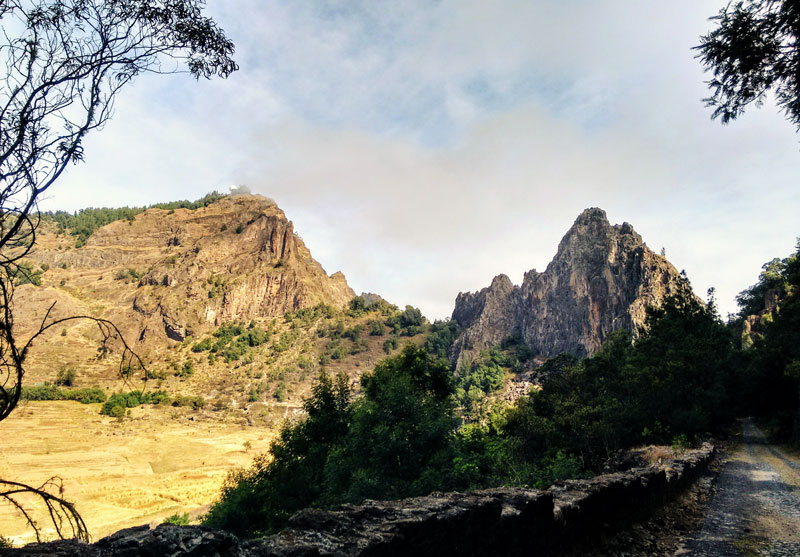 So I set off around the corner….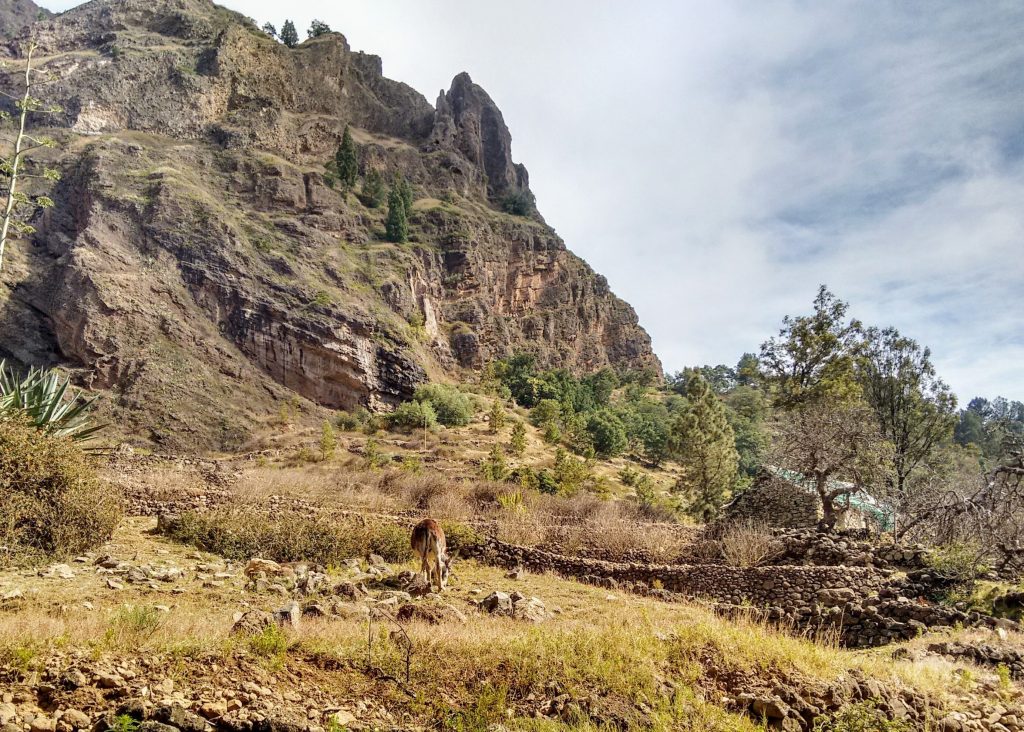 but although I could see people climbing up the rock on a terraced path I couldn't work out how to follow them so I started fiddling with my map ineffectually until some helpful farmers shouted directions which I couldn't understand with hand signals that I could….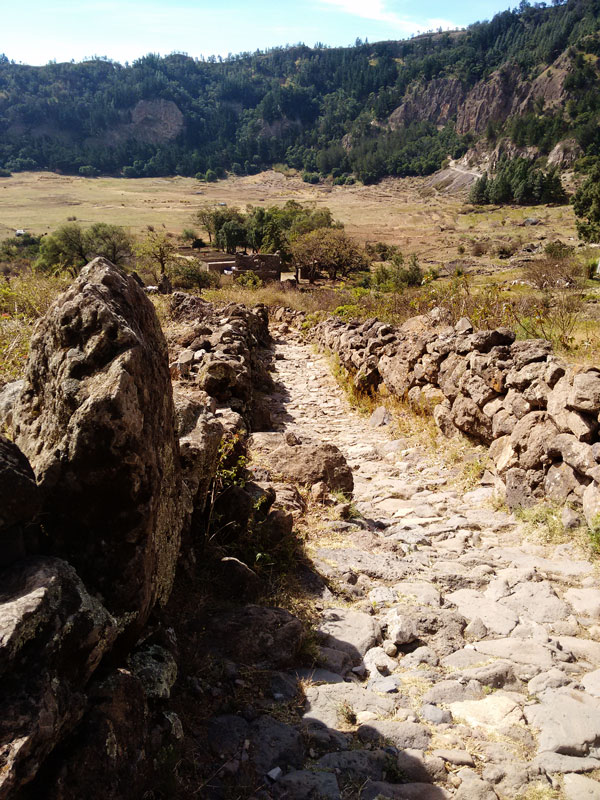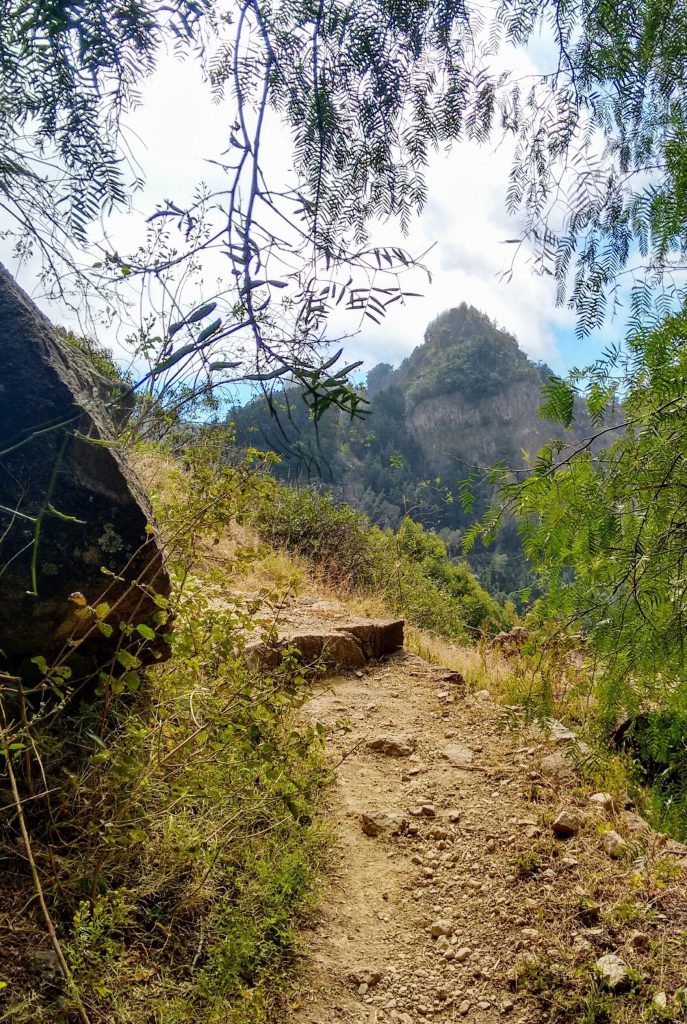 …and I was back on track.
Paúl Valley from the top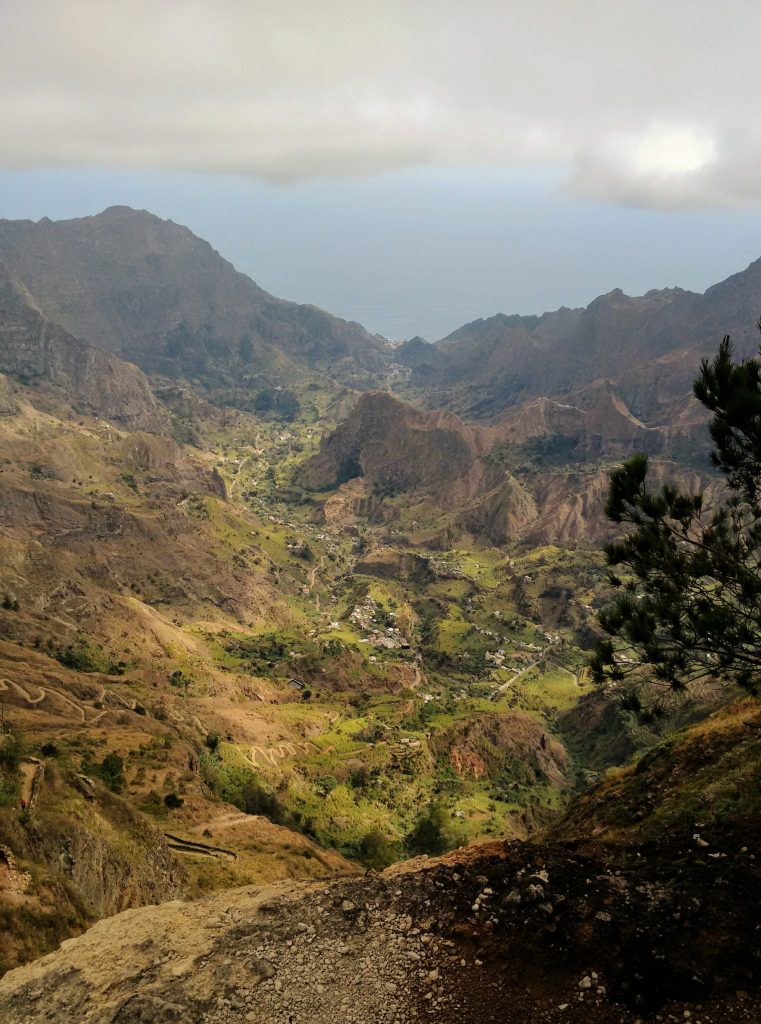 And this was the breathtaking view of the Paúl Valley which greeted me as I emerged from the pass. I fell in love…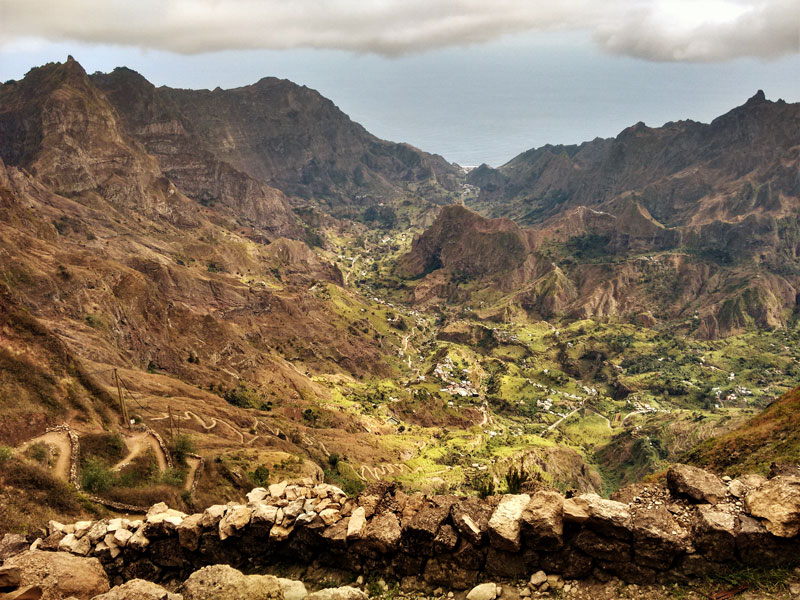 ….and started my buttock clenching, knee bracing, ankle ricking, slippy, slidy descent down the gorgeously terraced, twisty path repeating the 'down break anything' mantra under my breath.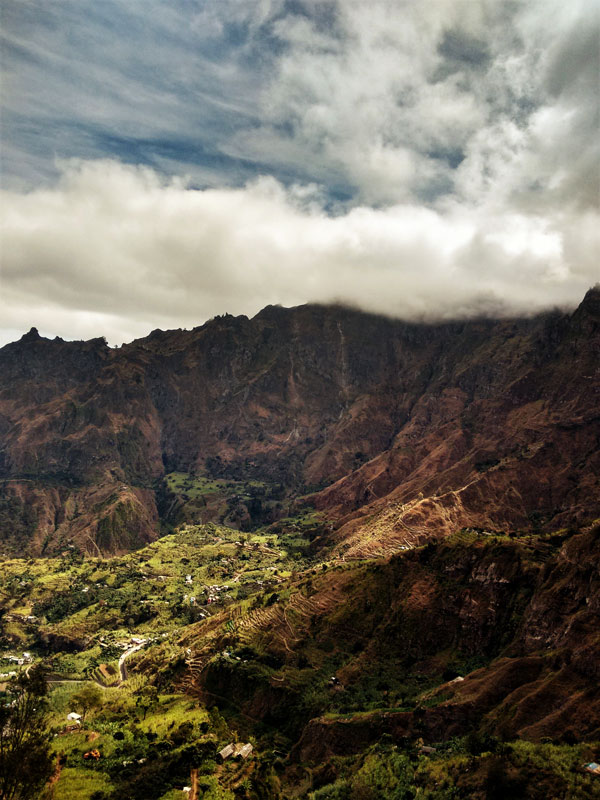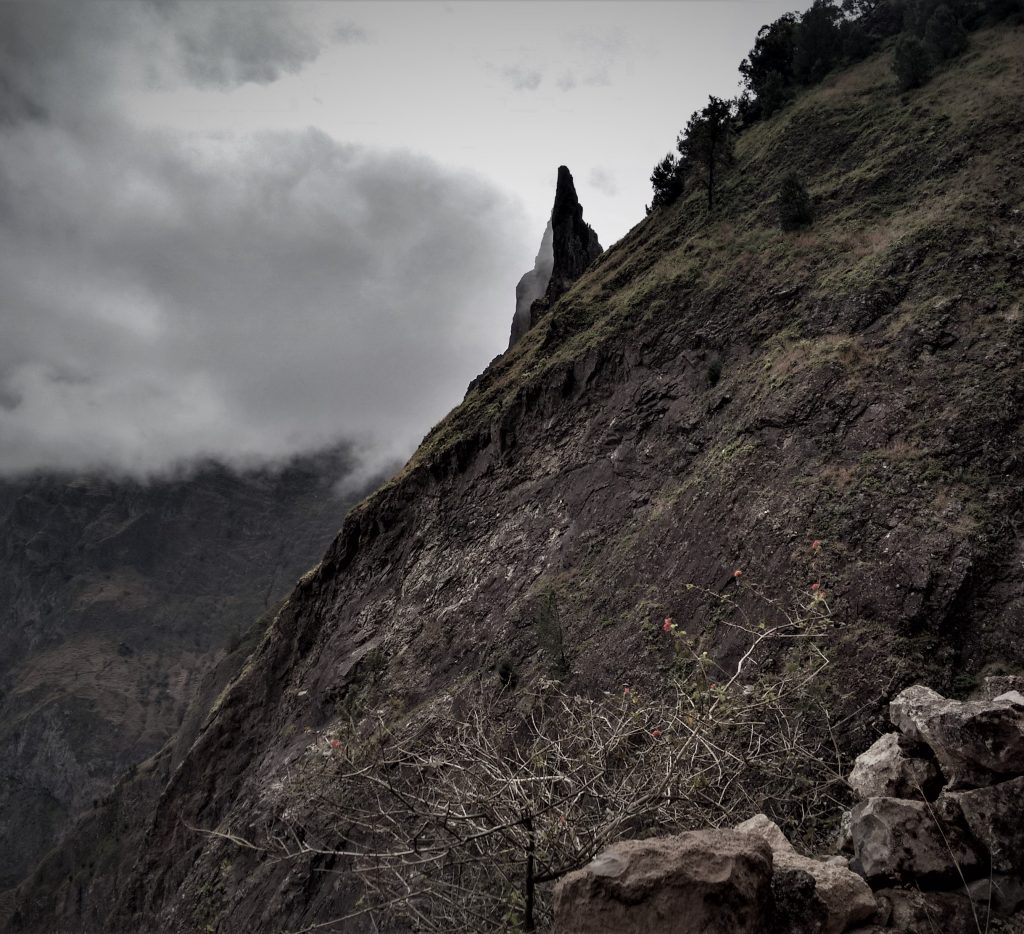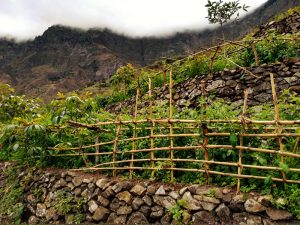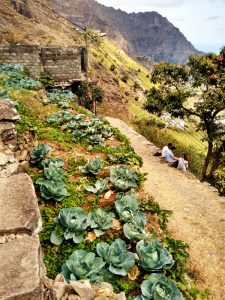 The level of cultivation and habitation gradually increased as did the temperature as I went down.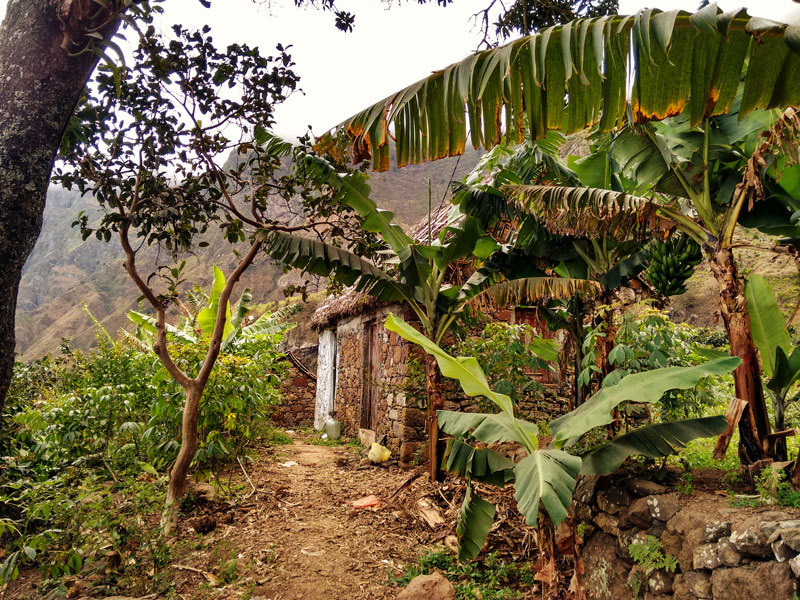 I stopped to buy a bag of coffee ground from beans grown in the valley from some women at the side of the path before reaching a village of sorts.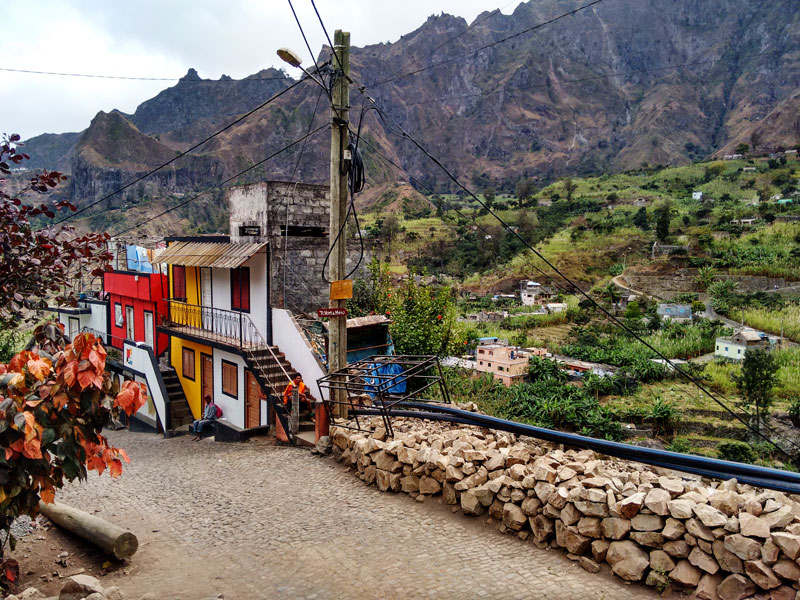 By this time, after two plus hours of walking, my knees and feet were complaining loudly but I was only about half way to my target destination of Vila das Pombas, a town on the coast, where I knew I could get transport back to the port…so I had to keep walking….until I spotted a passing colectivo and gratefully flagged it down.
'Can you take me to Pombas please? I need to make my way to the ferry.' 'Sure', said the driver in excellent English, 'from Pombas I'm going to Ponta do Sol to pick up some people who need to be at Port Novo for the 4pm crossing, do you want to come with me?' 'Yes please'. Nothing like an unplanned site seeing diversion to enliven the limbs.
As we whizzed down to the coast in the van I knew I'd not seen enough of the Paúl Valley…
Ponta do Sol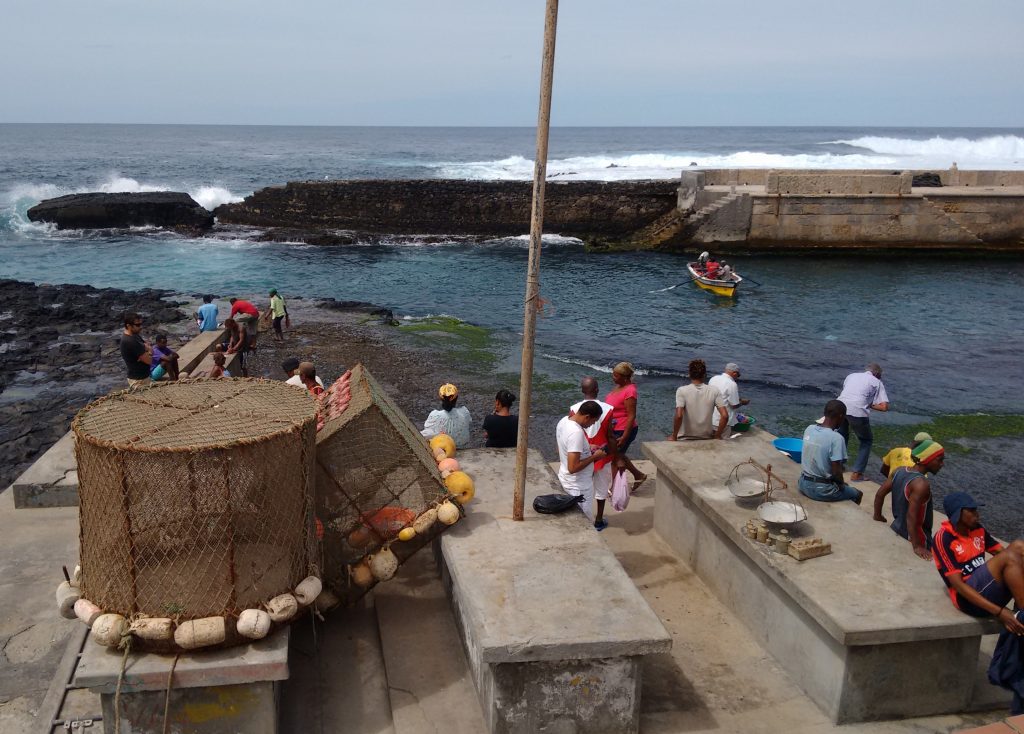 The colectivo driver dropped me off in the small but lively fishing port which doubles as a fish market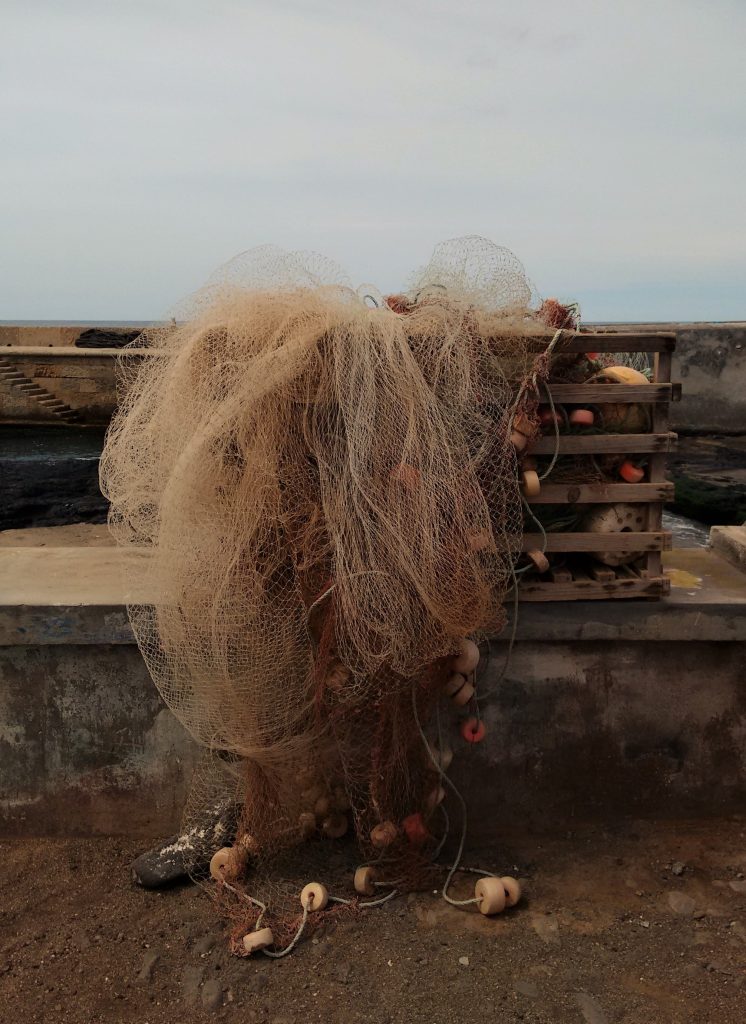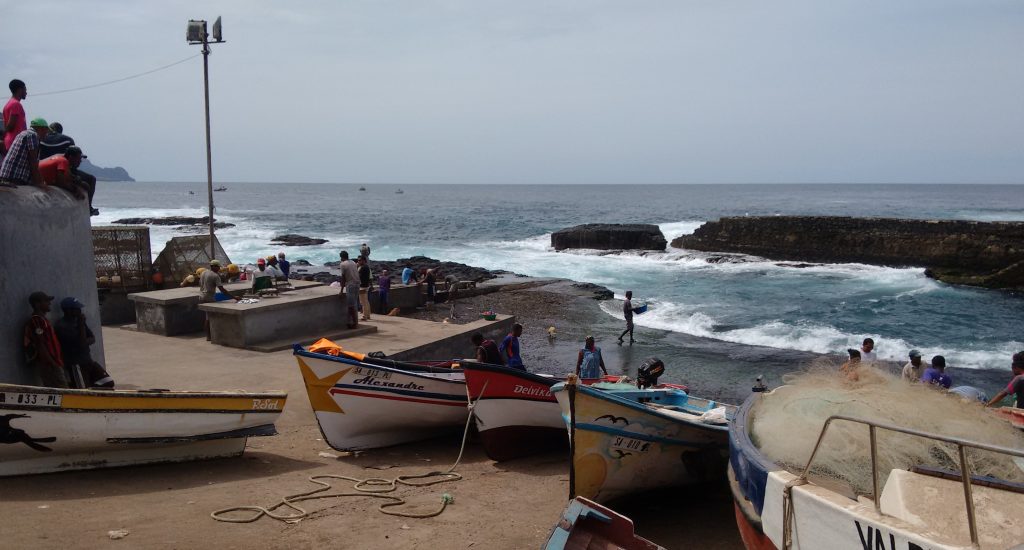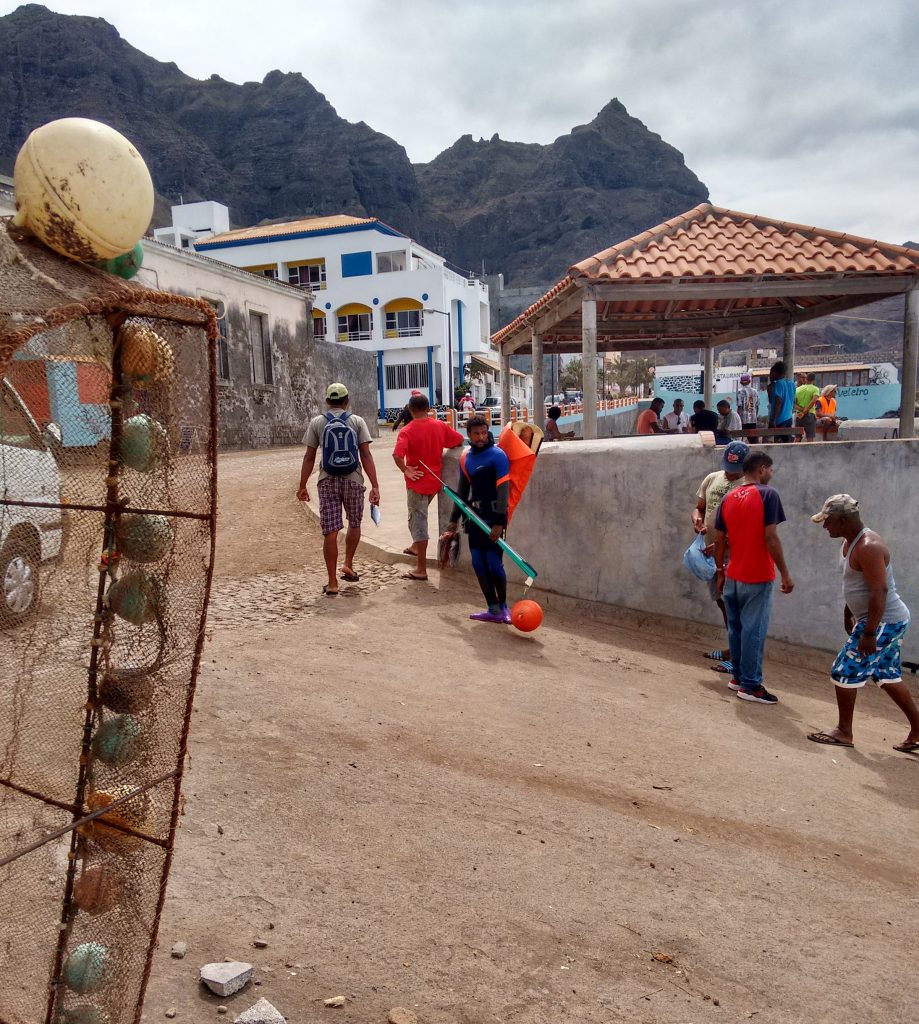 and I meandered up the road in search of drinking water before being picked up again.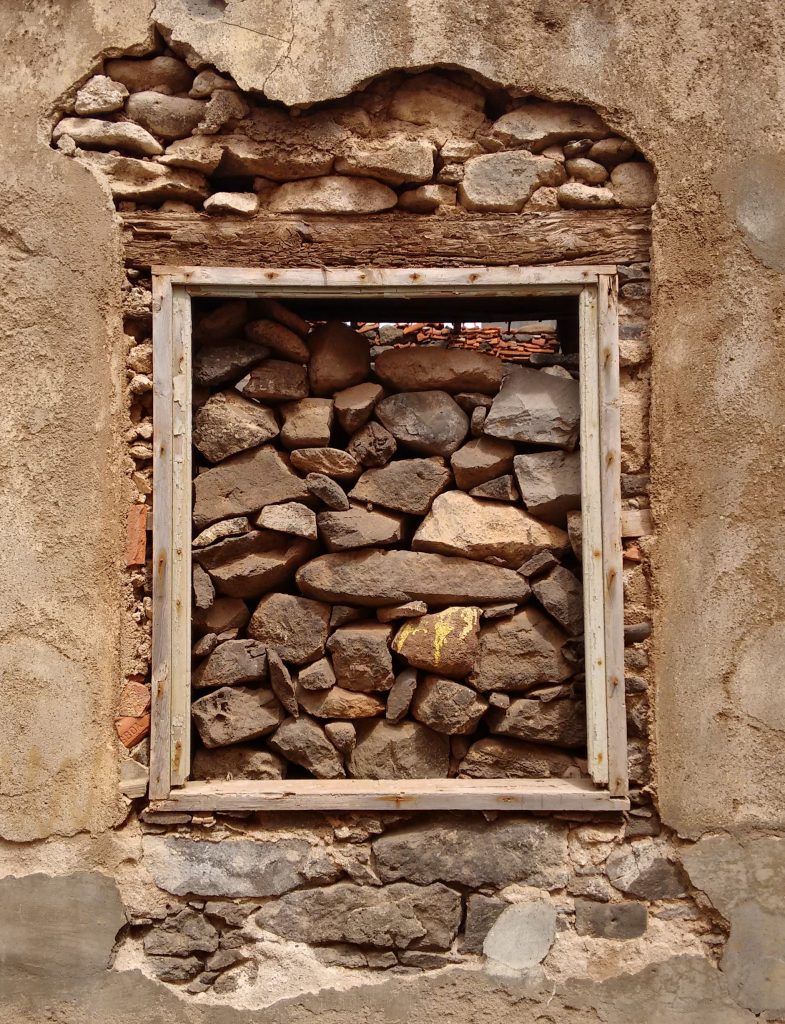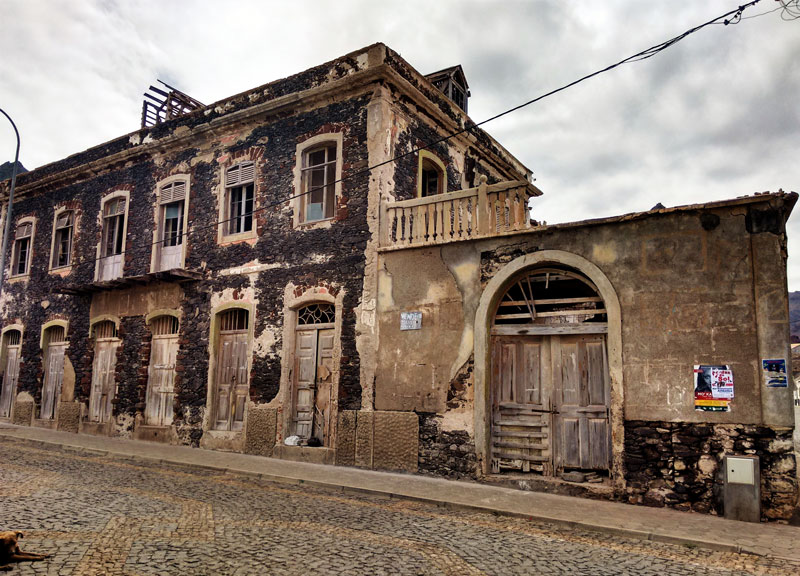 We then did a tour of the village collecting people from their houses before setting off on the 45 minute journey back to Port Novo. The whole trip cost me 500CVE / 5€.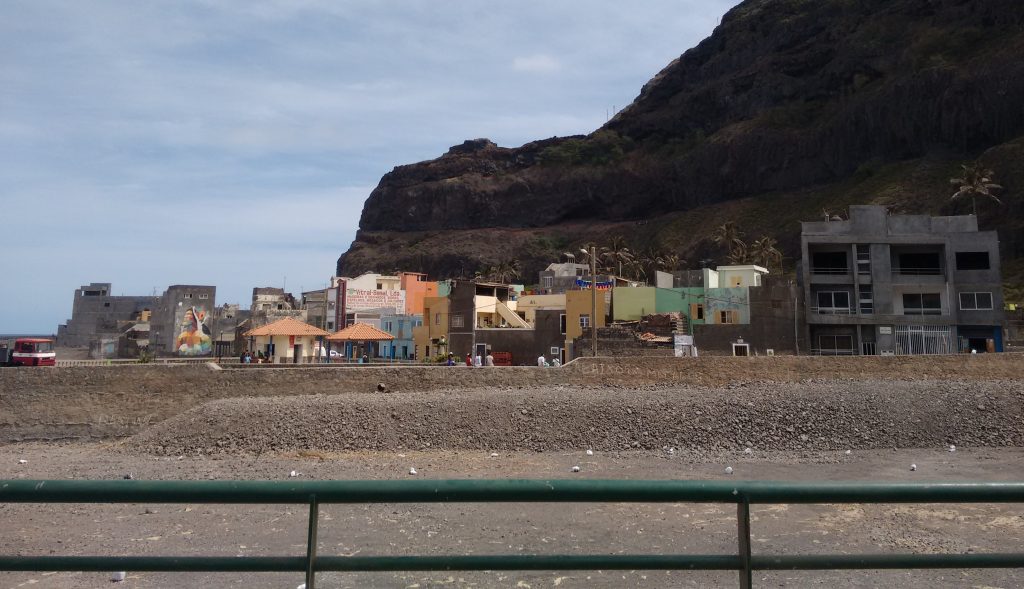 Having returned to Mindelo on the ferry, I spent the next day limping about on my sore hips and knees and changing my travel plans so that I could go back to Santo Antao and explore the Paúl Valley further.
Paúl Valley from the middle
I booked a room in the Chez Hujo hostel in the Boca de Figueiral region of the valley and they organised a colectivo to pick me up from Port Novo which cost 350CVE / 3,50€.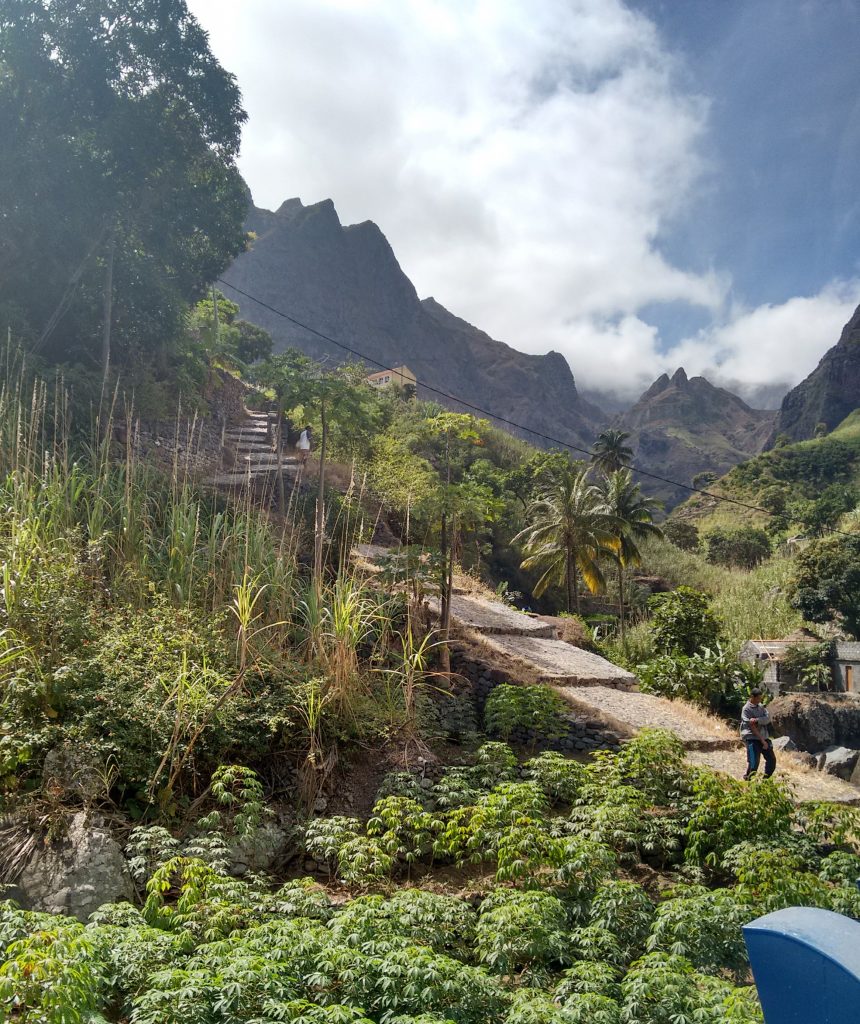 My room, at the back of the hostel, had a stunning view and cost 3500CVE / 35€ a night including an enormous breakfast, half of which I wrapped up and ate for lunch.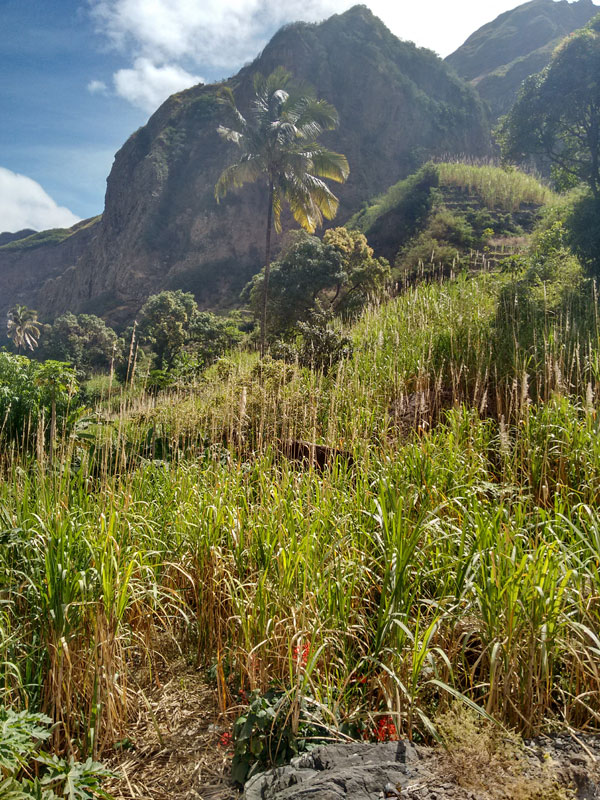 Chez Hujo also offer a huge evening meal (chicken, pork or fish with salad, rice and potatoes) at 800CVE / 8€, which is great since the closest restaurant is half an hour's walk away. There's also a simple bar downstairs which opens in the evening.

They gave me a very warm welcome and right after I'd checked in I set about sketching the view from the front of the hostel, left and below.


The following day I hiked up the road for an hour to the O Curral bio plantation and drew the stunning view from the open side of their restaurant (right) while enjoying a bowl of fresh fruit and homemade yoghurt.
The place packed out with serious hikers at lunch time who enthusiastically tucked in to bowls of catchupa accompanied by bottles of beer.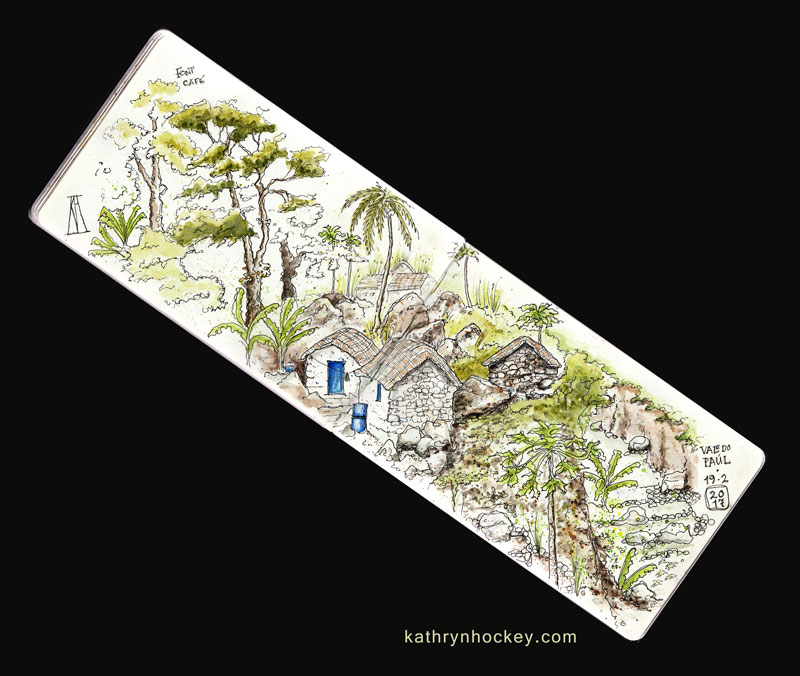 This next sketch of the Font Café (above), which was just round the corner from the hostel, took a few sessions over a couple of days to complete. I must say that sitting on a wall at the side of a road for hours at a time is a great way to meet people. And the Paúl Valley people are lovely. Eventually the old lady who lives in the foreground cottage walked up and greeted me. I showed her the drawing, 'Pretty', she said, 'now sit on that wall properly so that you don't fall over the side into the river.'
The Font Café on laundry day, below, with the river washed items spread on the rocks to dry.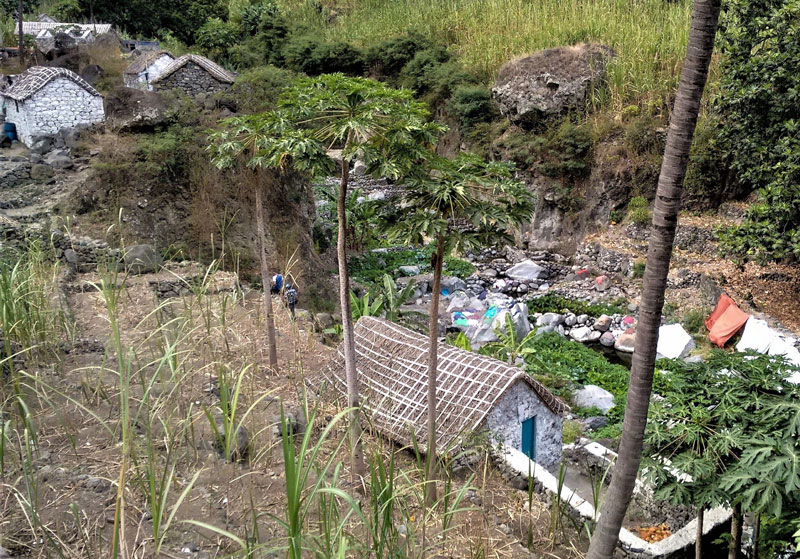 Once the Chez Hujo owners, Hudson (Cape Verdean) and Joel (French) found out I was an artist they asked me to paint the hostel (right and below).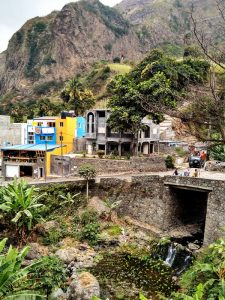 Against my introverted nature I accepted an invitation to join some Germans at dinner in the hostel one night…they turned out to be super cool meteorologists who'd reached Mindelo on a scientific research ship from Montevideo and come Paúl for a bit of hiking before heading home. We dispersed after dinner and I was in my room when I heard drumming from down the valley and as I was looking out of my window into the deep dark thinking 'ooh, shall I go out and follow the noise?' I saw some of the Germans on the patio below wondering the same thing. So a small but merry band of us trudged down to the next village under a super starry sky to watch the drummers practice and feel the rhythm in our bones at close quarters. After half an hour or so the lights and sound system on a truck had been rigged up and some girls dressed in carnival team outfits joined the throng and the truck set off down hill with the drummers in tow. We tagged along as did a growing crowd along the way….awesome and totally unexpected!
My last sketch was of the pig farm (right and below).
It took a few sessions to complete, sitting on a wall at the edge of a very high drop which made me feel quite queasy when I looked down.
I was close to tears at one point on my stroll up the road. Not only is the natural beauty timeless and breathtaking but the man made elements – stone houses with thatched roofs, terracing and careful cultivation everywhere, including the river beds – are stunning works of art.
I felt more inspired to draw in the Paúl Valley than I have in a very long time, I really didn't want to leave, and plan to return for a longer sketching and hiking holiday next year.
I might even learn some Creole….