What is The Black Dawg?
The Black Dawg is an illustrated poem about depression and hope.
It was written by Louis McIntosh and illustrated by me, Kathryn Hockey and we self-published it as a picture book for adults in September 2016.
Please contact me if you'd like to buy a copy of the book.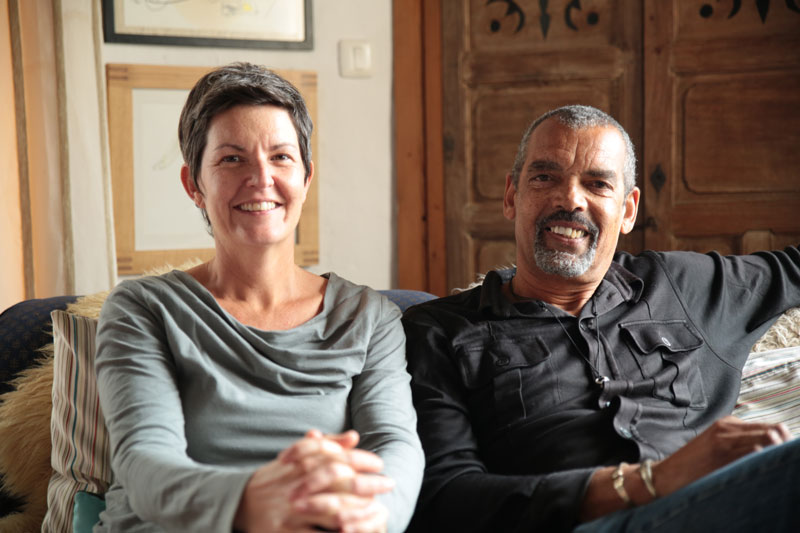 I'm terribly sad to say that we lost Louis to depression in January 2023. He is on my mind and in my heart, as are his family, to whom I send my deepest love and sympathy.
What inspired us to write and illustrate The Black Dawg poem?
Here's a video we made to explain and promote the project, scroll over the image below and click on the play button to watch it!
Why do we need your support?
The process of writing and illustrating The Black Dawg poem has helped us both to recognise, understand and explain what we go through when we are depressed.
Louis said "I am motivated by a passionate need to articulate depression and diffuse the stigma around it and I hope that fellow sufferers will recognise their symptoms and realise they are not alone. I also hope that reading The Black Dawg may help friends and family to better understand the dark journey that their loved ones take unwillingly."
Please help us share The Black Dawg with as many people as possible.
How can you help us to share The Black Dawg?
We wanted to donate a significant number of books to services providing support for people with mental health issues; such as hospitals, mental health charities, schools, libraries, the police and prison services. If you work in or have contacts in any of those sectors and would like a copy please click here to contact me.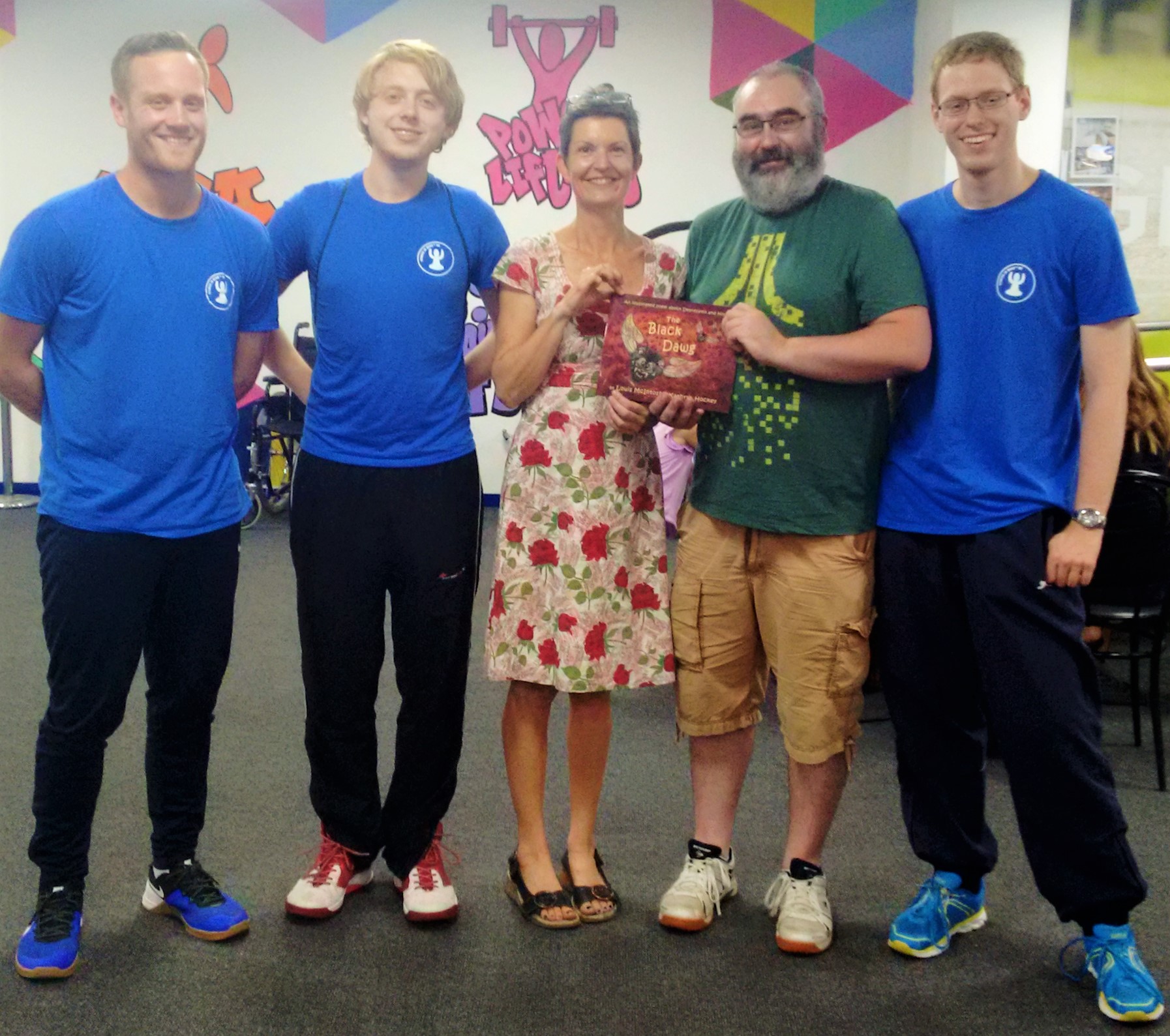 The Fitness in Mind team at the Brentwood Centre in Essex (above) strive to support individuals into fun physical activity, helping them establish and maintain a healthier lifestyle for both body and mind.
In August 2016 I met them to thank them for their social media support during The Black Dawg Kickstarter campaign and to donate copies of the book for them to share with their clients.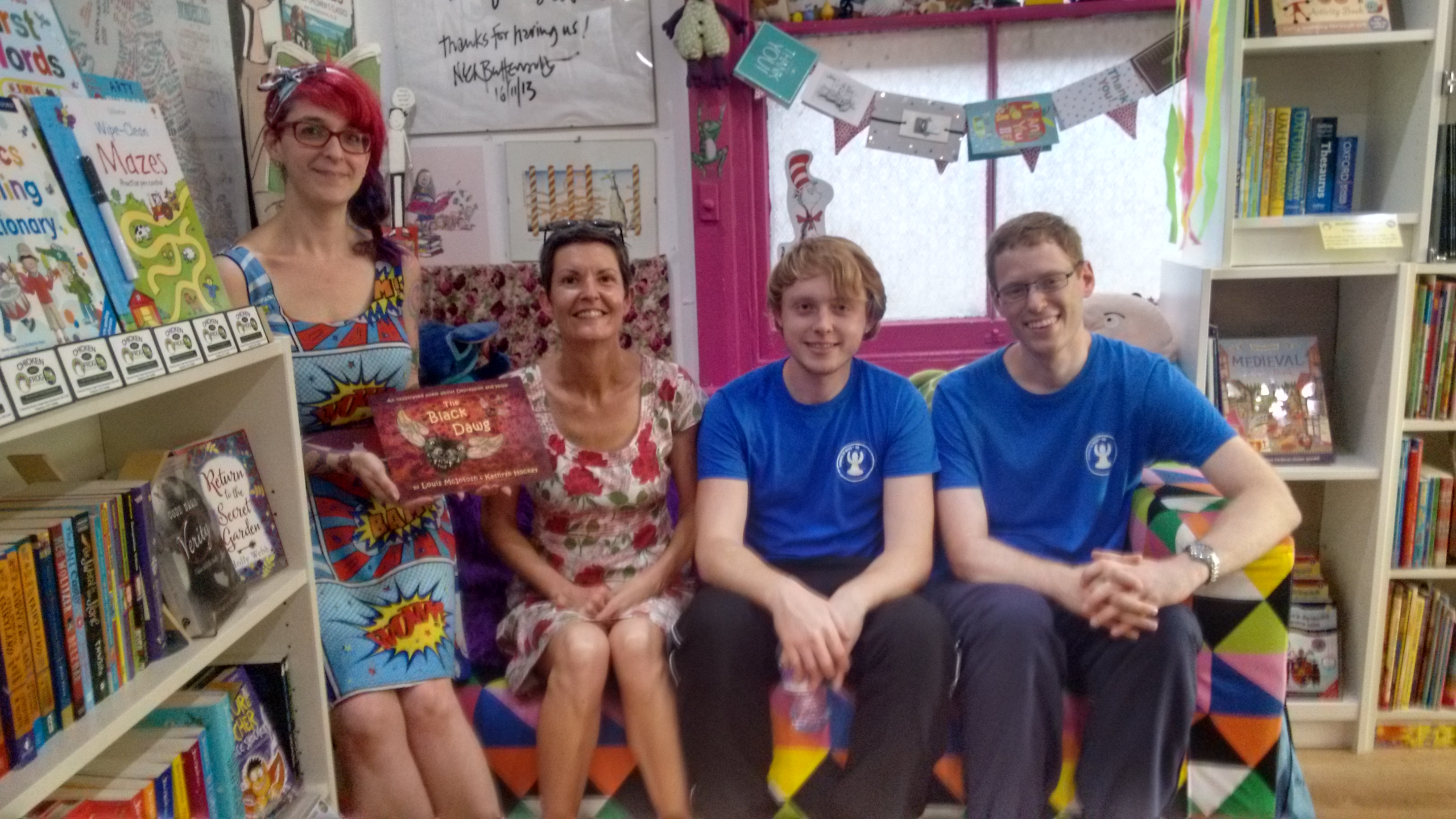 On World Mental Health Day (10th October 2016) the Chicken and Frog independent children's bookshop in Brentwood Essex (above) raised £90 for the Young People's Counselling Service (YPCS) by auctioning a donated copy of The Black Dawg along with some signed, limited edition prints of the 'Spiralling Branches' illustration form the book (like those shown below).
Claire from Brentwood YPCS says:
"We have had our funding cut and any funding raised helps to ensure that YPCS is able to continue to provide such an essential service to young people in the local area. I have been the Director at YPCS for the past 13 years and have witnessed a concerning increase in mental health difficulties in young people. This has been recognised by the Government yet funding in this area is still being cut and will continue to be cut."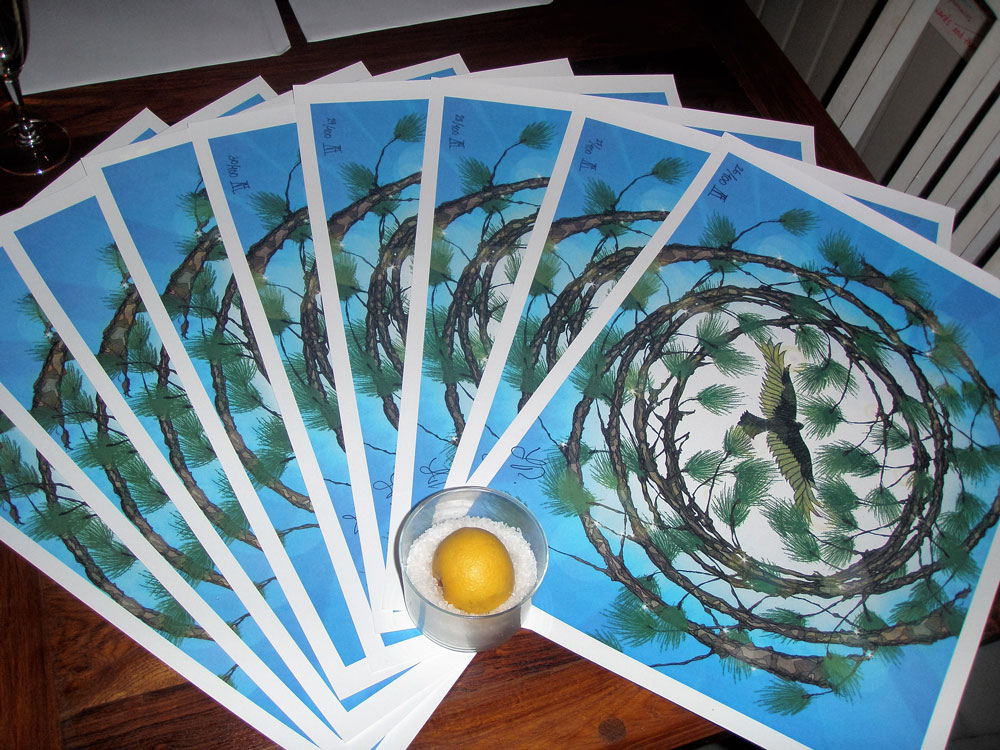 We celebrated World Mental Health Day 2016 by initiating The Black Dawg eBook Giveaway which ran from the 10th to the 31st October. We gave away more than 50 eBooks during this time, many to Mind branches in the UK and we're confident that it will help them with their therapeutic work.
Please share this link to The Black Dawg page with your friends, family and colleagues via email and social media.
Contact me if you would like to buy The Black Dawg paperback.
How did we fund the making of the book?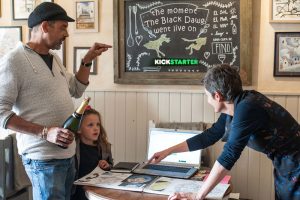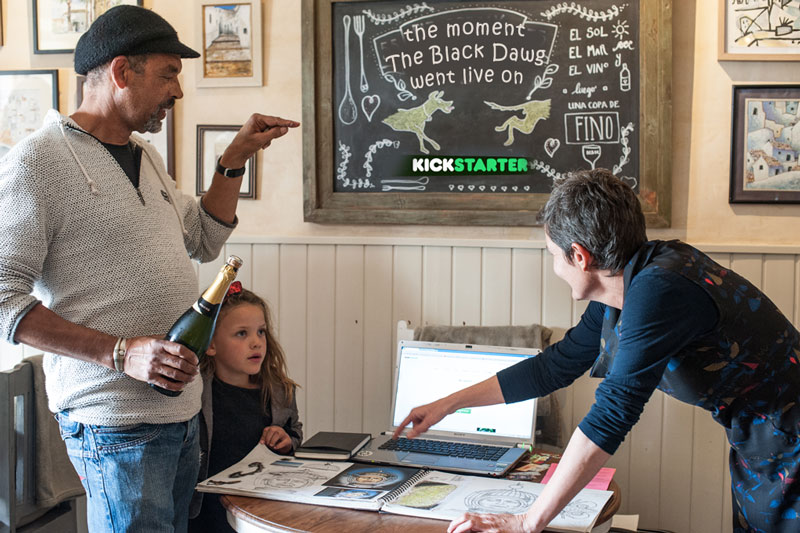 In spring 2016, with the help of 166 incredibly generous backers we raised money on the crowdfunding website Kickstarter to cover the costs of turning The Black Dawg into a finished book.
Right – pressing the 'launch now' button, the moment our project went live for a month of crowdfunding.
Click here to read the behind the scenes account 'Two Depressives do Kickstarter – what could possibly go wrong?'
Below – The Black Dawg Kickstarter page once our target had been reached.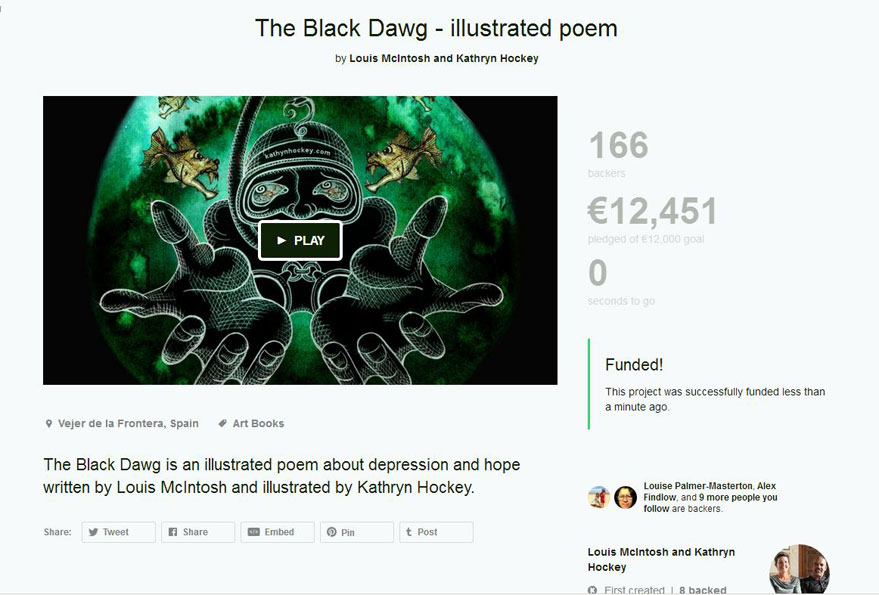 The funds raised made it possible for us to publish The Black Dawg book in paperback and eBook formats and to finance marketing and distribution worldwide.

The first print run of 1000 copies was completed in August 2016 enabling us to distribute the promised rewards to our lovely Kickstarter backers on schedule (above) and launch the book locally in Corredera 55, Vejer (below).

What's the story behind the words?

Louis wrote The Black Dawg in the autumn of 2014 having just emerged from a down; he was trying to explain to his partner how depression felt and the poem reached him almost fully formed (as I'm told they sometimes do).
I've been friends with Louis for about ten years and we've always talked openly about our bouts of depression. Even so, when he first sent me the poem I was reluctant to read it; scared that it might rake up unpleasant emotions and worried by the potential embarrassment of having to tell him if I didn't like it.
When I finally took the plunge I was really impressed by how honest, evocative, punchy, rhythmic and uplifting it was. So when Louis suggested I illustrate it with a view to publishing it as a picture book I immediately agreed.
The first few verses of The Black Dawg, above
Louis said "There are many, many verses and the good news is that it does brighten up for the second half as I want to show that the light at the end of the tunnel is not an oncoming train but Hope."
What's the story behind the pictures?
I have often found particular comfort in the first person descriptions of other people's depressive episodes and how they rode them out. Because it is such a confusing, frightening and isolated state there's something incredibly reassuring in finding out that 'it's not just me'.
As an illustrator I enjoy the challenge of turning ideas into pictures. Although the words in the poem aren't mine the ideas feel very personal indeed. I wanted to try to express my feelings, both dark and light, in pictures hoping that in the process I'd come to understand them better.

After an initial brainstorming session with Louis I reread the poem and made some rough sketches line by line. Then I had to go away for several weeks to work intensively on another project. During that time away several images popped into my head so I crudely recorded them in biro on the backs of envelopes and such so that I could develop them when I got back home.

For the next few months I worked almost constantly to turn those ideas into finished illustrations.

The Black Dog is a classic metaphor for depression made popular by Winston Churchill. It struck me that my own 'black dawg demons' are a stream of vicious repetitive thoughts which, if I'm not vigilant, leave me feeling undermined, victimised, confused, angry, exhausted and anxious. So I chose to depict them as steely eyed dogs crossed with biting flies, mosquitoes and piranha fish which bully, buzz and bite incessantly.

All the illustrations started as pencil drawings because I like the texture and fluidity of the lines. I scanned the drawings into my computer along with my watercolour paintings, marbling and photographs as well as bought or found papers with interesting textures and patterns. I then combined all the elements in Photoshop layers to make digital collages. I also added the computer generated light effects to make the image 'pop'.

Feedback for The Black Dawg

Once we had a few pages ready we made The Black Dawg promotional pack for our first round of market research.
Click here to read more about the promo pack.
We've had some very positive feedback, here are some quotes:
"At Healthwatch Bristol we hear about how much depression can affect people. This project is a great way of creating awareness for mental health issues." Healthwatch Bristol
"I think this is such a great idea…balancing the grit & honesty of the subject matter with the eloquence and beauty of the poem and illustrations. There's that touch of lightness…it's not a heavy, over-earnest book about depression." Angela Brightwell Funny Matters
"It looks great – love your illustrations – and they act as a great backdrop for the poem which I feel is in turn painful, honest and ultimately uplifting." Lisa McKenna
"They're stunning, thought provoking and deep. What a great project…it's haunting (but in a good way!)" Karen Ormiston
"Explicit Expression, excellent sharing of verse with art, love it" Trudy Brodie
"The poem is truly moving and written in a way that everyone can relate to" Sallie Walker
"Your illustrations are really powerful, very beautiful work and Louis handles language fluidly and precisely." Rich Hadley
"Though depression is a deep topic and a difficult one to approach, you have both done 'art-justice' to it. Louis with his choice of language and you, with your haunting and contrasting light images." Mark Ford
The Final Layout
The finished book is a glossy paperback with twenty pages (including the covers, introduction, aknowledgements etc) and measures 26.8cm by 21cm.
The poem and illustrations take up seven double page spreads, there are extracts below (click on them to enlarge):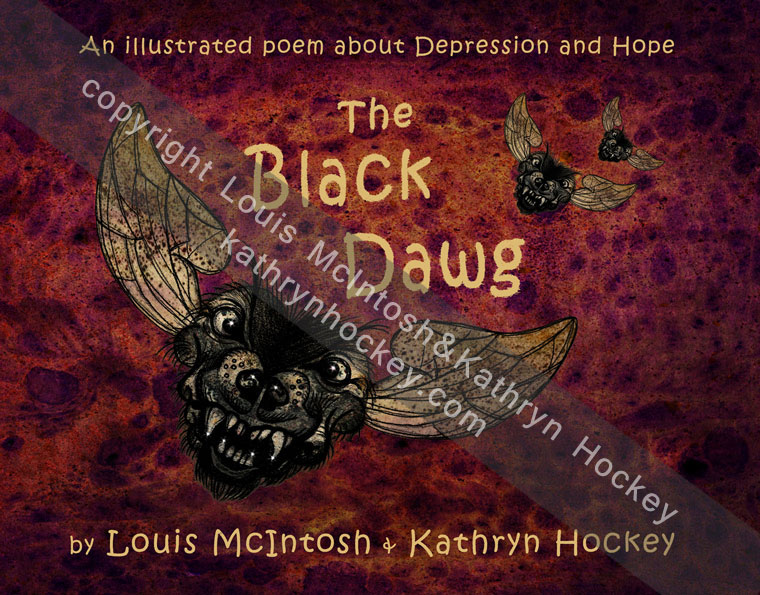 The front cover (above)

Pages 1 and 2 (above)

Pages 11 and 12 (above), the transition pages, when the poem moves from dark to light. This was the most difficult illustration for me ideas wise and because of that it was the one I left until last. It took a long time for me to work out how to depict what it is that I do to fend off those fiendish dawgs and turn negativity around.
The position of the hand has three symbolic meanings: simultaneous defence and attack (flicking away the black dawg); I'm OK; and a gesture used during meditation.

Pages 13 and 14 (above), the penultimate pages.
Thank you so much for your interest in The Black Dawg project, we look forward to hearing from you!
Take excellent care of yourself, with love and best wishes,
Kathryn and Louis