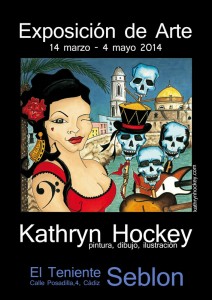 I'm very happy to announce my latest art exhibition in El Teniente Seblon, a lively, friendly bar in El Pópulo, the oldest part of the beautiful city of Cádiz.
14th March – 4 May 2014
The poster features the CD cover I designed for local band Mr Groovy & The Blue Heads' 2012 album 'Jauja' (meaning land of milk and honey) and shows Cádiz cathedral in the background.
Click here to see photos of the exhibition.