Hello and welcome!
I returned to my home county of Essex in the spring of 2020 after a decade or so of living, painting and designing in the south of Spain. I'm so grateful for all the opportunities to discover and paint the many delights of this beautiful county.
This is me, taking a moment, in front of my series of Maldon High Street fine art prints at the launch for my Maeldune Centre exhibition.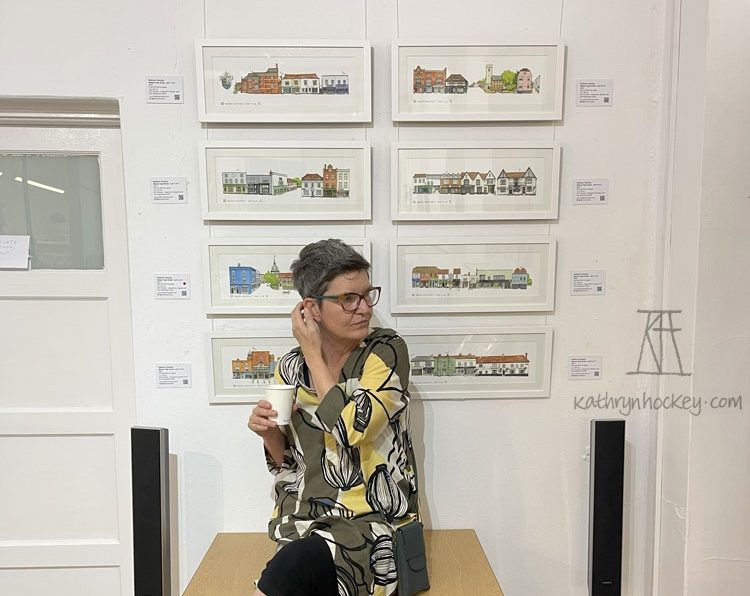 I do take commissions – please drop me a line!
Here's a bit more about my other art projects:
Exhibitions: I was really touched by the generous reception for my exhibition of pen and wash portraits of beautiful Maldon High Street which ran in the Maeldune Heritage Centre from 17th August to 2nd September 2023. Read more about it here.



During the first lockdown of 2020 I was absorbed with my "Painted Snapshots of Bermondsey" project. I sent my original artist book to the Brooklyn Art Library and then self published a limited edition of 50 printed copies – all signed and numbered – which I sold to raise money for Southwark Foodbank.


Sketching: Weather permitting, I like to sit outside and crack open my old tin of watercolour paints for some loose drawing and splattery colouring.


Travel Blogging – I recorded my trip around India in words, photos and sketches and posted them in my latest work section. I also drew portraits and painted a few murals while I was in Rajasthan.

The Black Dawg – an illustrated poem about depression and hope. In 2016 I raised funds on the crowdfunding platform Kickstarter to self-publish this beautiful picture book for adults which aims to raise awareness and reduce stigma around mental health issues. I made the illustrations and my friend Louis McIntosh wrote the poem.


The writer Jackie Cornwall says

"I came to Kathryn Hockey's art through a St. Ives prism, seeing in her clear colours and careful outlines the legacy of Ben Nicholson, Christopher Wood and Bryan Pearce. How wonderful then, that when I asked her to create a painting for a friend's birthday, she gave me that most quintessential St. Ives discovery, a windowless windowsill! Her work vibrates with a life-affirming joie de vivre. Her ability to find colour and interest in unregarded objects is one of the most engaging aspects of her art.
Everything in Kathryn's work has its own glamour, from bulging gas bottles to clustered flowers. A white skull, an elegantly strutting rooster, a squadron of peppers are almost tamed by her instinct for line and pattern, but in their exuberant colours nature has its way. A dancer's boots, crowned with roses and creased with use, lead our eyes into a looking-glass world. Beyond her delicately wrought townscapes dance the lights of infinite possibility.
Sometimes cartoonish and stylised, sometimes lovingly detailed, her people are not strangers; they look straight into our hearts, and whether they smile, wink knowingly or merely look out at us from the sanctuary of their own thoughts, we know them and their humanity. To encounter one of her subjects is to find a friend. Her animals too, are real personalities.
Kathryn's work would enliven any context, but in the brilliant light of the Costa de la Luz her feel for both colour and line have come together in a unique combination. She is a true artist, one who makes art out of everything she sees, and I trust that in the future, her reputation will increase as she deserves."
You can see blog posts about all my latest creations here.