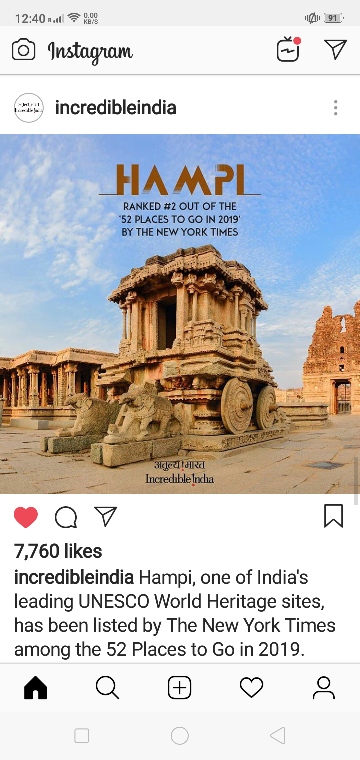 So the day I set off for Hampi I see this on Instagram! It's going to be worth the effort…
An early morning taxi from Varkala to Trivandrum, two domestic flights: Trivandrum – Chennai – Hubli, another taxi from Hubli airport to Hubli Junction railway station, a train to Hospet, a tuk-tuk to my guesthouse, an overnight break and then a local bus from Hospet to Hampi!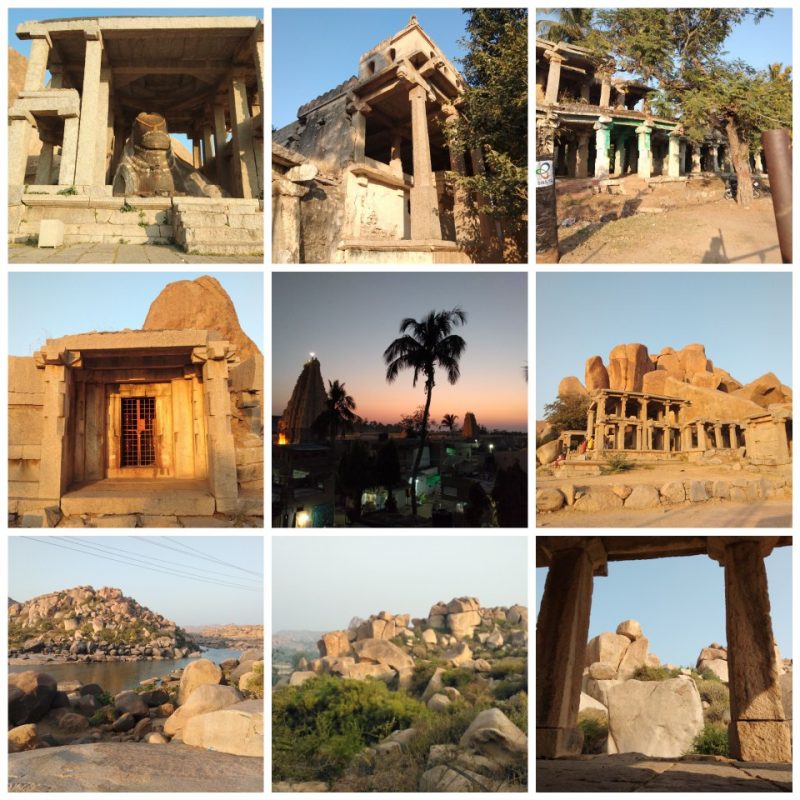 And Hampi (this link can explain the history better than I can) proves to be a delicious and mind bending mix of surreal geological accidents and logic defying Flintstone style construction.
Of course with my meticulous research (not) I was well aware (not) that the day of my arrival coincided with the Makar Sankranti festival so the bus from Hospet was packed to the gills and Hampi was swarming with visitors.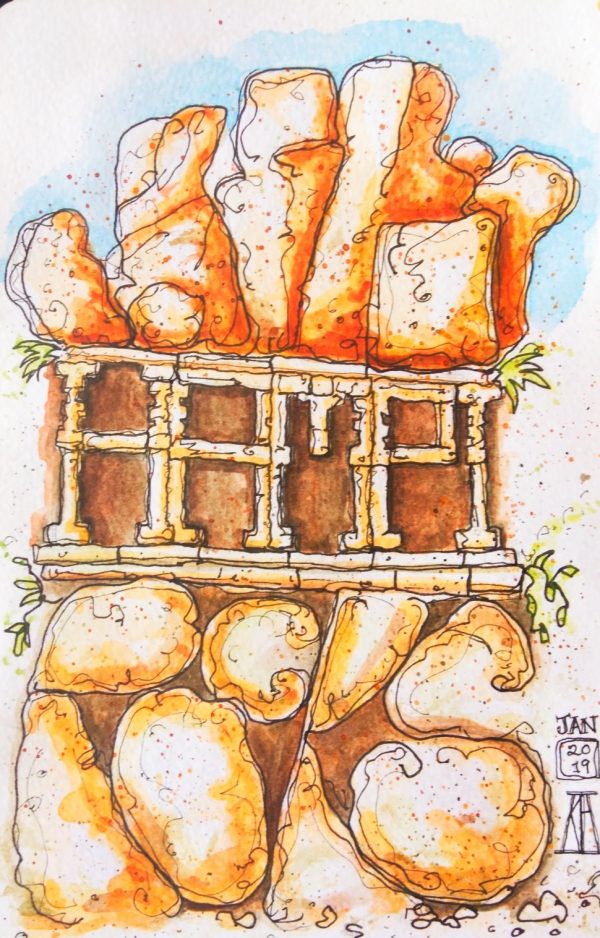 Here are a couple of pen and wash sketches…impossible to capture the mad grandeur of the landscape but fun trying.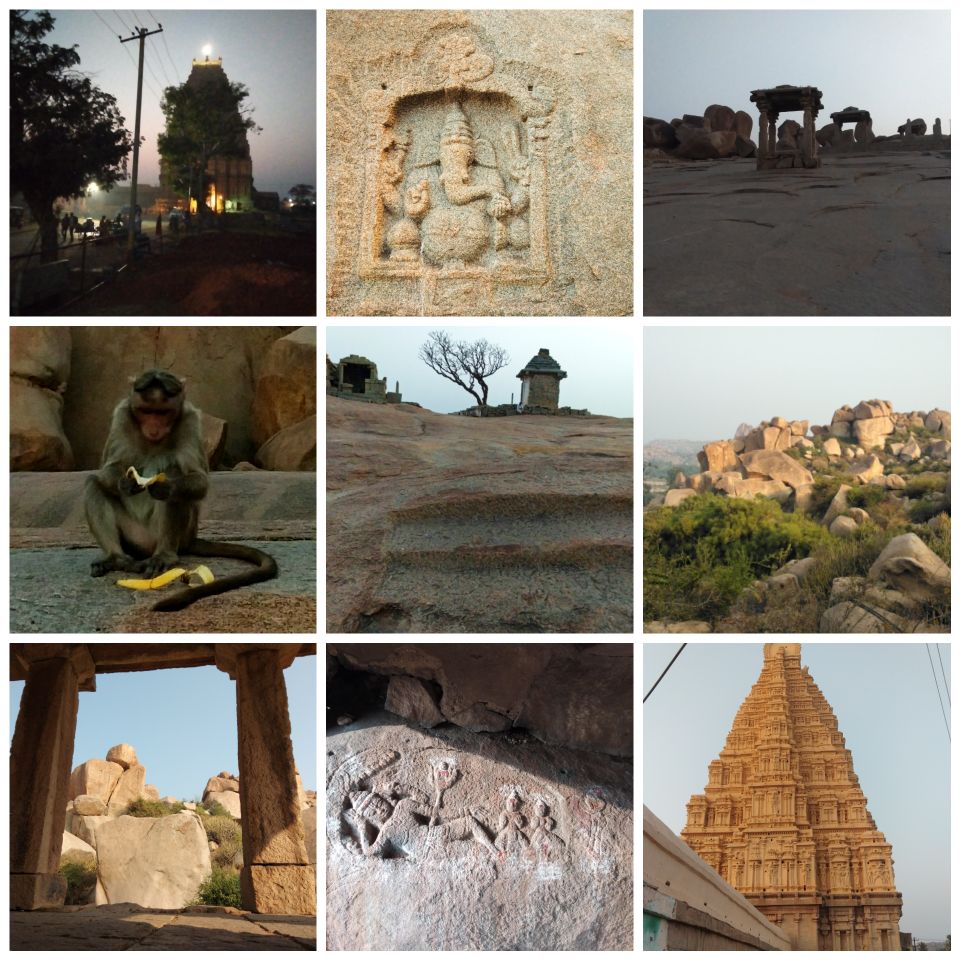 The site is vast and I'm staying in a guest house (Funky Monkey – friendly, nice food and music, bathroom prone to flooding through the ceiling a couple of times a day but no drama), which is in a sort of shantytown in the centre.
I've taken to rising just after dawn (6:30ish) and going out for a wander in ever increasing circles then returning for breakfast a few hours later. That way I have the place virtually to myself and it's fairly cool.
This morning I got up a bit earlier and since I was fully covered decided to visit the imposing Vishna temple next to the guest house. I left my shoes at the entrance and didn't take any photos inside.
A friendly man showed me around, with the unspoken agreement that I would pay him at the end of the tour. He took me to the inner shrines, demonstrated a 700 year old camera obscura which projects an image of the huge tower (top left and bottom right in the photos above) onto an interior wall at sunrise, pointed out some stone carvings of Vishna in his various animal forms and some others which were frankly pornographic (unexpected, given the sacred nature of the site and the Hindu's prudish attitude towards sex).
Just inside the entrance, to one side there was an elephant chained by his feet to the floor. His face and ears were painted with the red, yellow and white markings of the blessed. As I went in I noticed him pacing, as far as the chains would allow, in a rhythmic way reminiscent of a depressed person rocking. On my way out I saw two women offering him food, he knocked them to the ground with his enormous trunk. Shaken, they got to their feet with a laugh and left. Another woman sat to the side and spoke to elephant; I think she asked why he was so angry. Aptly he threw rubbish at her. I'd be well pissed off under similar circumstances but in the absence of industrial strength chain cutters and a PETA intervention order I left the sad scene.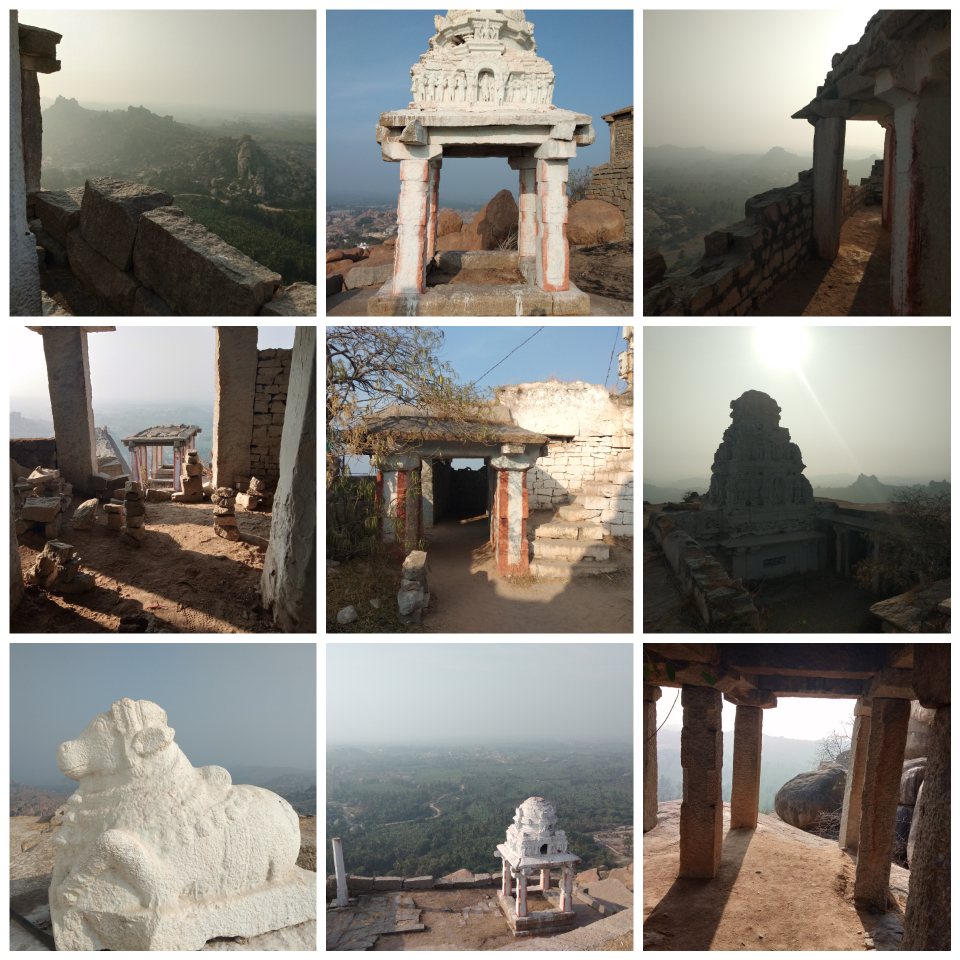 On my first day in Hampi I'd noticed some people on the top of a huge crop of rocks but, tired and disoriented I wasn't able to find the way up.
This morning, quite by accident I stumbled (not literally, I am quite sure footed for an old bird) upon the stone staircase around the back of the rocky mountain. I scaled it…admittedly not without misgivings, bouts of gentle vertigo and a few rest stops…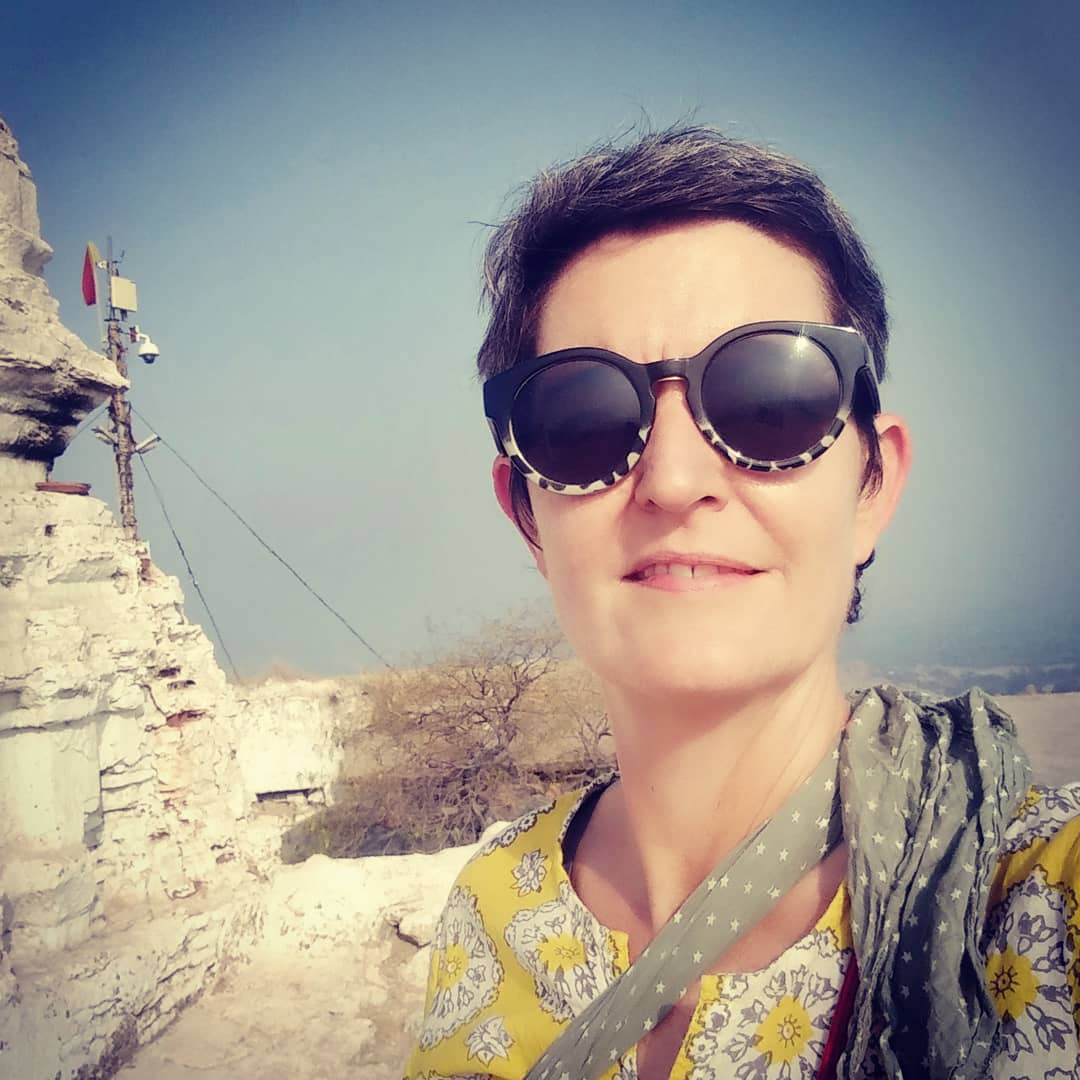 But the view! And the sense of calm…and achievement…and awe at the vast beauty of the landscape juxtaposed with the crumbling buildings. I'm so happy to share that view with the squirrels, birds and lizards.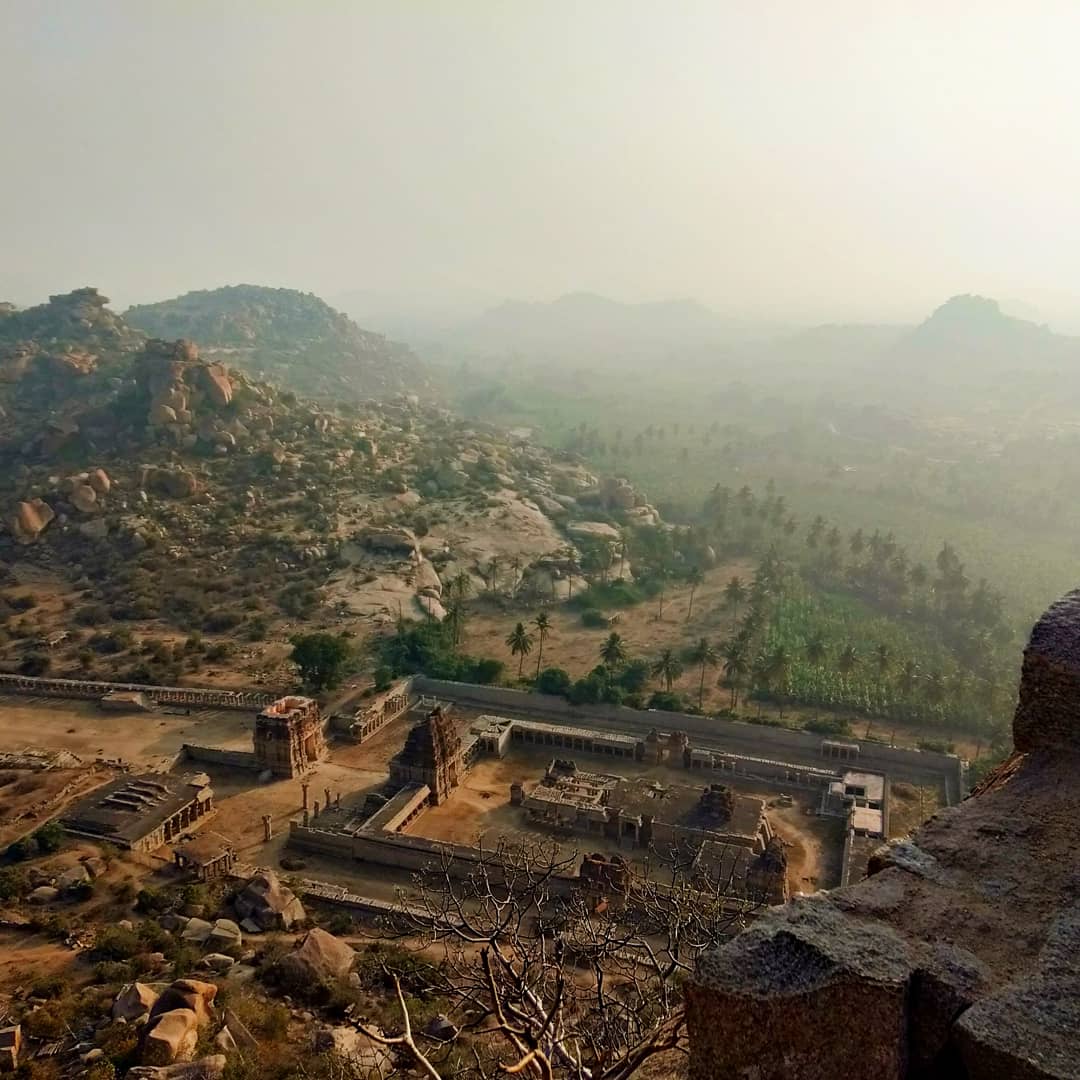 Luckily I found an easier way down, although I did shuffle part of the way on my bum.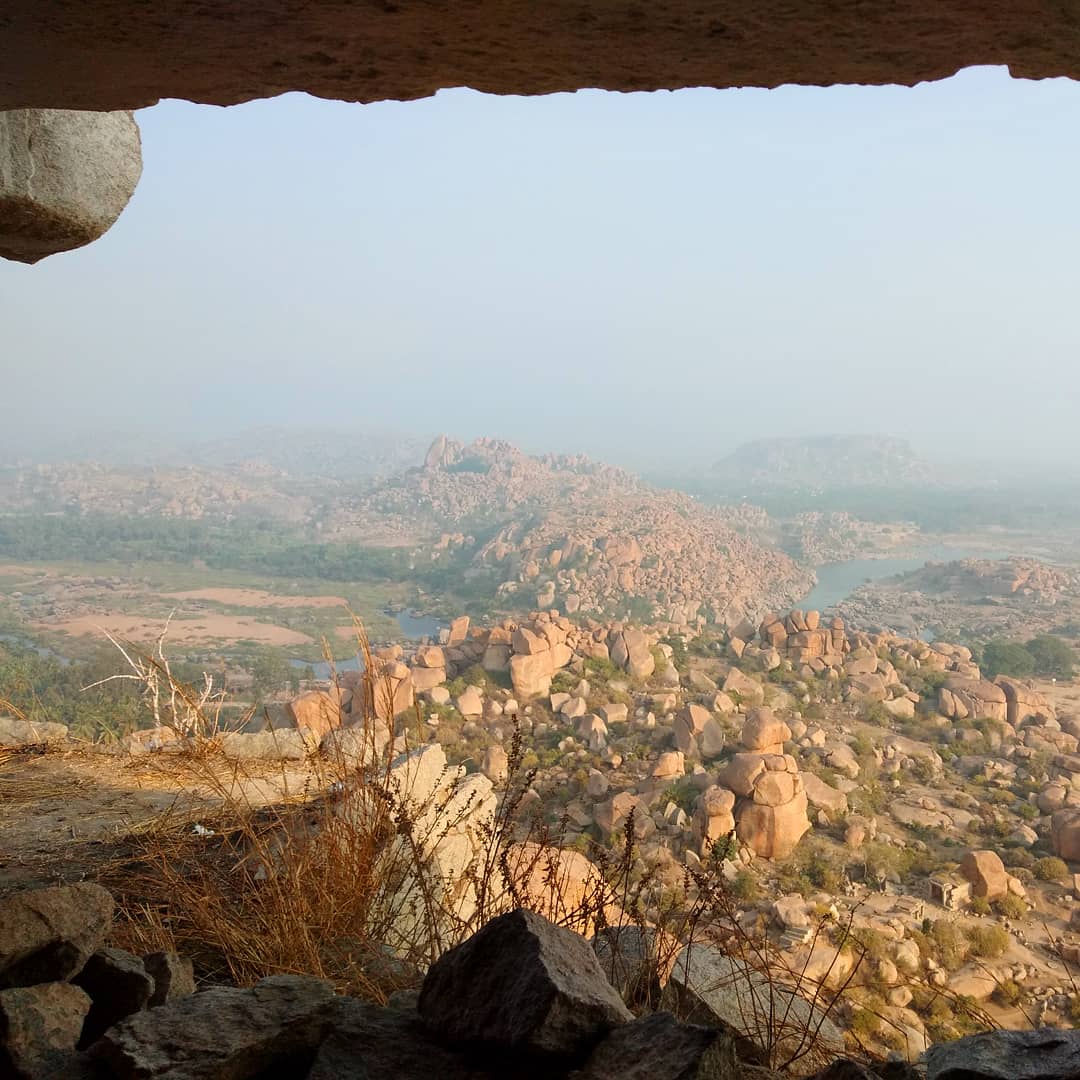 So I'm quite chuffed at this point, imagining the delicious breakfast I'm going to have when I get back to the guesthouse…when a cheeky monkey bounds over and robs me of the bag of bananas I've been carrying since I left the first temple. No way I'm arguing with him, ha!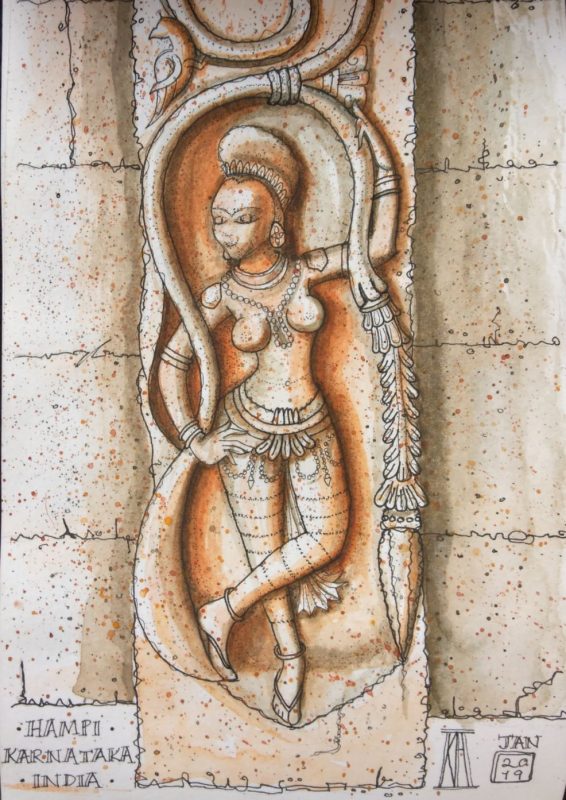 There are centuries worth of stone carvings at Hampi; some of them crude and some so skillfully intricate it boggles the mind. Obviously the surviving carvings exist in various states of dilapidation and most are fully accessible to examine at close range with eyes and fingers.
I saw many, many examples of the woman above, all unique. I love the way her arms are entwined with the stone archway so I decided to paint a version of her.