Back in September I joined Burnham Art Club – a group of painters formed in the 1960s based in the beautiful riverside town of Burnham-on-Crouch in Essex.
It's been a joy to meet other like-minded painters for the weekly discipline of painting in the open air, especially since the weather this autumn has been (mostly) glorious.
Apart from the Autumn Acer, I started all the paintings shown below on site, adding the finishing touches in the comfort of home. They're all pen and watercolour on 30.5 x 23 cm 300gsm 50% cotton Fabriano paper which has a lovely 'woven' texture.
Number 7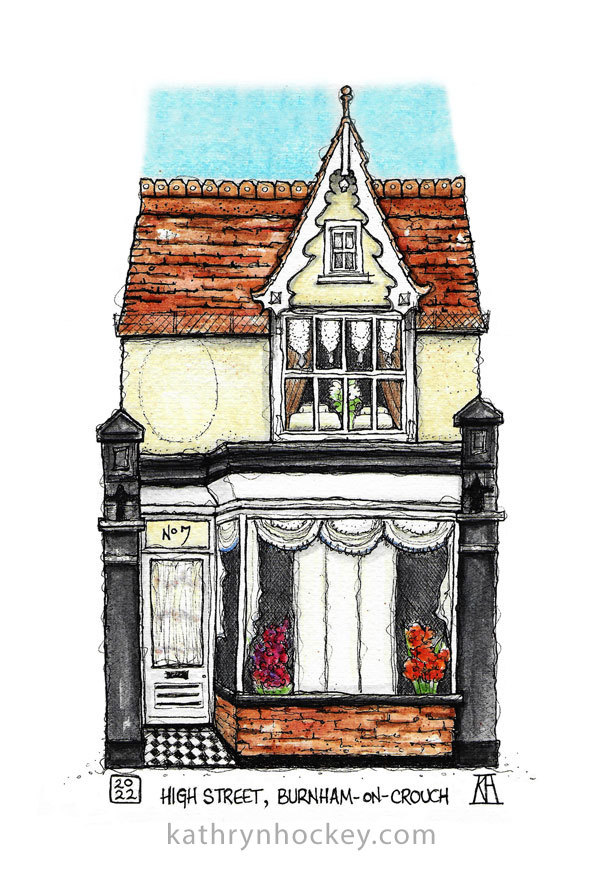 I was invited in for coffee and a little house tour by the lovely owners of this gorgeous 250 year old Dutch built property, which they used to run as a combined antique and tea shop.
The Clock Tower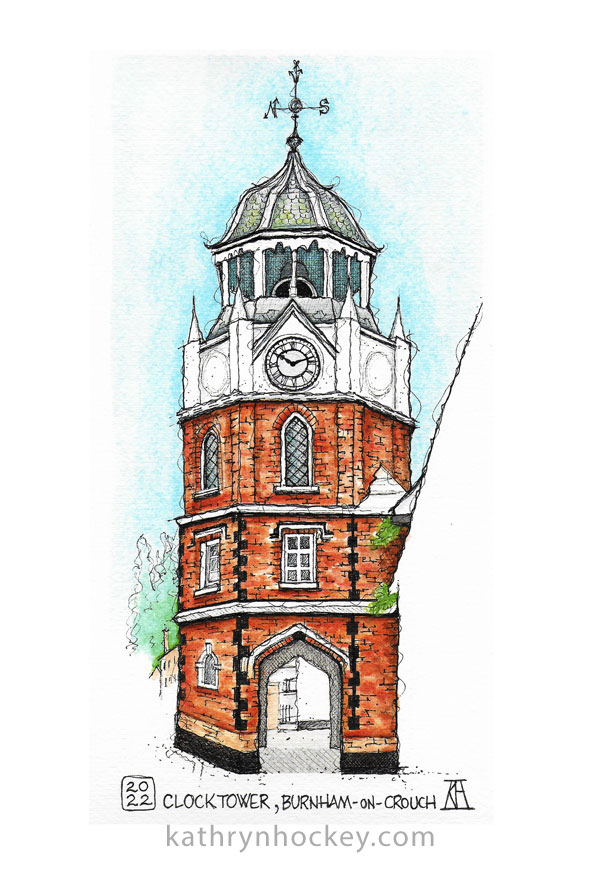 This stunning clock tower, which is the focal point of Burnham High Street, was built in 1877 in memory of Laban Sweeting, a local oyster merchant and philanthropist. The original plan was to put up a clock in his honour but donations came in so fast after his death that there was enough money to build a tower to house the clock.
I got the bones of this drawing down while perched on my little stool in the High Street, but once the cold rain showers joined the chilly wind I retreated inside to add the watercolour.
Green Door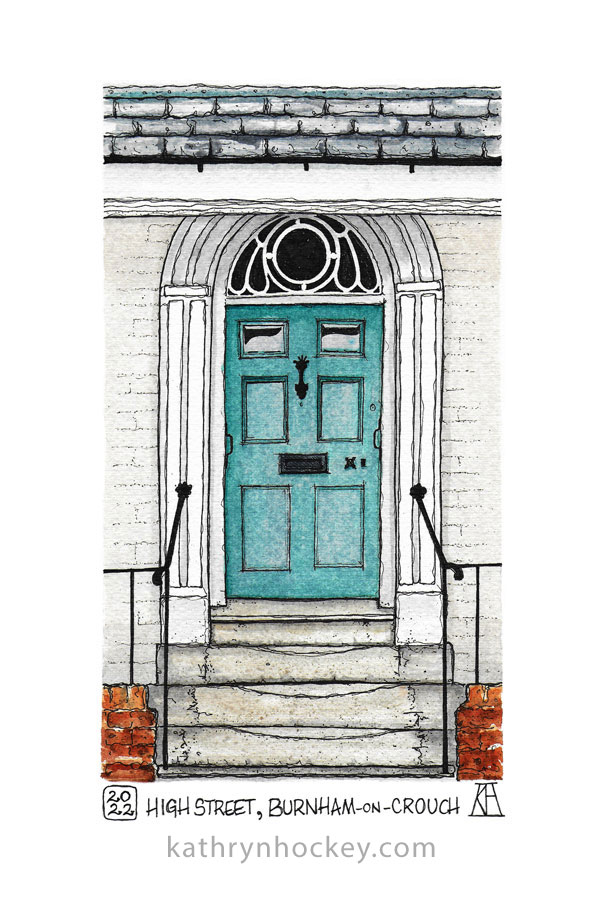 After tackling the clock tower with all its bricks and angles I was in the mood for a simpler subject the following week. I was drawn to the beautiful colour of this front door and the calming symmetry of its setting.
Autumn Acer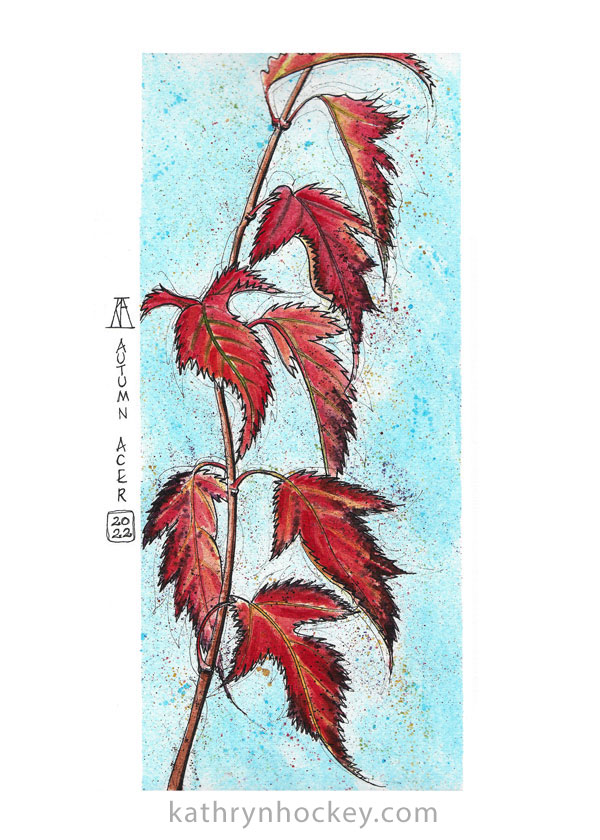 At the suggestion of the art club chair person we took a break from street painting and took on autumnal still lifes in the meeting hall. I plucked this acer branch from our garden as I passed because I was struck by the lovely contrast of its reddish leaves against the sky. Hence the blue background.
Wallasea from Burnham Quay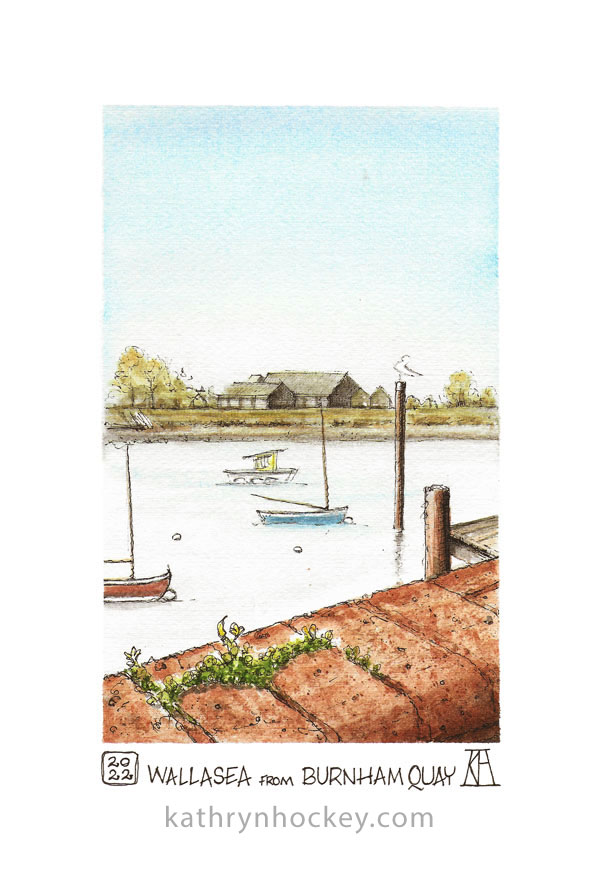 For week five, I decided that it was time to tackle some boats. I settled on this view across the River Crouch to Wallasea Island, home to a wetland bird sanctuary, from Burnham Quay. That obliging seagull kindly stood on the post for long enough to have its picture 'taken'.
Blue Boat, Low Tide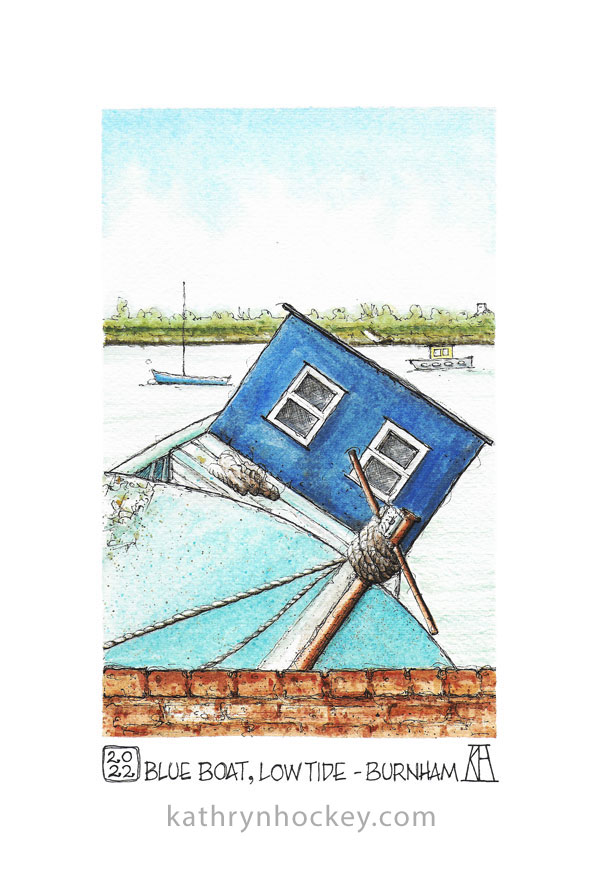 I loved the dramatic angle that this blue boat made with the horizontals as it leaned over at low tide. The River Crouch is an estuary, so tides flow in from and out to the North Sea twice a day. Of course the tide came in as I was painting, the blue boat started to float on the water, and all those angles changed. The people who came up for a look and a chat were a bit confused by the difference between my painting and the actual view!