I set out last Saturday to sketch Maltby Street Market. It's a weekly food market which is just round the corner from my flat in Bermondsey, Southeast London.

Maltby Street Market is actually set up in Rope Walk; a narrow alley bound on one side by railway arches housing bars and restaurants and on the other by stalls serving all manner of British and international food.
I'd had the urge to capture this characterful and complex view for some time. There's something compelling about the colourful flags strung overhead the bustling throng that always descends to sample the delicious treats on offer on Saturdays and Sundays. I also love the hanging signs for Vermouth 49 and Little Bird Gin. You can just see the Shard looming in the background.
It was a bright February day, the light was fantastic but the chill gradually seeped right through my clothes and into my bones. I reached a point, despite having simplified the view when I knew I'd have to leave, warm up and add the finishing touches to the sketch at home.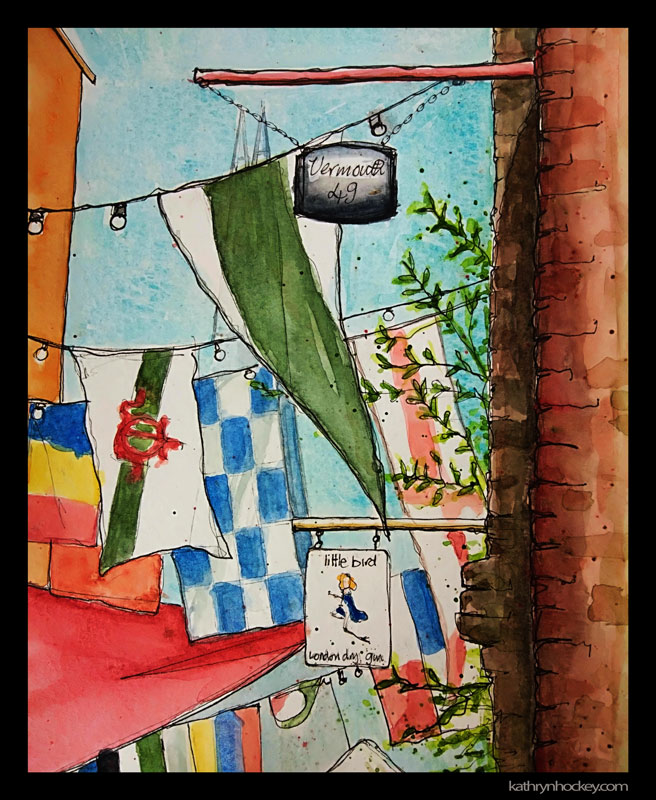 I think the full length, double page sketch (top) turned out pretty well but I prefer this crop (above) which has a more abstract quality.
The Bar Tozino people had a tricky start to their day. The lock on their front door had broken so they had to dismantle the door to get in. That set off the burglar alarm so there followed a raucous half hour when the whole area was beset by wailing. Despite that they were very friendly and generously let me sit and draw at one of their outside tables undisturbed for several hours. I ordered a delicious pisto (like a ratatouille with a couple of fried eggs on top) to keep up my energy levels. Delicious.