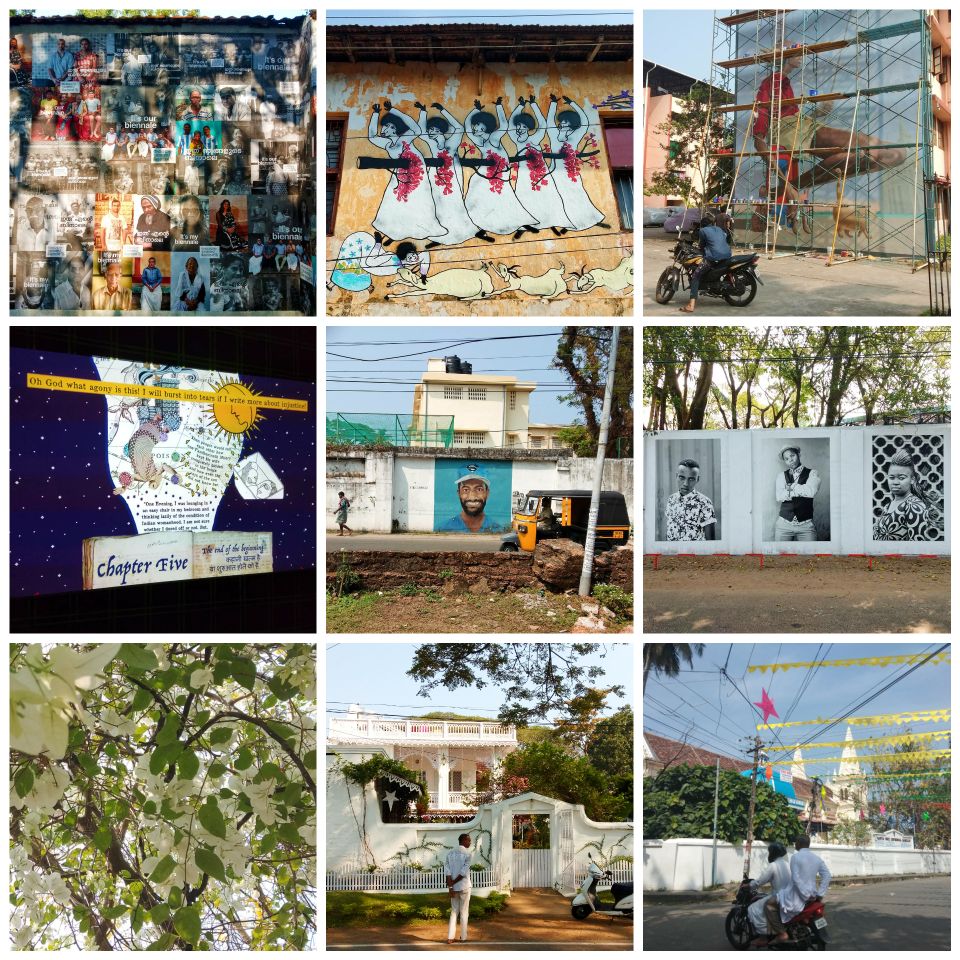 I headed south to Kerala from Rajasthan on 23rd December via three connecting Jet Airways flights: Jodhpur, Ahmedabad, Mumbai, Cochin then I got a bus from Cochin airport to Fort Kochi. The whole trip took about 16 hours and was pretty smooth but also pretty exhausting. In retrospect I could have perhaps split it up.
I had been hoping to avoid Christmas as I thought that the only Christian stronghold in India was Goa. It turns out that a significant number of Keralans are Christians (a leftover from the Portuguese, Dutch and British invasions) so I was greeted by plenty of Santas, Christmas decorations and nativity scenes.
I lodged at Casa Feliz homestay with a very sweet family and enjoyed a huge and delicious homecooked Kerala style breakfast every morning.
I met up with some lovely friends in Fort Kochi on Boxing Day and we spent a few days and evenings exploring the impressive exhibitions of the biennale art festival and eating well. (It was strange to see so much meat and fish on the menus after largely vegetarian Rajasthan and I didn't fancy it at all).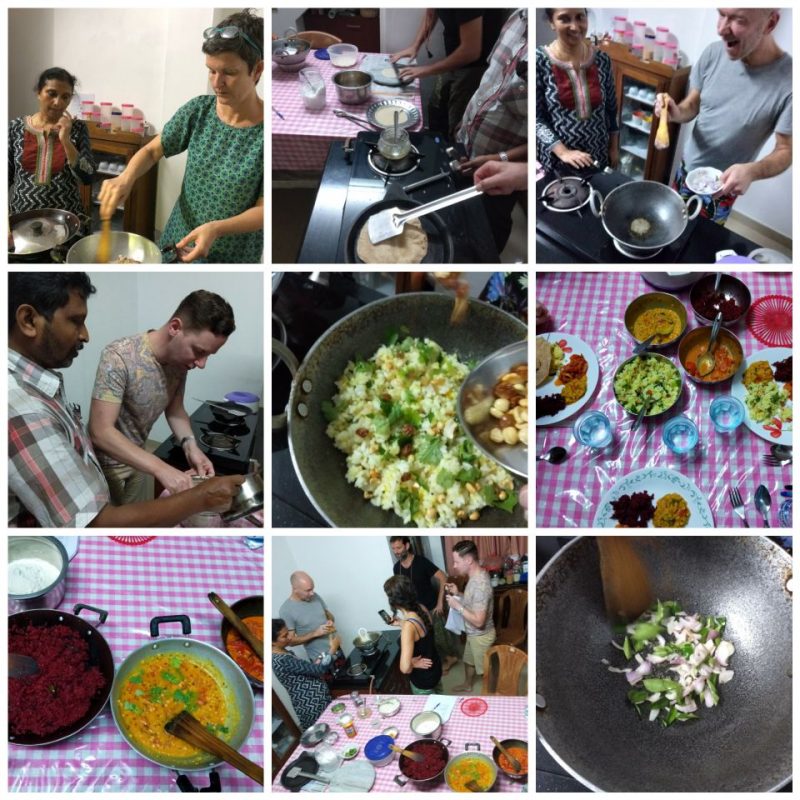 We even took a cookery class! Delicious, fun and interesting…it really took the mystery out of Indian cooking.
We learned how to make tomato masala curry, carrot and beetroot thoran (spiced, no sauce), dal fry (my personal favourite), coconut rice with dried fruit and nuts, and chapati – the dough is simple enough but getting them rolled out round is a different matter!
The humidity and sultry nights were a bit of a shock to my system after the dry heat and cool nights of Rajasthan so I was relieved to take a tour to the hill station of Munnar to look at the glorious tea plantations.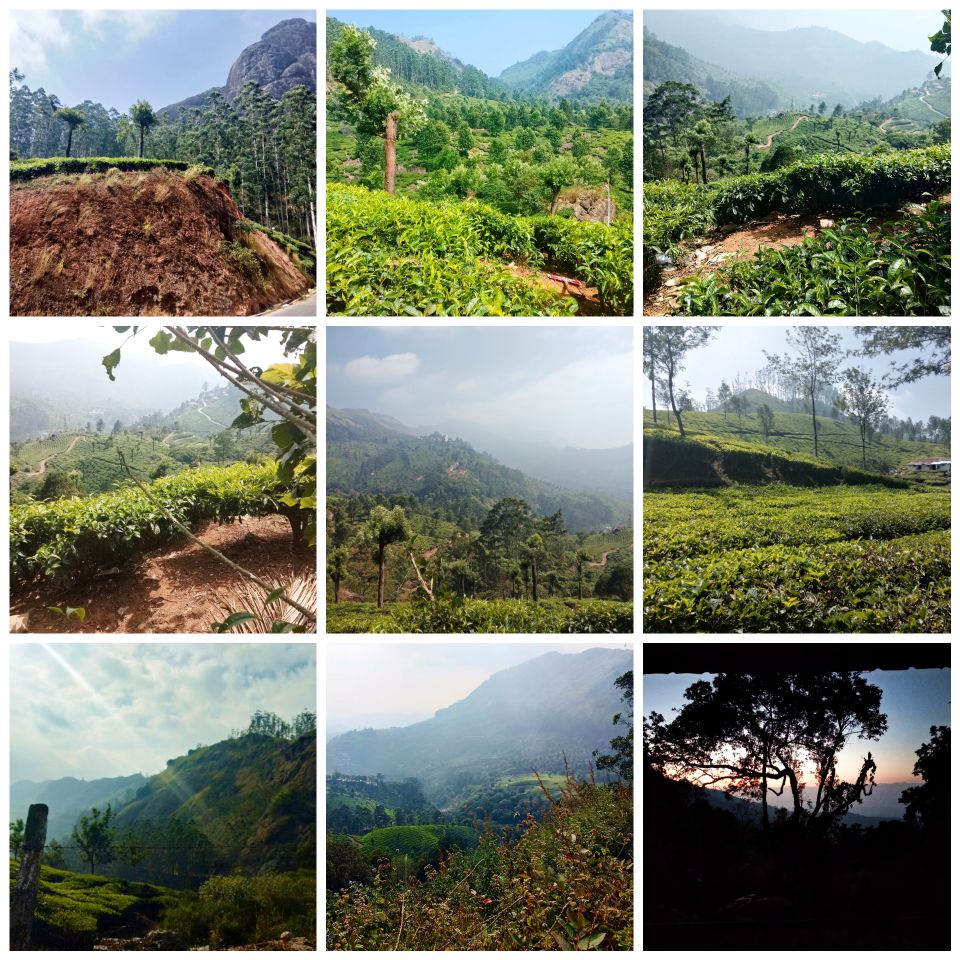 I found a room with a mountain view (lower right) in which to sleep deeply and wake refreshed on New Years Day.
The scenery was absolutely stunning and I regretted slightly not taking more time to explore on foot.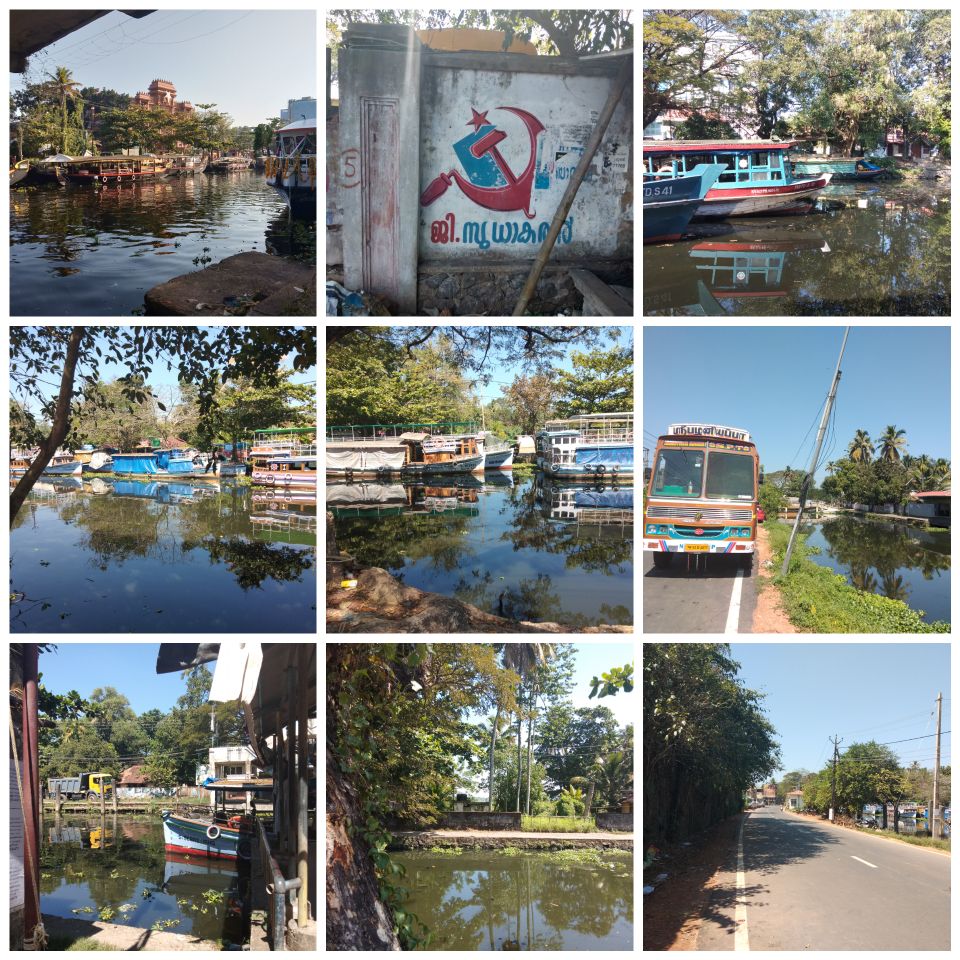 My next stop was Alleppey (two hours by bus) where I stayed in the lovely Kalappura Homestay and planned to take a boat trip along the famed Keralan backwaters.
But that day a general strike was called in Kerala by Hindus insulted at the supreme court decision to allow women entry to the temple of a 'virgin' male god as part of gender equality laws.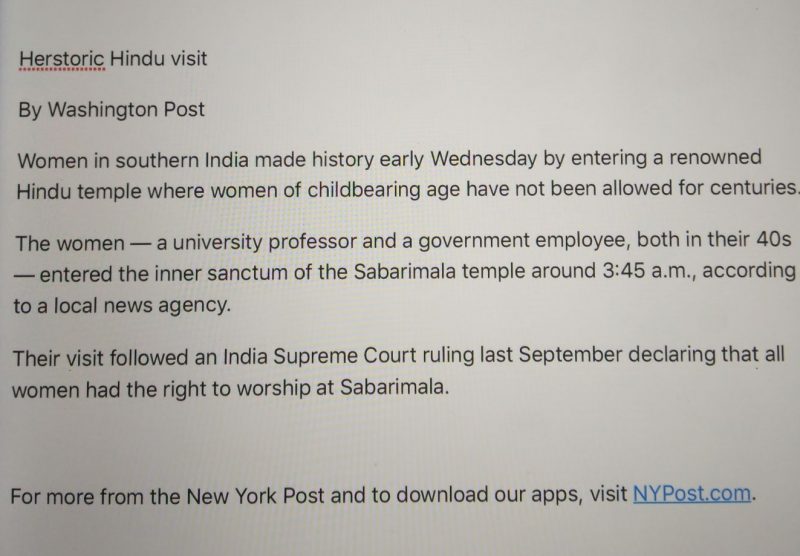 Alleppey was deserted…no tuk-tuks, no buses, no boat trips, no shops, stalls or restaurants. The Kalappura Homestay people made us a delicious breakfast and then I took advantage of the lull and made a sketch by the canal.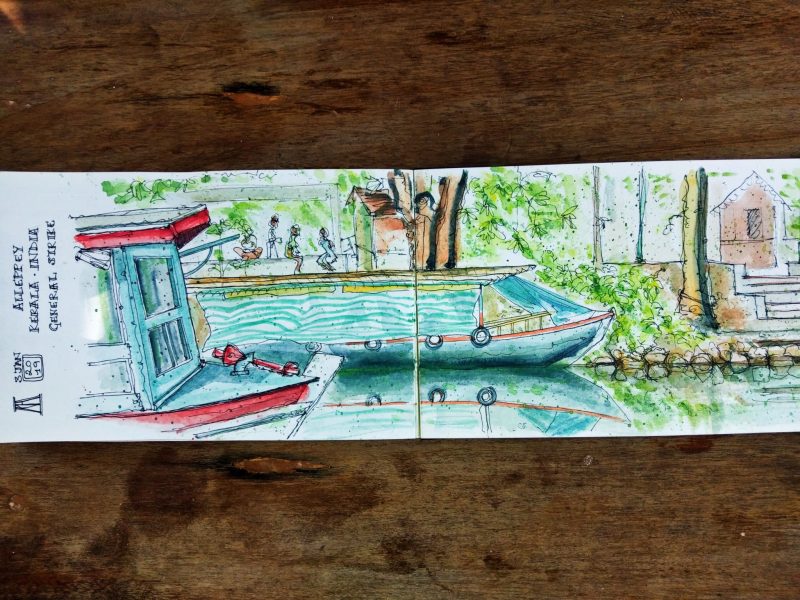 It was later explained to me that the right wing BJP, who have an overall majority in the national parliament of India, want to undermine the Communist party which has a majority in the state of Kerala. The BJP is escalating unrest in the Hindu community over the supreme court decision and inciting the Hindus to protest more aggressively. During protests about 150km from Alleppey one man died and 45 buses were destroyed.
They do say thay you should never discuss religion and politics and in India (and almost every where else) the two are entwined with a deeply patriarchal class system but I do wonder if tradition is the enemy of evolution.
I recently saw this on a tee shirt: "God has no religion" – Mahatma Gandhi.
The following day dawned peacefully…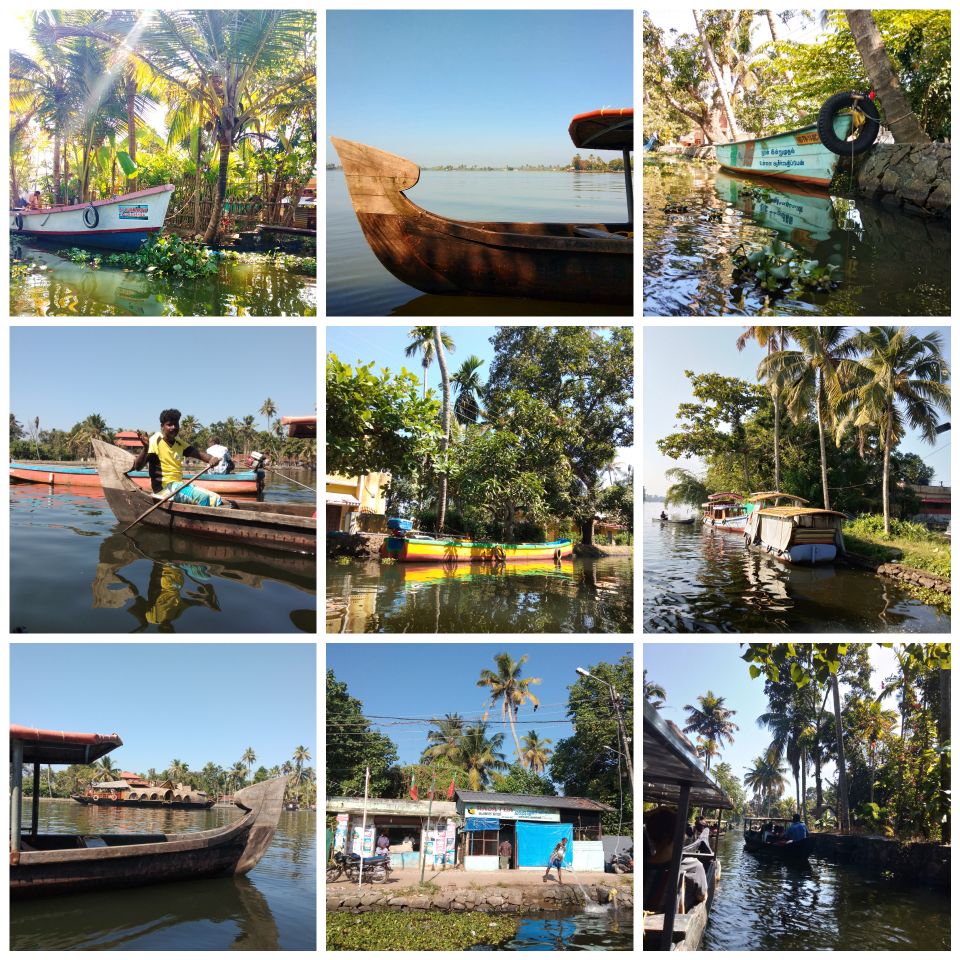 …and the backwaters tour was on!
We caught the ferry from the main canal in Alleppey (about 5 minutes walk from the Homestay) and headed out to a village about 40 minutes away where a lovely family fed us a traditional Keralan breakfast of creamy potato curry and coconut. Then we boarded a kayak and explored the beautiful, peaceful side canals…watching the daily life of the locals play out on the banks.
One of the kayak boatmen told me that his house had been completely destroyed in the floods of 2018 and that it would be about 10 years before he could afford to rebuild it. In the meantime he was staying in one room at his family's home.
We saw men repairing the flood damaged walls of the canals and the wreckage of ruined houses just beyond. The main industry in the backwaters villages is agriculture; there are huge rice paddies, fishing and tourism are secondary.
After four hours of gentle paddling (hard work for the oarsman nevertheless) we ate a fine thali lunch where we'd had breakfast and caught the ferry back to Alleppey.
Jose the Kalappura Homestay host met us and whisked me off to the railway station on the back of his Royal Enfield in good time to catch the train to Varkala (a 2+ hour trip which cost less than 60p).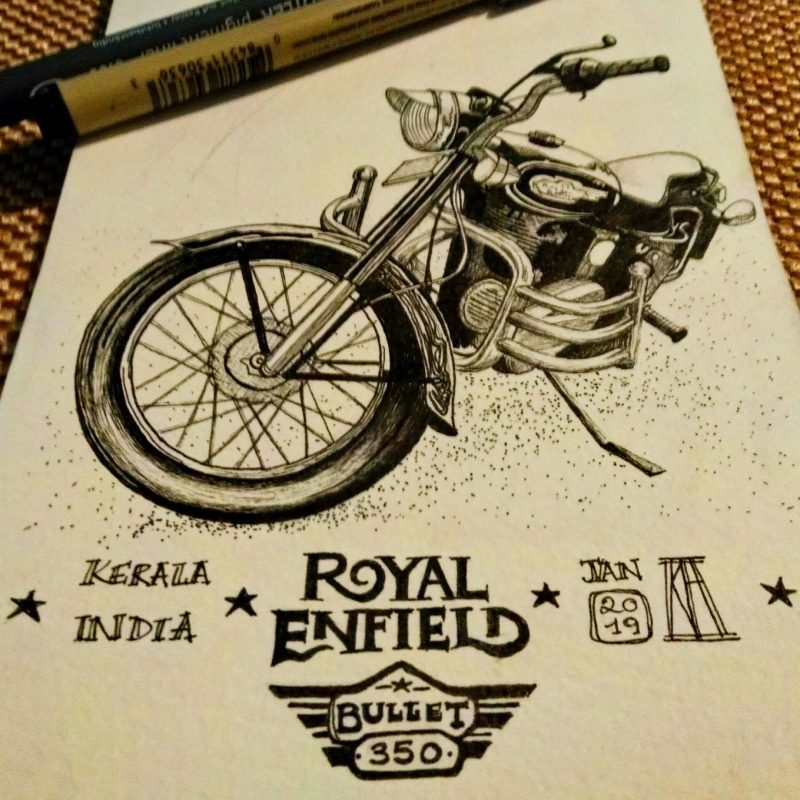 The Royal Enfield 350 Bullet motorcycle is a design classic, a truly beautiful machine with a distinctive rumbling 'dugger-dugger-dug' engine sound. It has the longest unchanged production run (in IndiaI since 1948) of any motorcycle and was originally made in Redditch Worcestershire from 1931. The bikes are now manufactured in Chennai (previously known as Madras) and particularly ubiquitous in Kerala.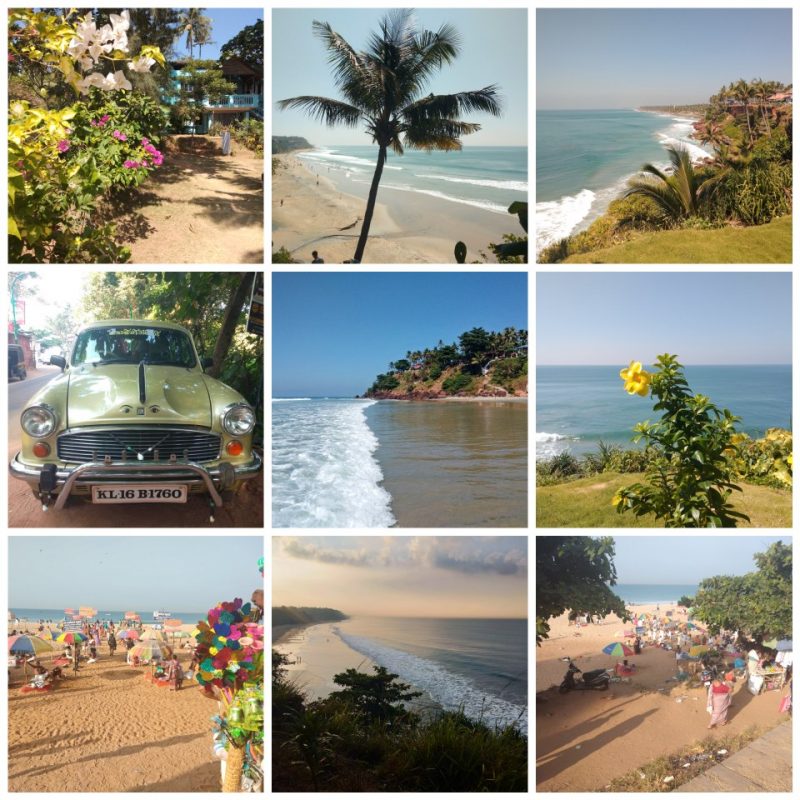 Bathing in the Arabian Sea at Papanasam beach Varkala is said to wash away the sins. It certainly feels like a blessing to be here – so relaxed – I extended my stay by a week.