For a few nights last week there was a high pitched squeaking noise emanating from the roof above my bed in the attic…was it a bird or a rat?
I was locked out of the house one night so had to beg the use of a neighbour's sofa and when I returned the next day I found this on my bed and the mystery was solved…poor little bat baby…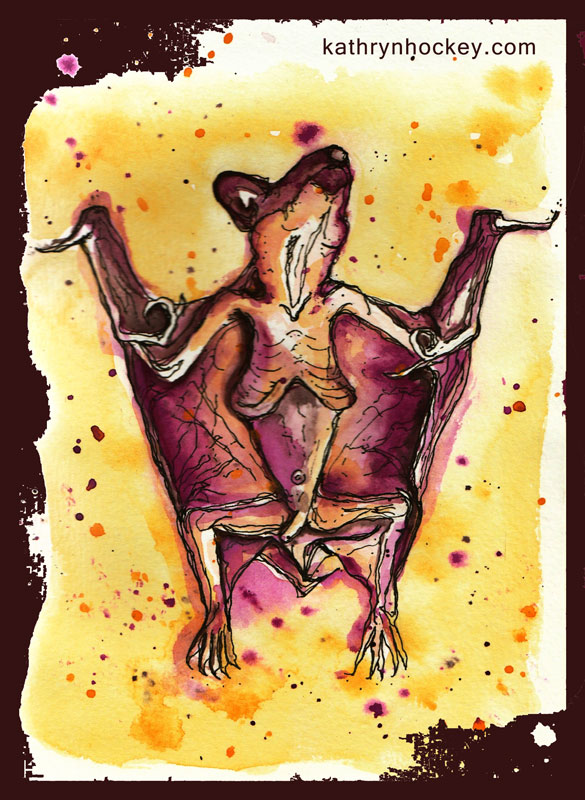 A pretty gruesome find you'd think, but according to this page
"Bats represent social relationships, communication and motherhood
The bat is a symbol of communication; Native Americans observed bats to be highly social creatures with strong family ties. They are nurturing, exhibiting verbal communication, touching and sensitivity to members of their group. Bats are sensitive to their surroundings and are seen as intuitive, with the ability to see through illusion and discern truth.
Eastern cultures view the bat as a symbol of wealth, longevity, peace, good health and a good death. In China, the symbol for bat is "fu" — which is also the symbol for good luck."
I chose the colour combination because there were tinges of them in the poor little creature's body and they're reminiscent of the bougainvillea petals that blow into my attic on the gusts of 'levante' wind from the most enormous plant of its kind I've ever seen, which grows up through the open patio of a neighbour's house.