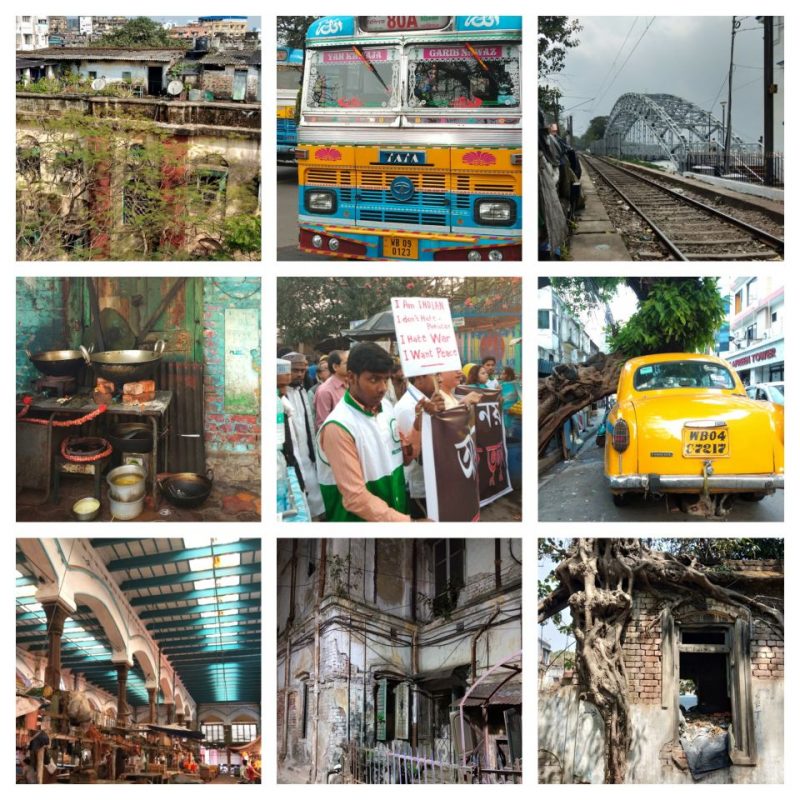 Next stop Kolkata, West Bengal (3 hour taxi from Khajuraho to Satna then 20 hours on the train to Howrah Station), which we approached with some trepidation.
For a huge city it was, however, a revelation: friendly, fairly relaxed, fairly clean, really beautiful and easy to negotiate on foot.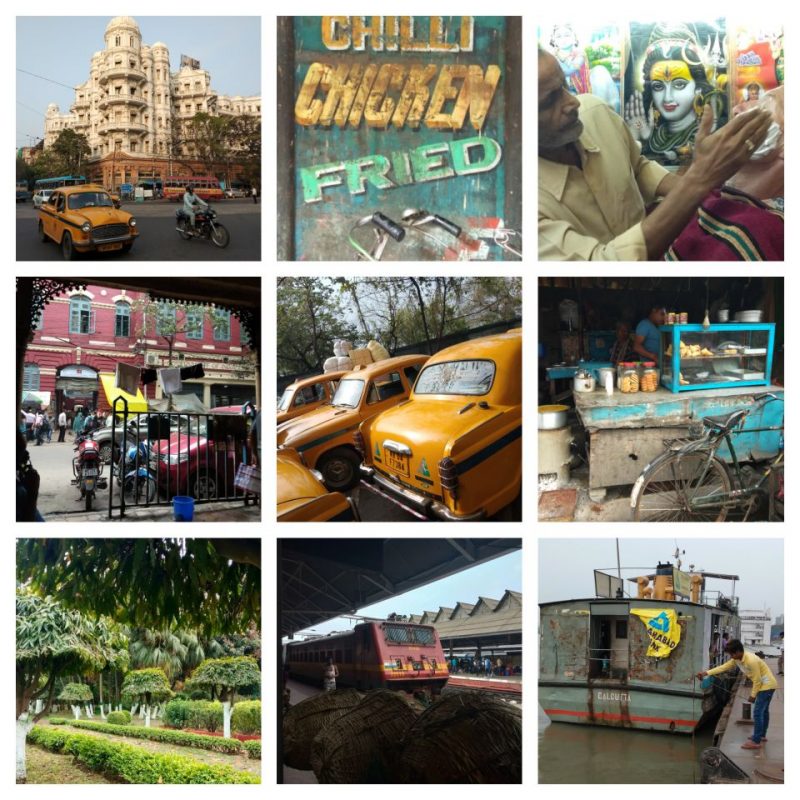 With cheap, delicious street food to boot; Kolkata is famous for kati rolls – egg dipped flat breads which are fried and rolled around the tasty filling of your choice.
We passed a few fun days wandering around the Park Street neighbourhood, exploring the city's green spaces and crossing the Hooghly River by ferry.
Our next target destination was Darjeeling the famous tea town. I had a romantic idea of Darjeeling – quaint and charming, nestling up there in the Himalayan foothills and the opportunity to arrive there in the heritage 'toy train' was irresistible.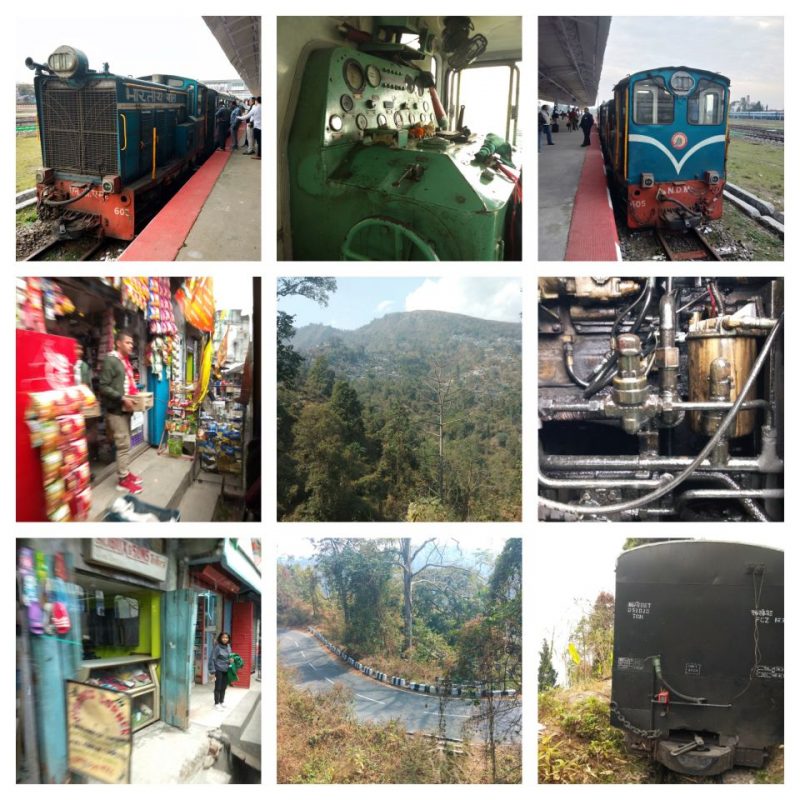 We flew to Bagdogra, spent the night in Siliguri and the next morning promptly arrived at New Jalpaiguri Station for the advertised 8:30am departure of the Darjeeling Himalayan Railway service from the narrow gauge platform.
At least an hour late, the tiny engine pulled up with three little carriages in tow. It took at least another half hour for the engineers to prepare the train for the trip up the mountain.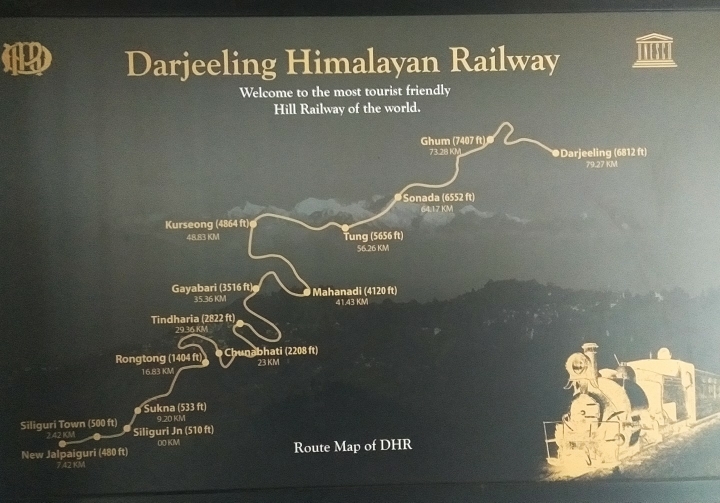 The journey (scheduled to take seven hours in total) was indeed picturesque; the little train pluckily chugged upwards taking several fascinating 'z reverses' to accommodate the incline.
Then, 15km short of Darjeeling a piece of the engine fell off, the train stopped and it became apparent that we would have to make our own arrangements to finish the journey by road.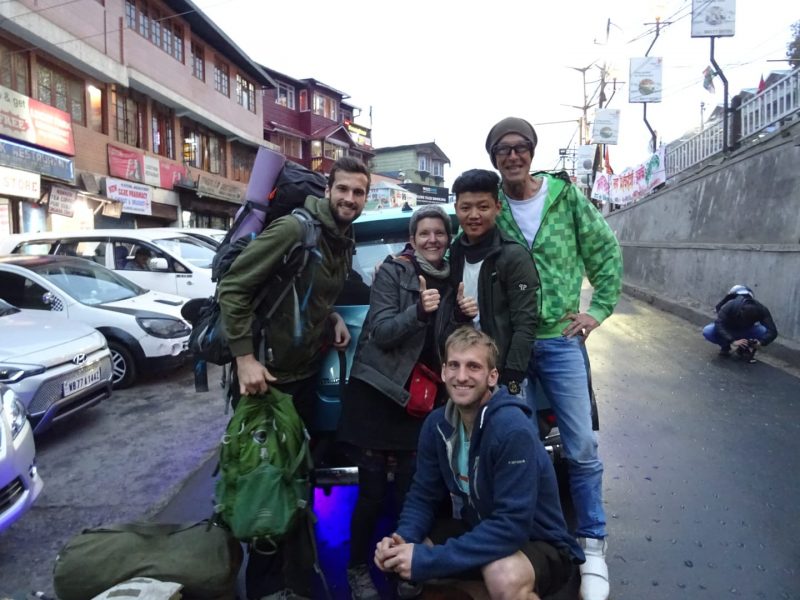 Luckily, at dusk, after an hour or so of flagging down vehicles with little or no space for hitchers the lovely man (second right) in the photo above pulled over. He breezily packed us and our new German friends and all our luggage into his warm, comfy car and expertly drove us the hour to town.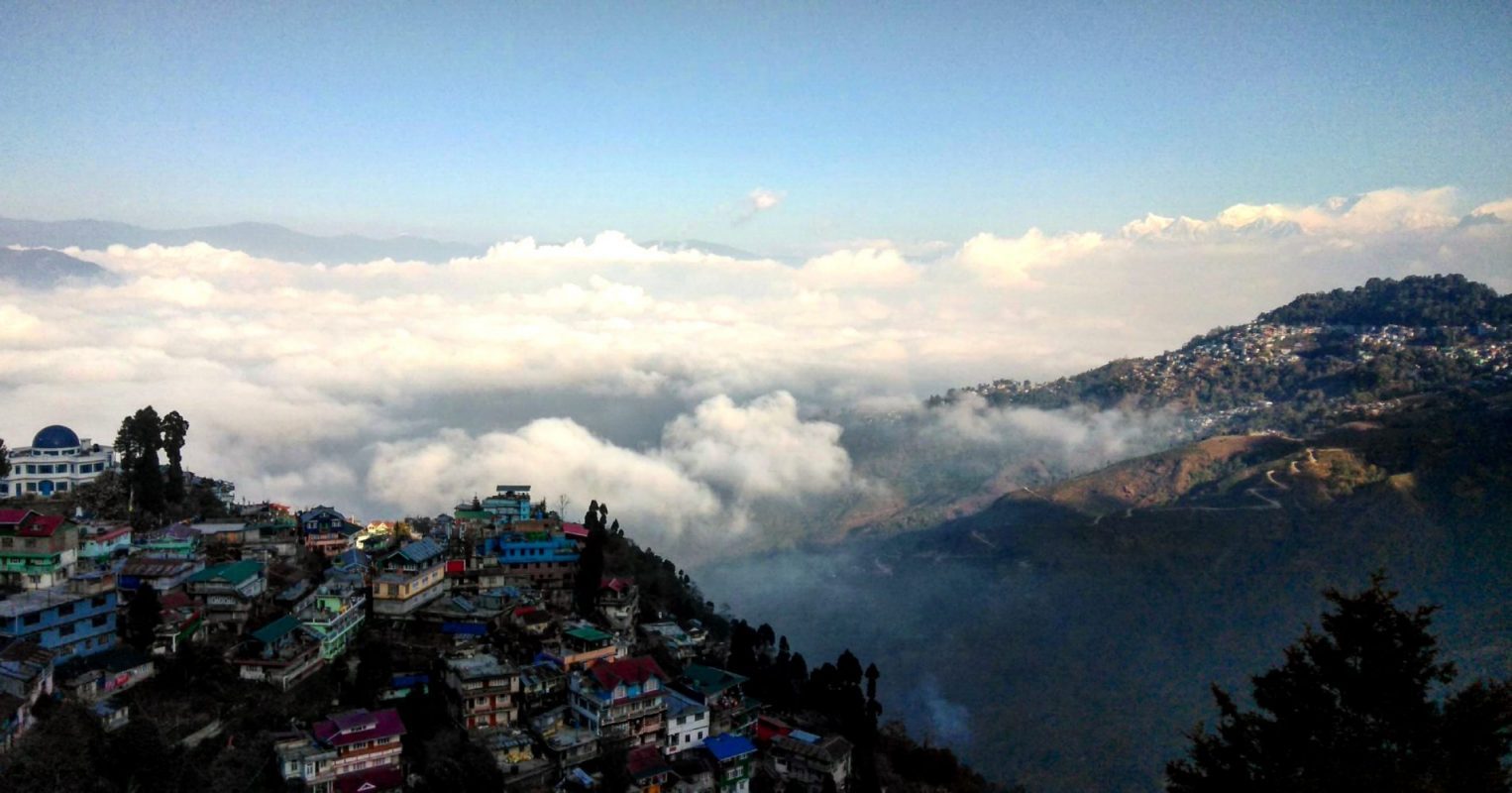 The first first thing that struck me was the cold. A see your breath in the house cold. A wear all your clothes in layers, in bed, cold. Luckily our homestay host provided a heater and hot water bottles and the view of Kangchenjunga from the balcony (at 6am before the clouds rose) was stunning.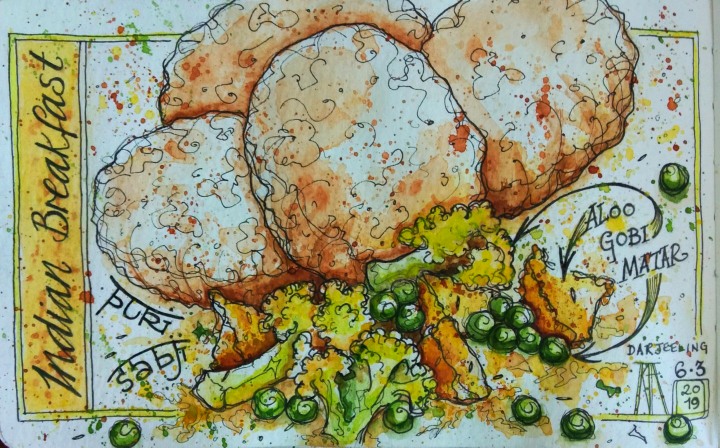 The food was fabulous too, inspiring me to immortalise this delicious and typical Indian breakfast of puri sabji. The puri are fried flat breads which puff up and are chewy and crispy at the same time. Sabji or sabzi is the generic word for cooked vegetables, usually in some sort of gravy.
We met up with our new German friends in a local Tibetan style restaurant to reminisce about our toy train misadventure and feast on momo and wanton (both dumplings)…a meal so delicious I was again inspired to capture it in paint.

Of course we drank some excellent tea in Darjeeling too and took the obligatory tour around the Happy Valley tea factory. But Darjeeling is not the charming hill station town of my imagination; it has a few pretty parts but is generally damp and dank, congested with traffic which makes the air foul with fumes and suffers from cascades of rubbish dumped down its sprawling labyrinth of terraces.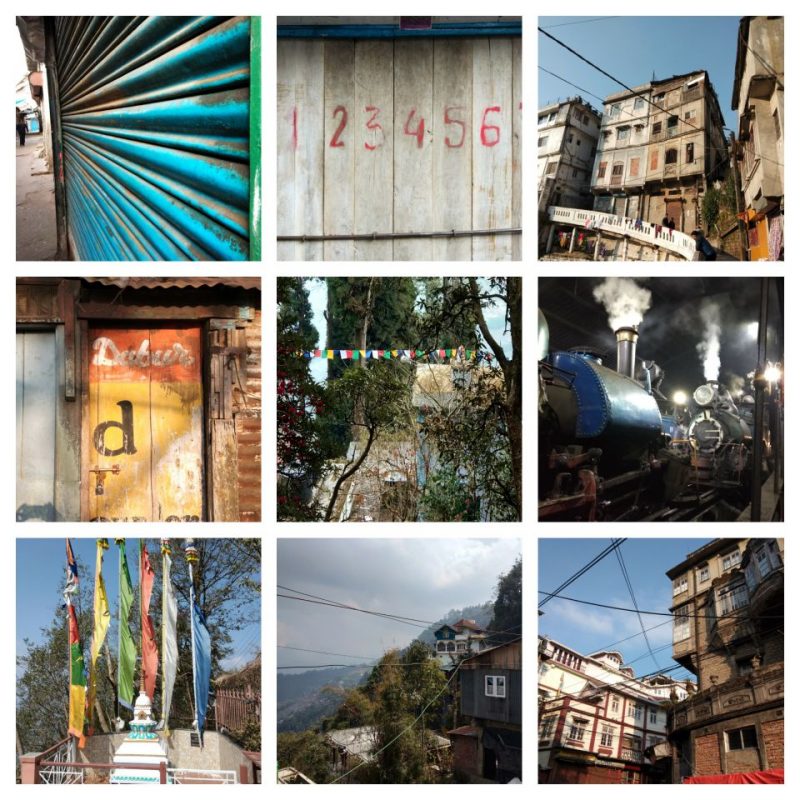 We spent our last Darjeeling days at another homestay, the beautiful Little Singamari and were treated to yet more fantastic home cooking.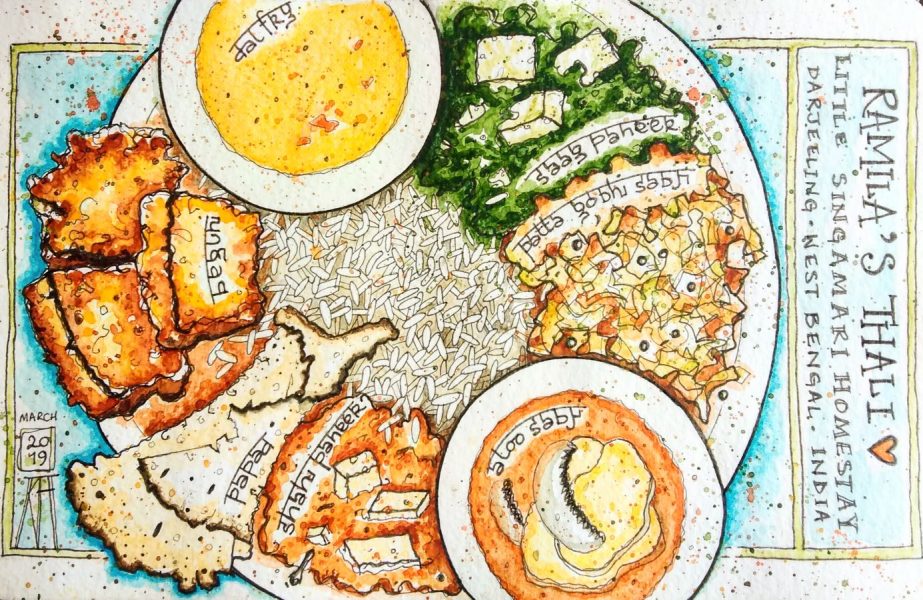 This is a fantasy amalgamation of my favourite dishes cooked by Ramila, our hostess.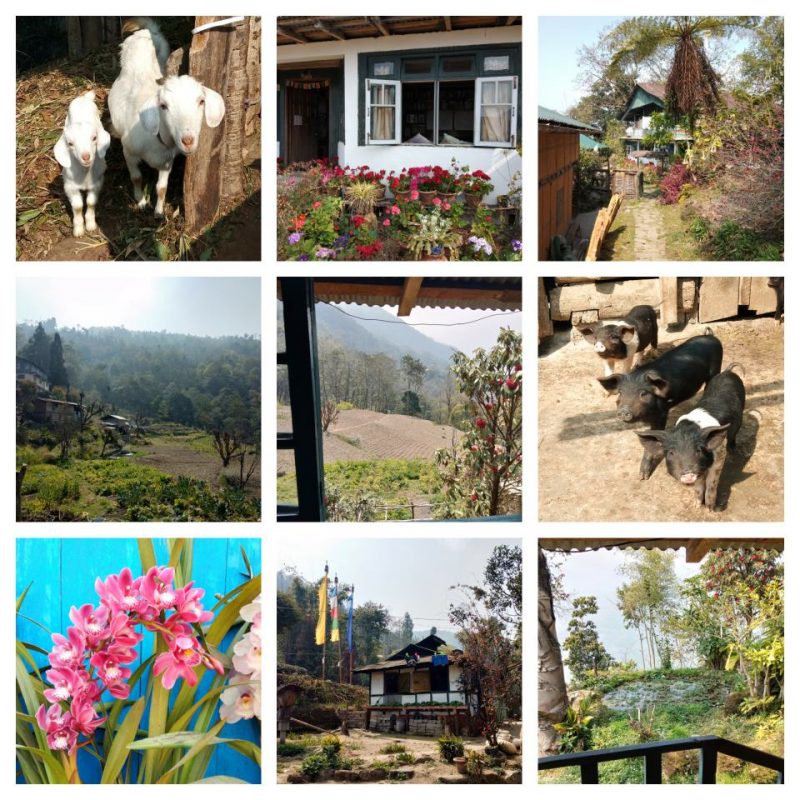 We set off for a few days in Kolbong and stayed on an idyllic organic farm. The two hour jeep ride to reach the farm was a bit of a roller coaster ride, one local lady promptly threw up as soon as she exited the jeep at her stop.
Luckily the driver made a slight detour for us so that we didn't have to drag our luggage up the last kilometre of track to the farm.
The weather was warmer, the air cleaner, all our food was home cooked, mostly homegrown and organic. Our hosts were delightful but could only accommodate us for a few days as they were busy with another project. It was hard to leave.

We decided to head for Kalimpong, a chilled out town with a similar climate to Kolbong where we could wait for the weather to warm up before we set off to explore higher altitudes without freezing.
We both succumbed to bugs, one respiratory and one gastrointestinal, nothing major but enough to make us grind to a halt. Luckily we were in safe, comfy accommodation with a nice view…a good place for rest and recuperation.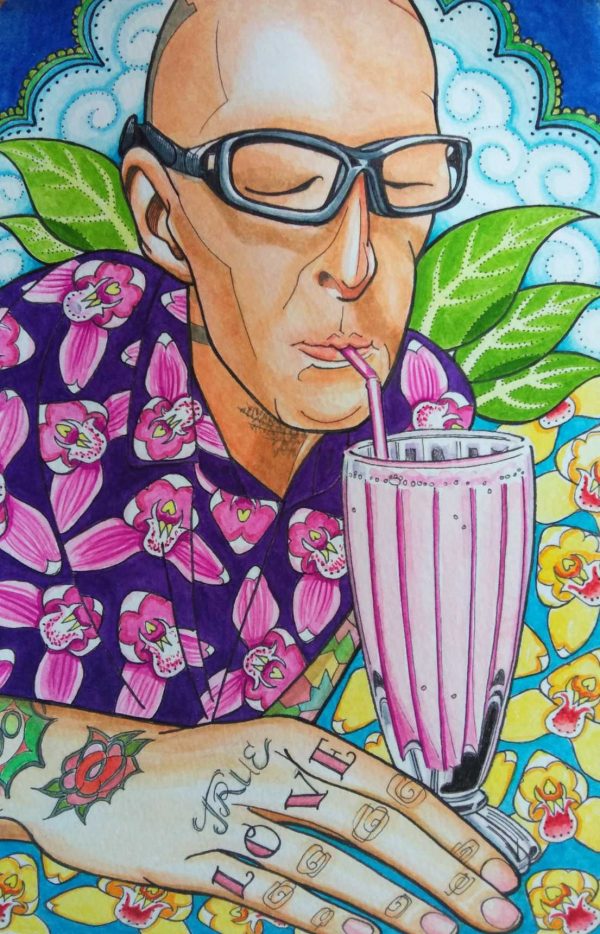 I was inspired by the gorgeously bright colours used to paint the murals in the prayer rooms at two of Kalimpong's Buddhist monasteries when I made this portrait of Rob. I also love the way they include the cloud and flower motifs. Kalimpong is well known for its orchid nurseries hence my choice of flower.