I love food!
I love thinking about what I'm going to eat. I love looking at food; in shop windows – especially cake shops – but also on Instagram and the telly. Eating it is my absolute favourite thing (expanding middle years waistline attests to that) and painting food was, for a while, an irresistible urge. It's like the super slow version of an Insta lunch snap.
I've collected my best watercolour food paintings and posted them here as a sort of portfolio. Some are simple representations of pretty edibles and others have more of a narrative. Some were quick sketches done on the spot while for others I worked more slowly from photos I took before eating the subject.
These food illustrations also form a travel journal of sorts so I've divided them by region – London, West Bengal, Cape Verde and Andalusia – and put them in loose reverse chronological order.
London
These first two illustrations are from my 'Painted Snapshots of Bermondsey' project, which aims to take the reader on a guided stroll through the streets of Bermondsey to see some of my favourite places.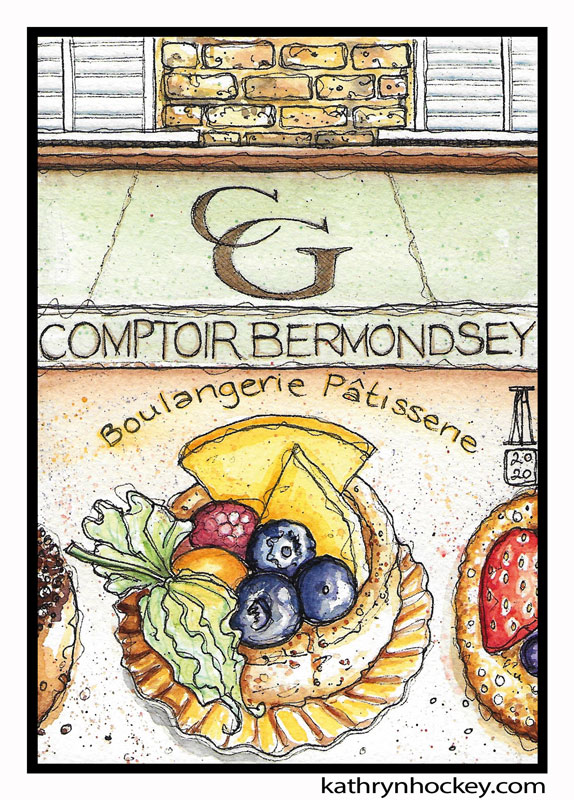 As I said in the intro, cake shop windows are a magnet for me; Comptoir Gourmand have a stunner.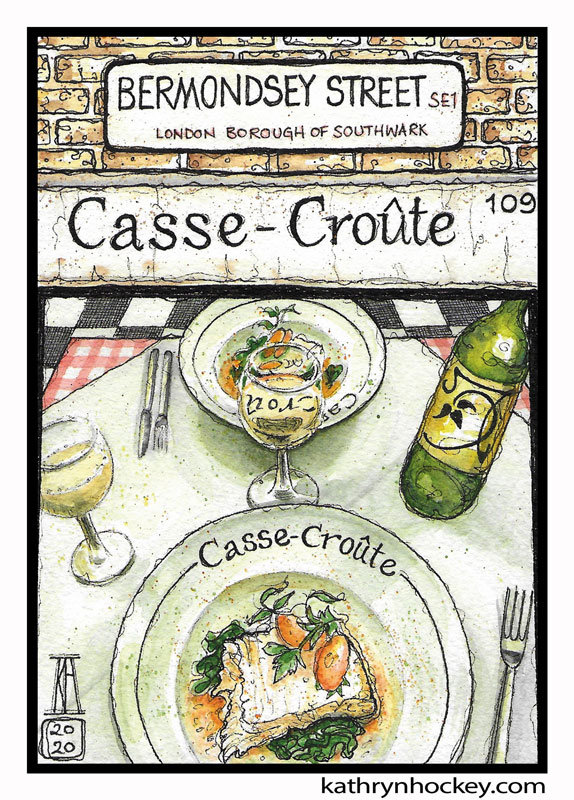 I had admired the view through the window of Casse Croûte many times before I ate there. Its double checked interior promised cosy continental conviviality amid steaming plates of deliciousness; the lure being greatest on dark, chilly nights. And it lived up to expectations in every way.

The combination of the cake stand loaded with colourful, tasty morsels; the striped crockery and the reflective tea pots in the late winter sunshine was quite spectacular. Smitten, I took some photos in preparation for future painting sessions. Then I tucked right in. Afternoon tea at The Goring Hotel – a lovely way to celebrate a birthday with special friends.
Click here to see my original Afternoon Tea post.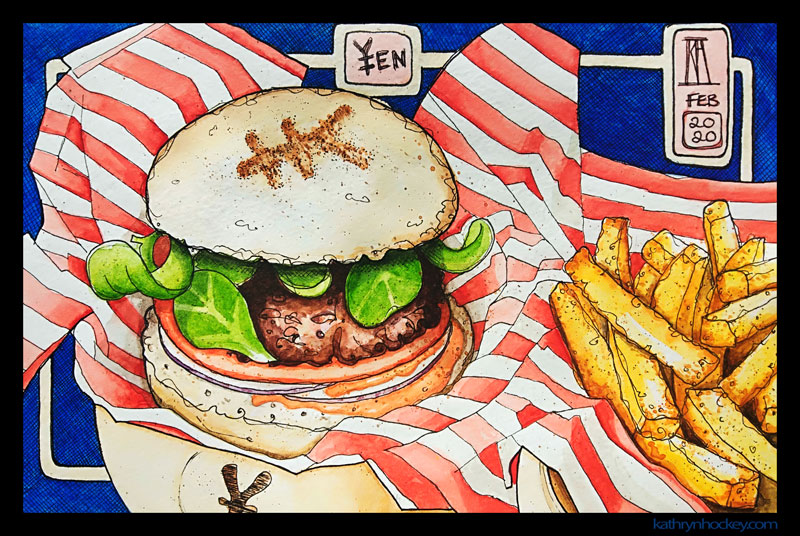 As soon as I saw this Yen Burger nestled in its little bamboo steamer lined with festive stripy paper my painter's urge was tweaked. I was on my way to an appointment with no time to paint on the spot so I took a few quick snaps for reference and tucked right in. Yummy Japanese take on the fast food classic.
Click here to see my original Yen Burger post.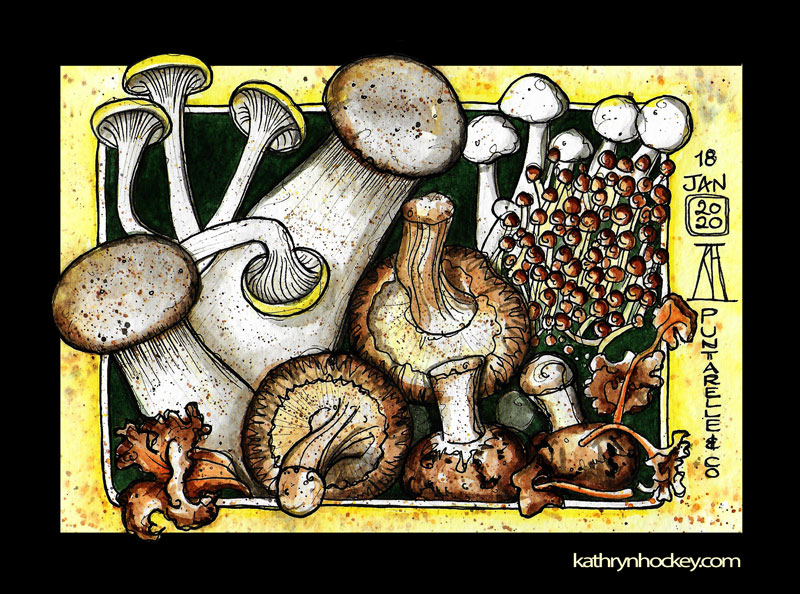 These gorgeous mushrooms are from the Puntarelle & Co Saturday morning fruit and veg market under the Spa Road railway arches. All their produce is lush and carefully laid out in traditional wooden boxes – the antithesis of supermarket shopping. The fungi had a certain sinister drama about them and proved to be delicious.
Click here to see my original Mushrooms post.
Too Good To Go:
Returning to London after a long absence gave me a 'kid in a sweet shop' feeling. All those cultural and culinary delights on offer. But the foodie indulgence comes at more than a calorific price.
A friend told me about the Too Good To Go app. It lets you know which local outlets are offering discounts on good food which would otherwise be thrown away at the end of a shift.
It perfectly combines my 'thinking about what I'm going to eat' and 'looking at food' loves with the bonuses of getting delicious food at bargain prices and combating food waste.
There's also the surprise element; you're not sure what you'll get in your magic bag of rescued goodies until you pitch up at collection time with your online receipt.
These next three are all 'paint it then eat it' exercises of Too Good To Go swag.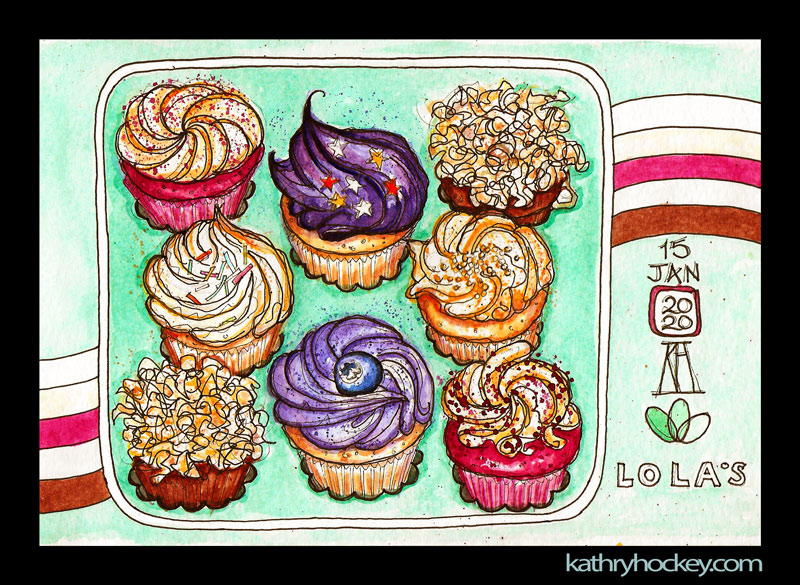 Lola's cupcakes…mmm…yes, I shared them, they were mini but mighty at the same time. Pretty, cheap and exceptionally tasty!
Click here to see my original Cupcake post.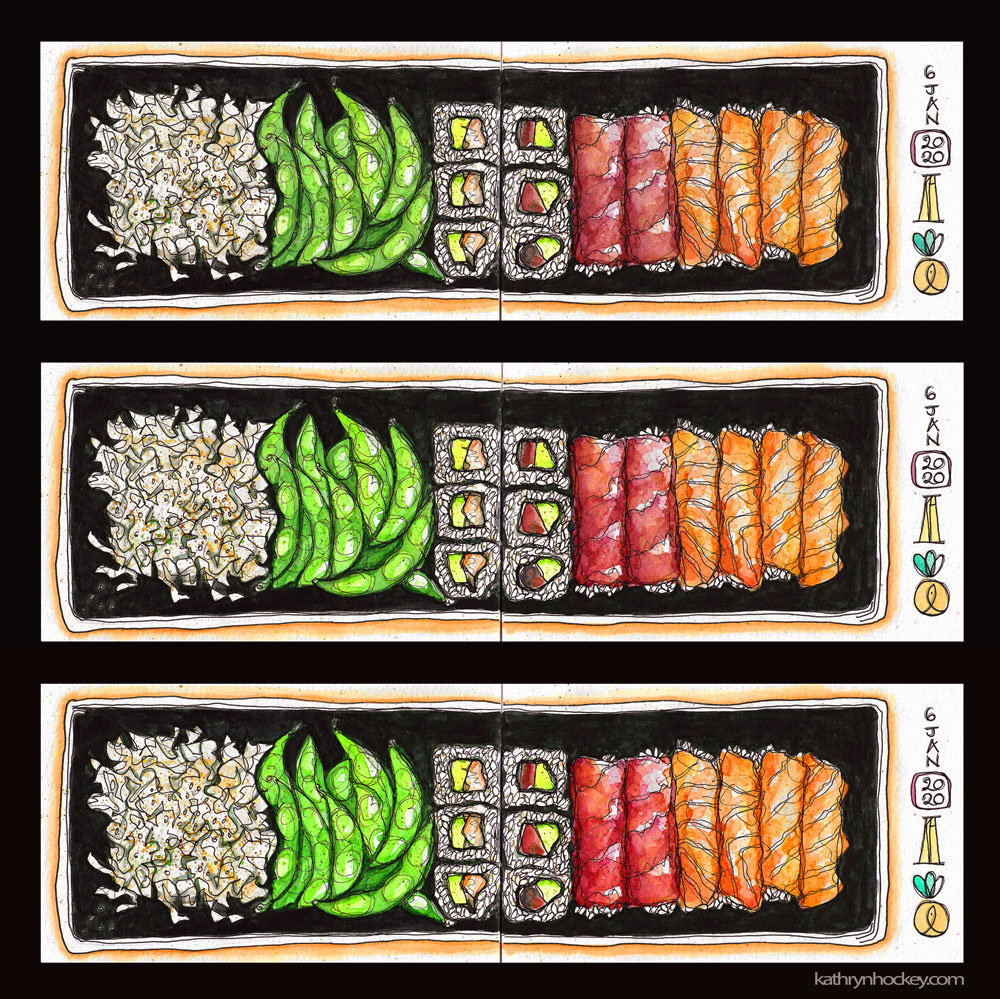 Sushi Shop …well sushi is a work of art in every sense. The high fish and soy content of Japanese food also makes regular eaters less likely to suffer from some classic menopause symptoms. What's not to like? My rescued sushi was actually one box (at less than half the retail price) but I liked the way it looked as a triptych and it made for an Insta friendly square image.
Click here to see my original Sushi post.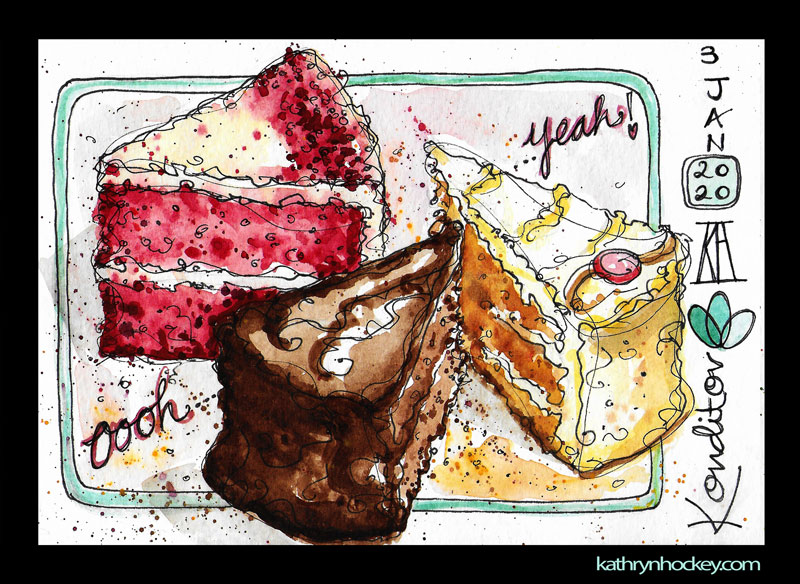 At the end of the last century I worked for a few months at the Konditor branch near Borough Market. I knew from that experience that the magic bag (box in reality) contents would be divine. Inspired by the promise of eating I worked really fast when I painted these fat wedges of carrot, red velvet and chocolate cake – which I did share with my flatmates.
Click here to see my original Cake post.
West Bengal
I was lucky enough to spend six months traveling in India. It was an amazing experience and a huge culture shock.
In West Bengal the atmosphere tended to be cooler and calmer and the food was fabulous.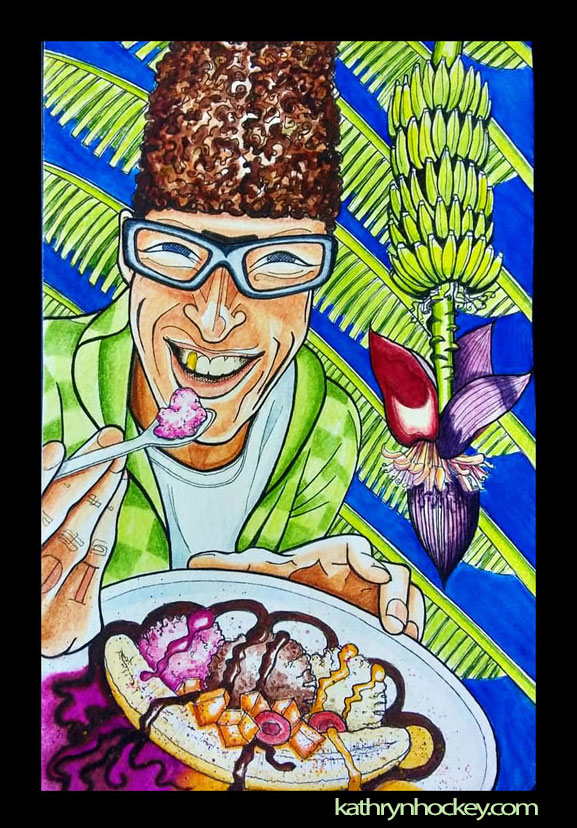 A banana split is not an inherently Indian dish, but to eat one in close proximity to actual banana trees is an exotic experience. I tried to capture my travel companion's 'joy through dessert' moment in this portrait cum food cum botanical illustration.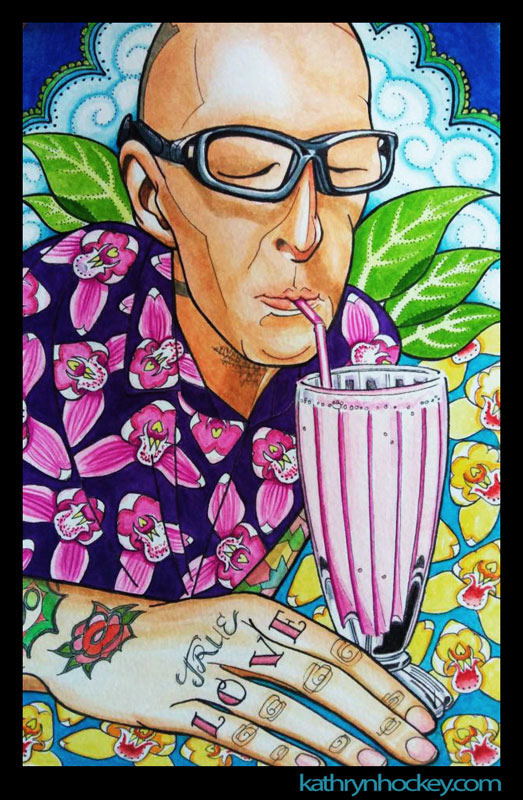 Here I've used the repeated orchid motif to represent the horticulture of Kalimpong and the background is inspired by the glorious decoration in the many Buddhist Monasteries there.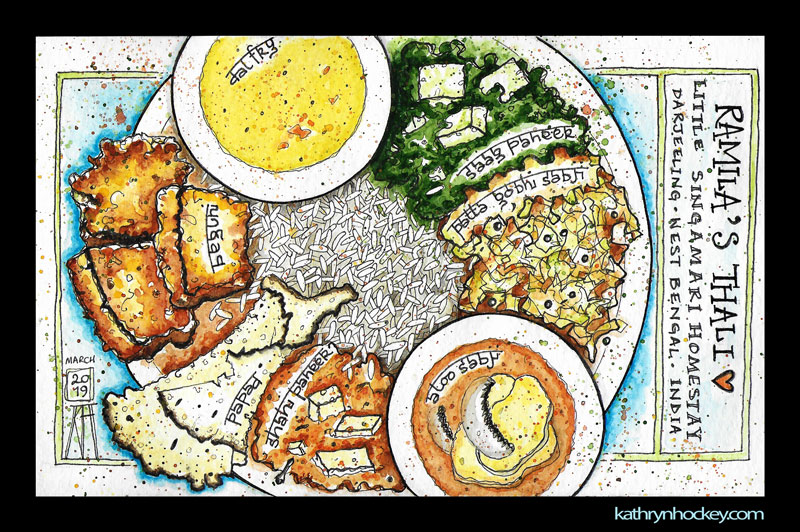 We boarded in a few home-stays where we were fed delectable, hearty and healthy home-cooked meals several times a day for very little money. We could really taste the love in this food – it was phenomenally satisfying.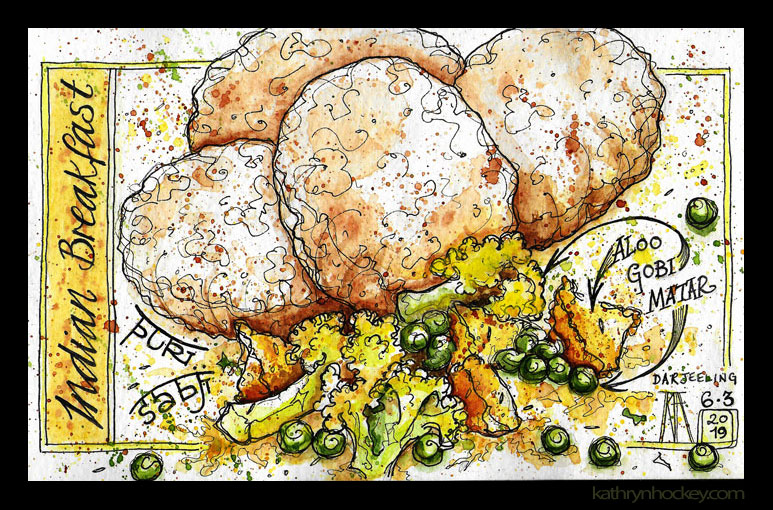 Darjeeling was bitterly cold and very damp for our first few days which made venturing outside quite an undertaking. Since I caught a cold as soon as we arrived I was happy to spend hours in front of the heater inside paying pen and watercolour homage to the culinary delights we were experiencing.

When we did go out there was usually a visit to Kunga Restaurant involved. My interest in the wanton soup was verging on the hysterical. Momo (small steamed dumplings filled with chicken or vegetables) were ubiquitous in West Bengal and Sikkim – that made me very happy.
Click here to see my original West Bengal post.
In 2017 I went to see a friend in Cape Verde. She was staying on Sal, the most touristic and least beautiful and interesting of the islands I visited.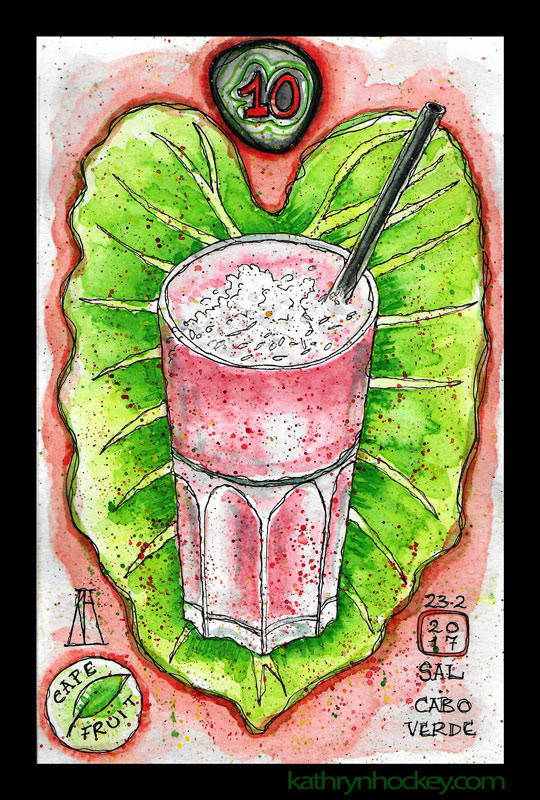 Cape Fruit restaurant was a great consolation – a beautiful oasis of rustic charm where an expert team of local women made and served healthy, tasty food and drinks. What a joy to order something lovely, paint it at leisure while sitting in the shade and then eat it.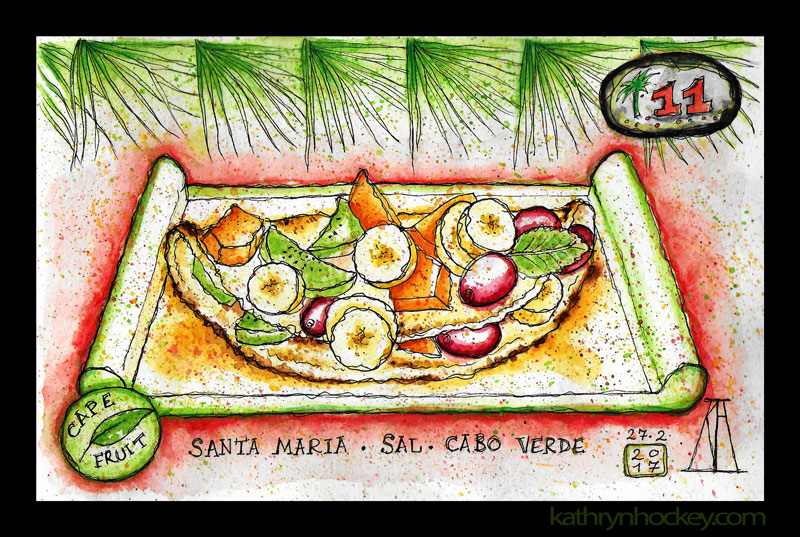 Click here to see my original Cape Verde blog.
Andalusia
At the end of 2014 I was invited to join the Vejer Sketchers, a small but enthusiastic group of artists who met on Saturday mornings in the southern Spanish town where I'd been living for a while. So that following year I finally undertook the regular sketch practice I'd been intending to start for ages.
There can be a 'safety in numbers' aspect to 'urban sketching' in a group. OK, so you still look like weirdos but you're a band of weirdos and the inevitable attention of passersby is divided and therefore less intimidating.
Sometimes we joined or were joined by groups of sketchers from other towns, like Cadiz and Jerez. There is always something new to learn from the methods and materials of other practitioners, and their passion for their craft is infectious. I also found that working in a sketchbook freed me up. There was no way I was going to tear a sheet out of that book so the paintings were for just for me. With no pressure to paint something saleable I started to draw and paint in a quicker, rougher, looser way than before, which made it more fun and more relaxing.
I didn't often paint food with the group but I did apply my new, looser skills to my depictions of food.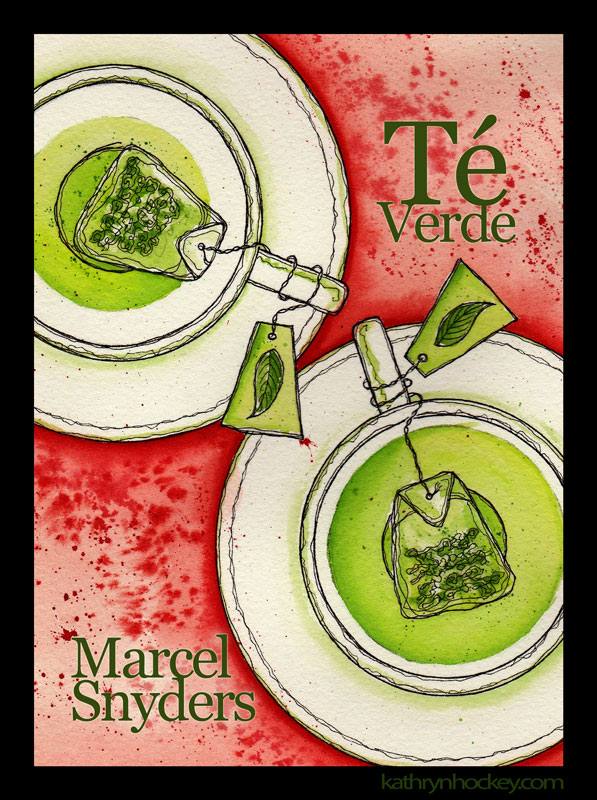 Marcel commissioned me to paint the cover for his play "Green Tea" (Té Verde) in the sketchy style he liked. He stipulated this complimentary colour combination and left the rest to me. There's a sinister aspect to the play which is why some of those red splatters look like blood.
Click here to see my original Te Verde blog.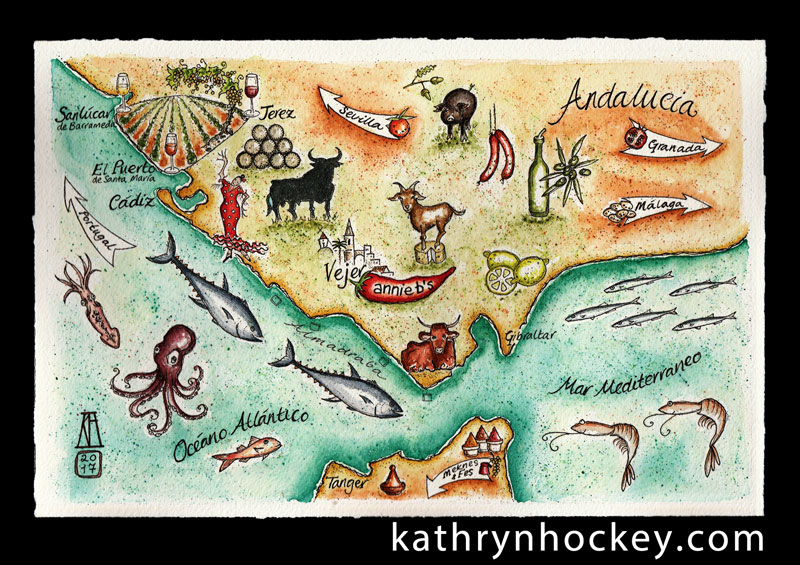 Annie B is a force of good nature; her food and wine tours and cooking courses are ranked amongst the best on offer in Spain. I was delighted to complete these two commissions from her: to create an Andalusian food and drink map (above) and a food and drink themed Christmas card (below).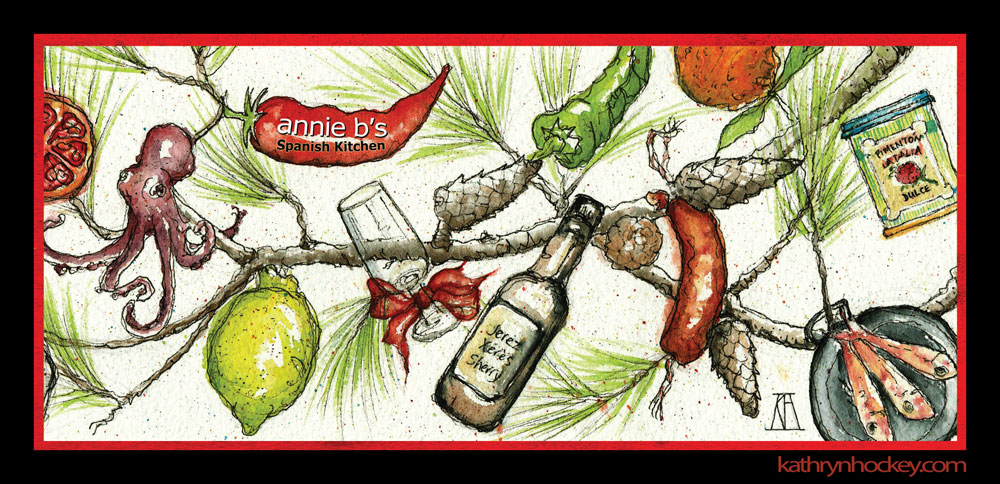 Click here to see my original Food Map blog.
Click here to see my original Christmas Card blog.
One of the best aspects of living in a small rural town in southern Spain is the seasonality of the fruit and veg.The seasons for local produce may be very short but the produce itself is perfect while it's in the green grocer's.

The subtle combination of mauve and green on these tender asparagus stems was utterly beguiling.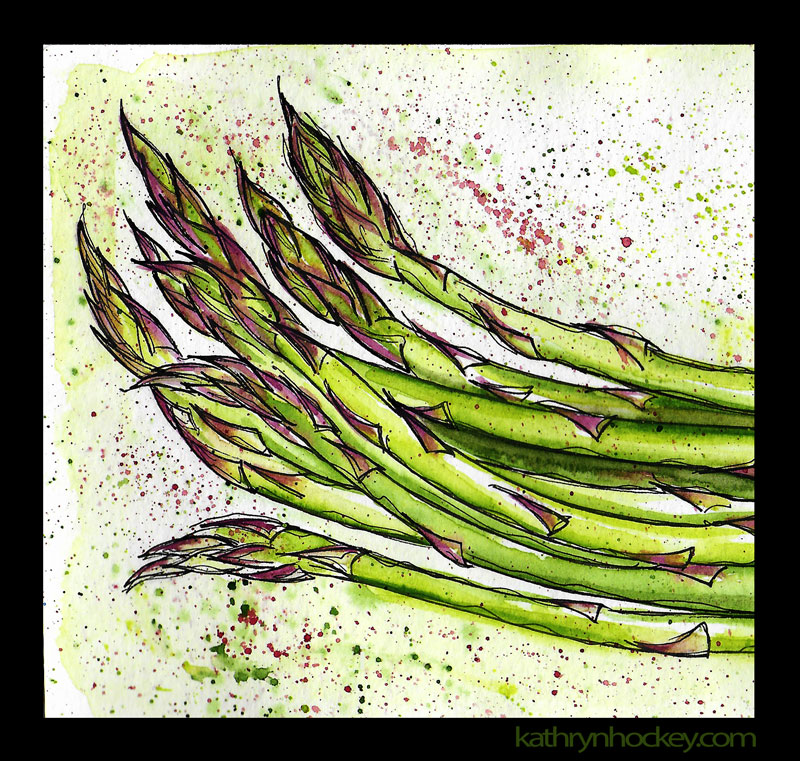 Click here to see my original Asparagus post.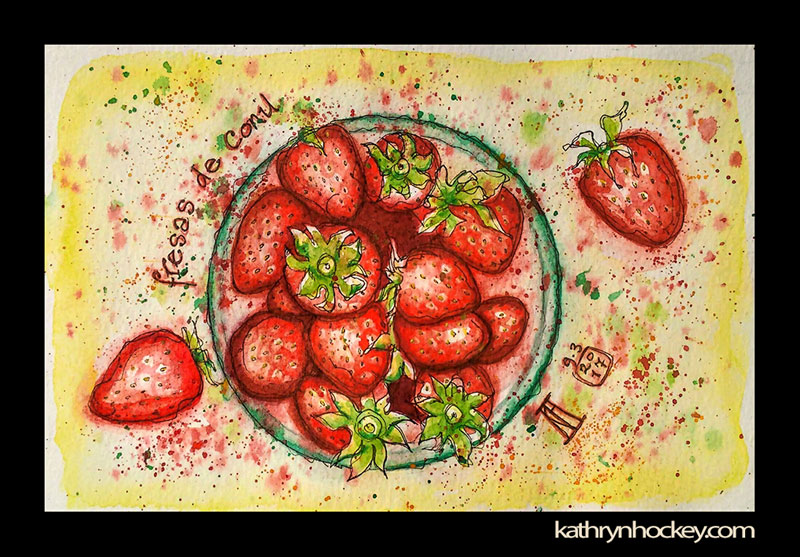 Strawberries from Conil taste and smell like those from my pick-your-own childhood. They're so perfectly ripe that you must eat them on the same day you buy them; resistance is futile.
Here's my original Strawberries post.

I was never aware before Vejer that cherries were graded so fastidiously in Spain. The size of the fruit and presence or absence of a stalk will dictate how much you pay per kilo of these juicy explosions. I never learnt to tell the varieties apart by taste though.
Here's my original Cherries post.

Tiny, sweet, tender and so, so pretty. I adore peas – and the additional meditative pleasure of popping the pods.

To be honest I'm rarely up for the faff involved in making aubergines edible but that jewel-like burgundy-mauve shade is beguiling.
Here's my original Aubergine post.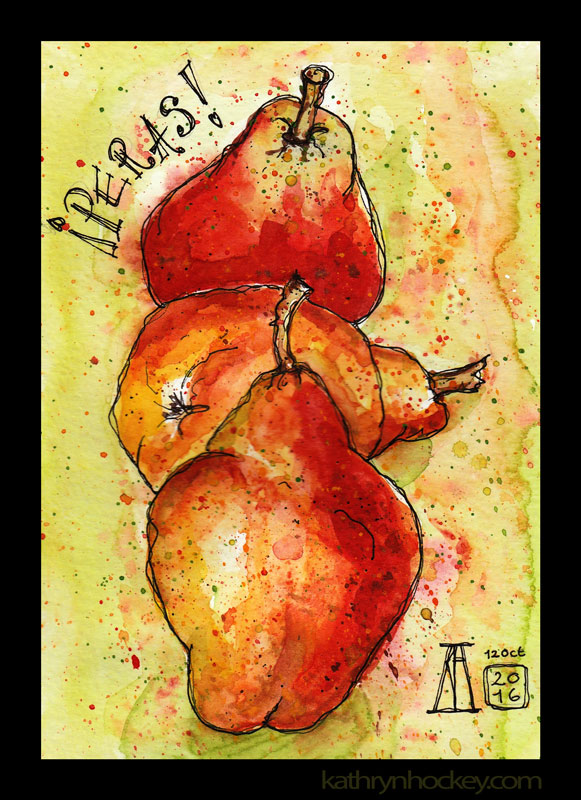 The pear – emblem of feminine strength and creativity, sweet of the autumn. That lichen-like mottling on a pear skin really is splendid.
Here's my original Pears post.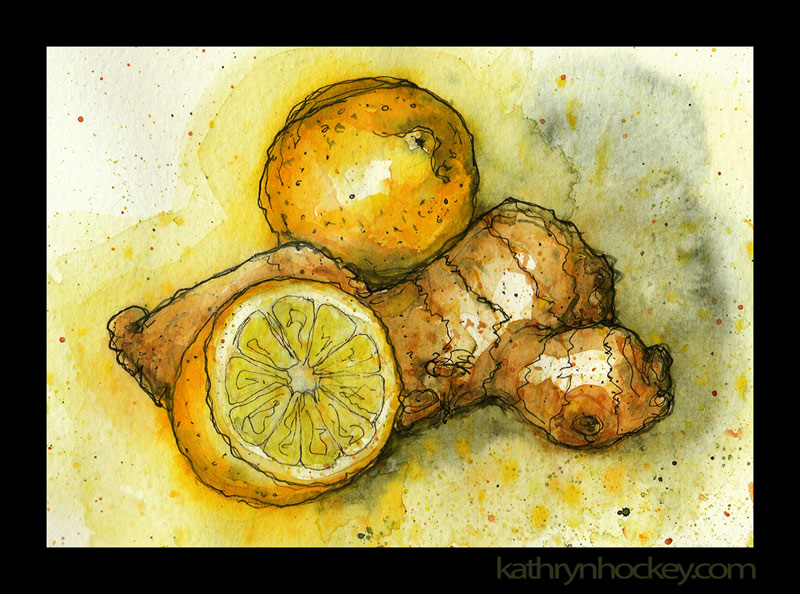 And so on to winter, here's an actual cold cure that I used to treat an actual cold.
Here's my original Lemon and Ginger post.
A massive and famous advantage of living in Spain is the culture of tapas. A bite or two of a tasty something – usually home-made, with a glass or two of a tasty something – usually alcoholic.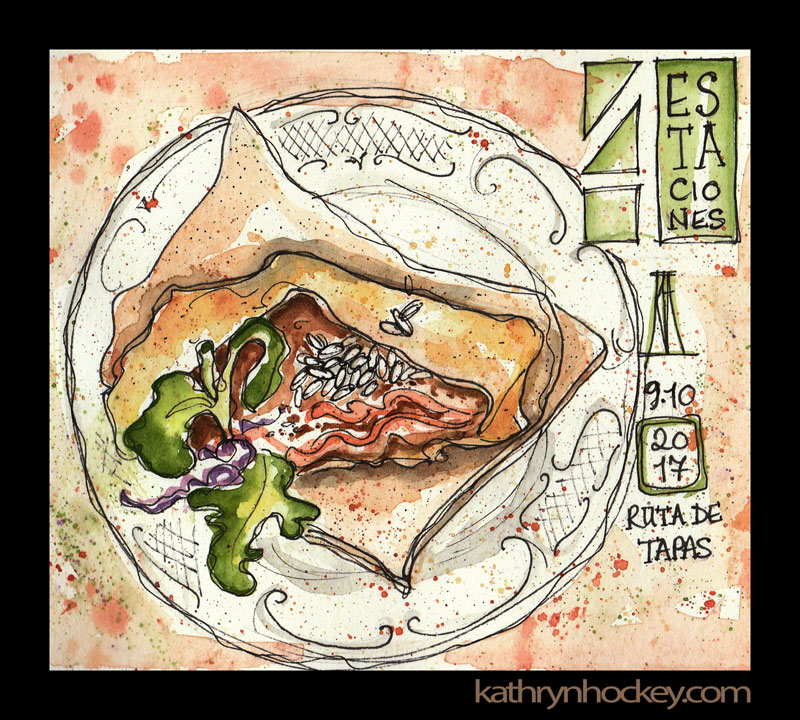 In Vejer (as in other places) there are a couple of special weekends a year when tapas competitions are staged. Maps of the Tapas Trail or 'Ruta de Tapas' show the locations of the establishments taking part and what they're serving. Those restaurants work flat out to put their best tapas forward for the delectation of the hundreds of people who work their way around the trail before voting for their favourite dish.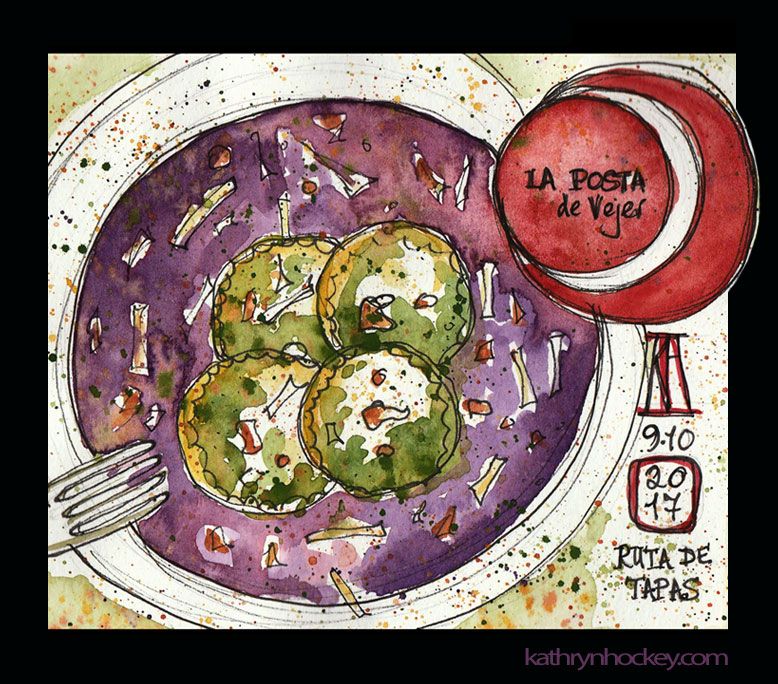 This particular weekend I decided to record as many Ruta de Tapas dishes as I could in a 'paint it then eat it' way. So I had to work fast and loose…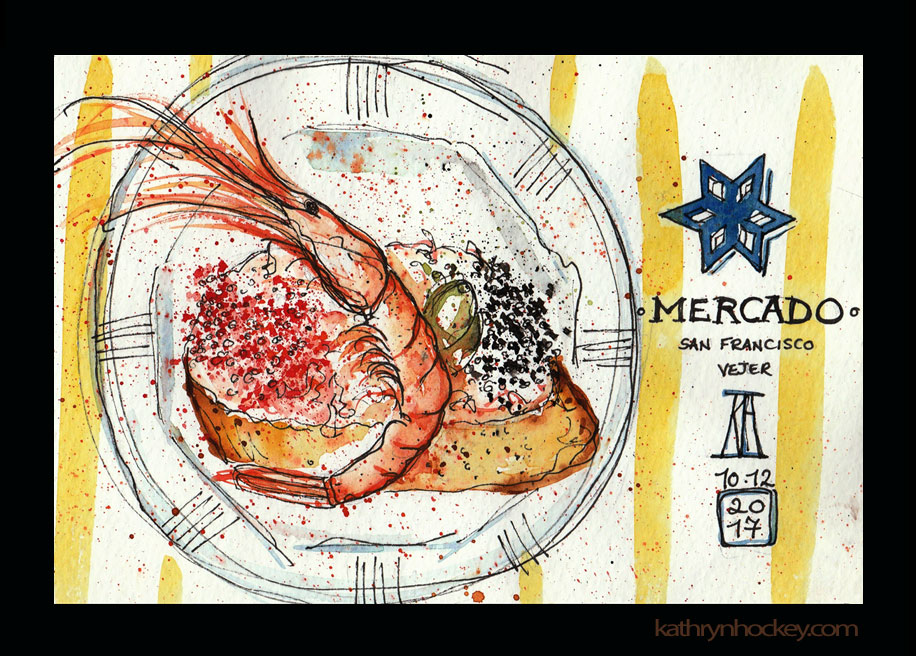 Three turned out to be my limit. My best advice for making the most of a Ruta de Tapas? Skip breakfast and start early to beat the crowds.
Here's my original Tapas post.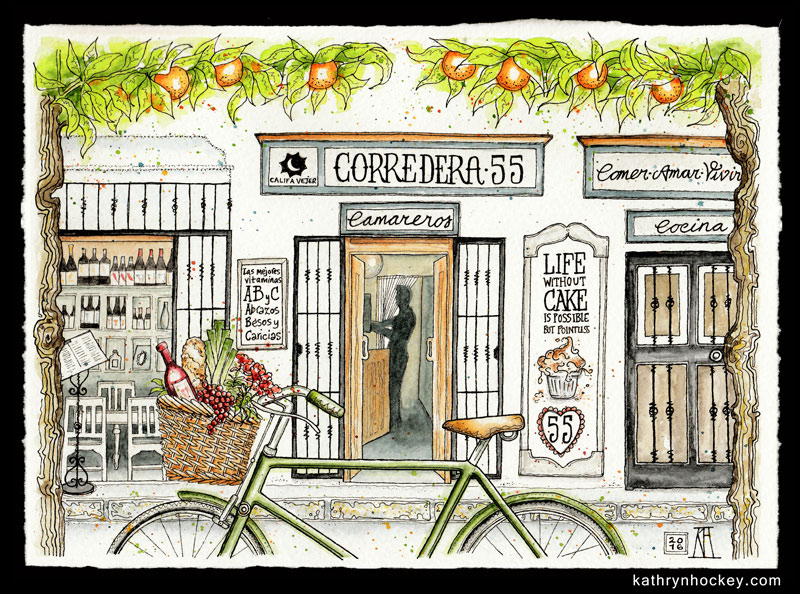 This painting of the facade of Vejer's Corredera 55 Restaurant is a lovely one to end on. It features food in the bike basket, food in the orange trees, food on the facade and drink on the inside. Ellie the owner commissioned me to make this piece; the original is hanging in the restaurant alongside mini reproductions on the business cards. As it says on the flipside: Eat – Love – Live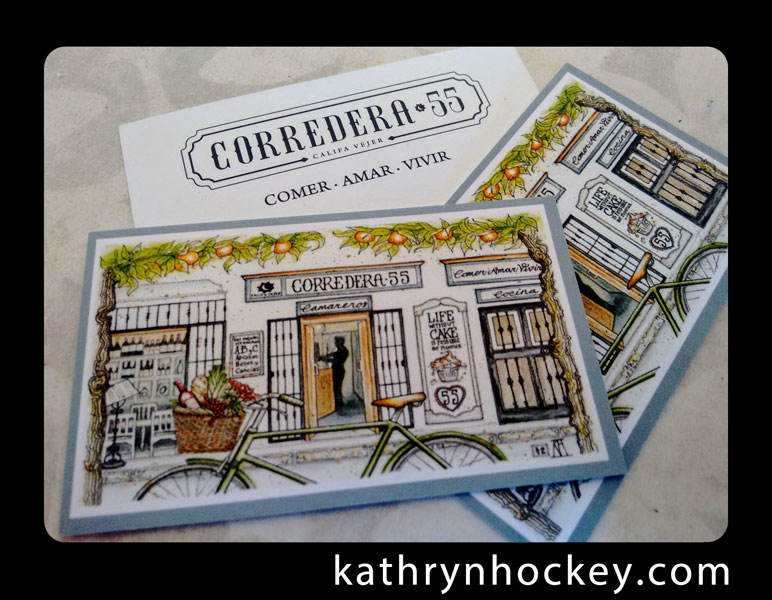 Here's my original Corredera 55 post.
A note on method and materials:
My sketchbook is a Moleskine Watercolour Album, with 200g/sqm paper – that's the minimum weight of paper that will take good watercolour washes without too much buckling. It's 21x13cm; small enough to be portable but the double page length of 42cm allows for a nice big span. If I'm working on a pen and wash commission I'll use 300g/sqm paper and cut it to size myself.
I always start with a 2B pencil drawing; when I'm happy with the layout I go over the outline with water resistant pens. Adding squiggly lines to the main outline makes it more lively.
I erase most of the the pencil before layering watercolour washes; when I'm happy with the intensity of the colours I'll add shadows. The finishing touch is a bit of coloured splatter which unifies the image and adds a bit more energy.
By preference I'll scan the finished painting at a fairly high resolution and slightly tweak the image in Photoshop with a soft light filter before posting a lower resolution version to my 'Latest Work' blog.
For Instagram – @kathrynhockey – I just post photos of the work.
Scanning generally gives 'truer' colour reproduction and there's less distortion of the image.
While I was traveling I didn't have easy access to a scanner so the original 'Latest Work' posts of some sketches feature the same Instagrammed photos.
I recently scanned all of the food travel sketches to improve the quality of the images for this blog. I have added links to the original posts.